Celebration On Square Will Pay Tribute To Those Who Serve, Conclude With Fireworks Show
Northeast Texas Symphony Orchestra will be performing a milestone concert Saturday night, the group's 30th Independence Day Show in Sulphur Springs.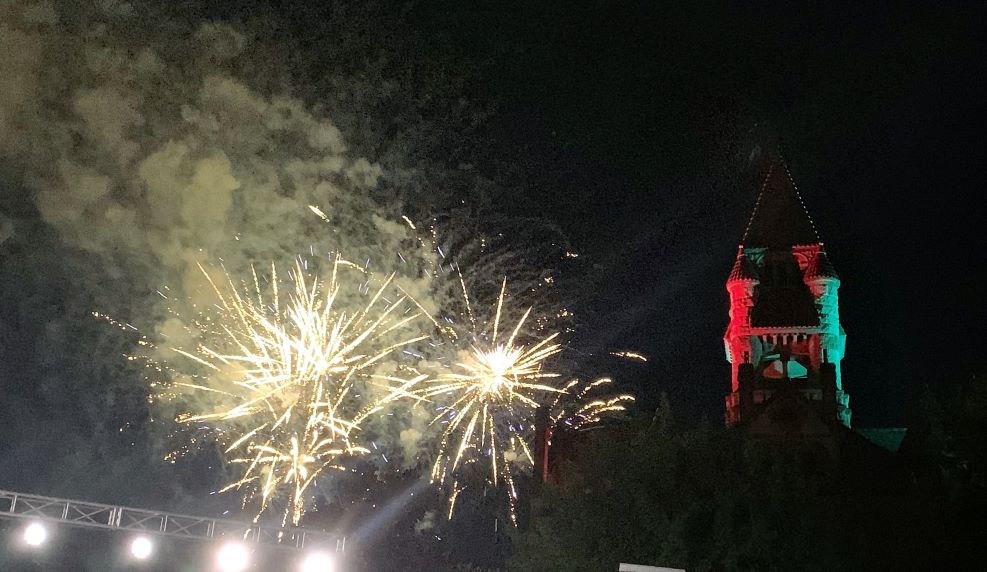 City and county residents will be joined on Celebration Plaza by people from around the region who've driven in to watch this unique July 4 concert and fireworks observance. Some come from Tyler and the Dallas area annually for the concert and fireworks show hosted in Sulphur Springs' crown jewel, Celebration Plaza, and enjoy meals, ice cream and other edibles and purchases at local restaurants and retailers.
The concert will begin at 8 p.m. Saturday, July 2. The concert and fireworks show is offered free to everyone thanks to presenter Sulphur Springs Symphony League and generous underwriters: Alliance Bank, GSC Enterprises Inc. and CHRISTUS Mother Frances Hospital – Sulphur Springs, working in conjunction with the City of Sulphur Springs tourism department.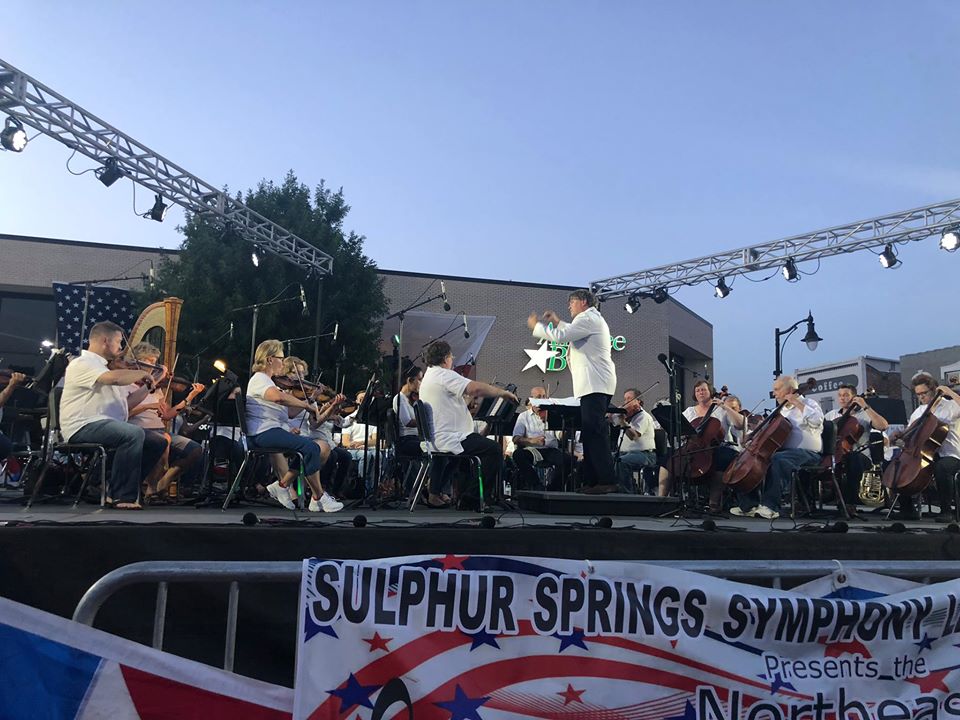 The concert will once again be conducted by Dr. Douglas Bakenhus, and feature patriotic numbers performed by Northeast Texas Symphony Orchestra. Songs too will be played to recognize those serving in each branch of the military for their service, which allows us to enjoy the freedoms and independence that celebrate on July 4th.
Immediately following the concert, a professional fireworks show will begin, again made possible thanks to the generous underwriters and Symphony League. This is great event for the entire family.
Those attending are encouraged to bring lawn chairs to sit on as there are a limited number provided downtown or grab a blanket. Those who want can bring snacks, even a picnic basket or make a big evening of it and partake of a meal from local restaurants.
Those attending are cautioned to dress for the weather, which is expected to be mostly clear and mild for this time of the year, but is still predicted to be hot. The temperature is expected to dip from 93 to 87 by the time the concert begins at 8 p.m. July 2. With only a little cloud cover, very little wind (which is predicted to diminish as the evening wears on) and 51% humidity, it will still feel like it's 91 outside, making it vital for people to take steps to stay hydrated.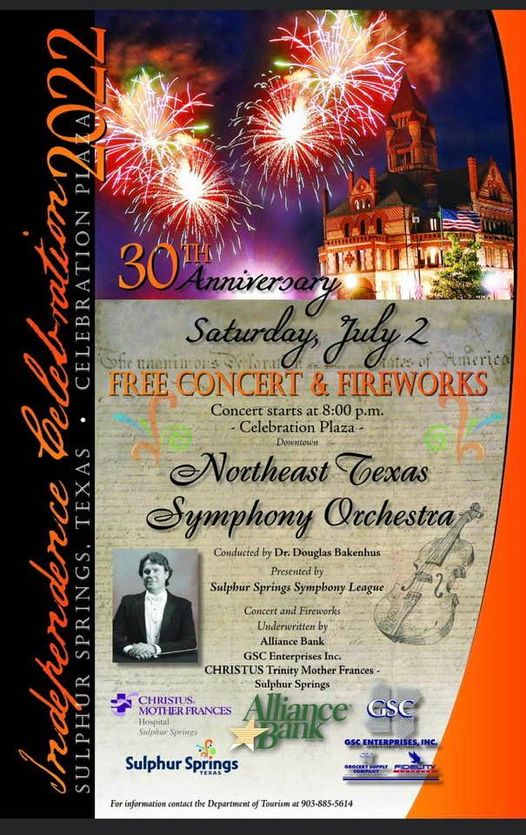 Some sponsors and local contributors like CHRISTUS Mother Frances Hospital-Sulphur Springs will have some free water available to help out, but those out in the heat will need to monitor to ensure they don't get overheated or go too long without hydration.
---
Those who won't be able to join the festivities downtown can tune into KSST Radio 1230 AM Saturday night, July 2, starting at 8 p.m. to listen to the NET Symphony Orchestra Concert from home or wherever they may be at that time.
No radio? If you have internet access, you can listen to KSST from anywhere. Click here, or go online to KSSTRadio.com and click the appropriate link for KSST LiveStream, or type in the direct link https://www.ksstradio.com/ksstlivestream to listen to the concert or KSST anytime online.