Commissioners Slated To Hear From Tax Collector, Chief Appraiser, FEC & Big Ditch Works Reps During Friday Morning Work Session
Hopkins County Commissioners will be holding their regular meeting and work session this Friday morning instead of Monday due to a scheduling conflict. While the regular July 22 Commissioners Court agenda appears to be mostly routine, the work session appears a bit longer than usual and will be the second work session this week at Hopkins County Courthouse.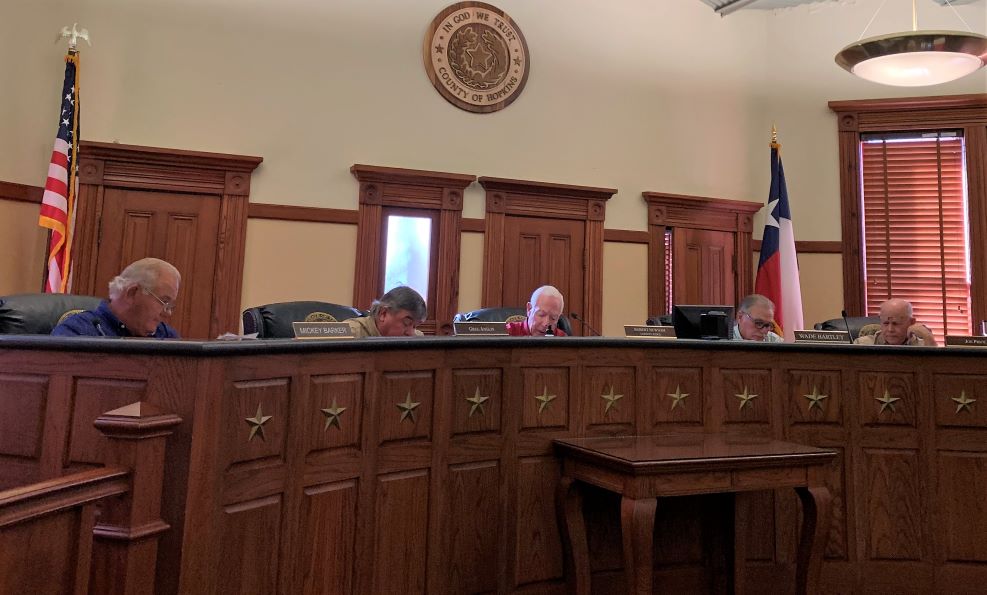 Regular July 22 Meeting
Among the items the Commissioners Court will be asked to consider approving at the 9 a.m. meeting Friday, July 22, will be a holiday calendar from 2022-2023 and leases with Datamax for a printer/copier for the Justices of the Peace Office and for Hopkins County District Clerk's Offices.
The agenda also shows a contract with Spindlemedia, a Flower Mound company that specializes in cloud-based tax collection software, custom-crafted for Texas. The company website boasts about its "complete software suite" designed to "automate virtually every task in the office." Among the products offered are a tax suite designed to make "even the most complex collection processes" seamless, general ledge with "total accounting package," special inventory tax processing as well as beer, wine and liquor permit and renewal processing.
The Commissioners Court too will be asked to consider approving a resolution in support of state funding to match competitive federal rail programs and to appoint Precinct 3 Commissioner Wade Bartley to sell or lease real property owned by the county in accordance with Local Government Code 263.001.
Subchapter A Sec. 263.001 states the following general provisions for real property sale or lease:
a) The commissioners court of a county, by an order entered in its minutes, may appoint a commissioner to sell or lease real property owned by the county. The sale or lease must be made at a public auction held in accordance with this section unless this chapter provides otherwise
(b) The appointed commissioner must publish notice of the auction before the 20th day before the date the auction is held. The notice must be published in English in a newspaper in the county in which the real property is located and in the county that owns the real property if not the same county. The notice must be published once a week for three consecutive weeks before the date the auction is held.
(c) If the real property is sold, a deed that is made on behalf of the county by the appointed commissioner in conformance with the order entered under Subsection (a) and that is properly acknowledged, proved, and recorded is sufficient to convey the county's interest in the property.
The consent agenda, in addition to previous meeting minutes, includes a request from Farmers Electric Cooperative to construct electrical power distribution facilities across County Road 1125, located 4,500 feet south of County Road 1120 in Precinct 1.
July 22 Work Session
Immediately following the regular meeting Friday, the Commissioners Court is slated to adjourn to the third floor of Hopkins County Courthouse, where a work session will begin.
The Commissioners Court is slated July 22 to meet as usual with Fire Marshal Andy Endsley and Sheriff Lewis Tatum to discuss operations, review revenues and expenditures, and any proposed improvements or repairs in their departments; and with the Civic Center general manager to discuss events, repairs and improvements, and to review revenues and expenses.
At least five others are also scheduled to meet with the Commissioners Court during the Friday morning work session: County Tax Collector-Assessor Debbie Mitchell, Chief Appraiser Cathy Singleton, Patrick Covington and Tamara Williams of Farmers Electric Cooperative, and Mike Jones of Big Ditch Works.
A budget work session to discuss current and potential future financial matters, including work to continue shaping the 2022-2023 budget.
Additional Work Sessions
Friday's will be the second workshop the Commissioners Court have held this week. The elected official also met Monday morning, July 18, 2022, to discuss elections. This session reportedly covered changes from a past Legislative session which will impact the Nov. 8 election which will include having to have paper backup for ballots cast by voting machine and the adjustments that will need to be made to voting equipment and at the polls to meet those Legislative mandates.
On July 26, members of the Commissioners Court are scheduled for a work session, enabling them to attend the 2022 Texas Extension Association of Family and Consumer Sciences Conference Awards Program, scheduled from 10 a.m. to 6 p.m., and if they choose to hold a budget work session during that time.