A 21-year-old Sulphur Springs man was jailed early Friday morning for allegedly assaulting an officer with a knife. The arrest marked the second time in two weeks the man has been booked into Hopkins County jail, according to arrest and jail reports.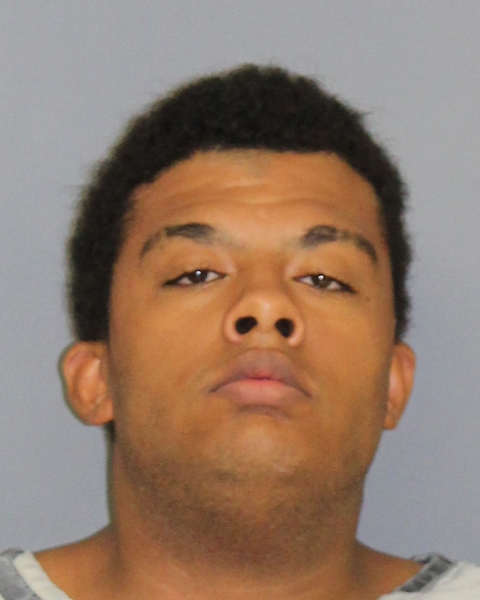 Sulphur Springs Police Officers responded at 7:45 a.m. June 24, 2022, on Tate Street at Texas Street to a disturbance. Sgt. Brandon Mayes reported seeing a man he recognized as Conner Hogan, a man he and Officer Derrick Williams had dealt with just 2 hours before at the same location. In arrest reports, Mayes noted Hogan and Officer Williams standing close together, with Williams holding Hogan's right arm, trying to talk to the 21-year-old.
As Mayes approached, Officer Derrick Williams called out to him regarding the man's other hand. When Mayes went to grab the man's hands, he noticed Hogan to be holding a knife aggressively against his body, the officer noted in police reports.
Mayes reported grabbing the hand holding the knife and kicked Hogan's leg out from under him. Officers then went to the ground with Hogan. Mayes tried to get the knife away from him. During the struggle, the man continued to move the knife around and cut the top part of Williams' forearm, Sgt. Mayes alleged in arrest reports.
Mayes continued instructing Hogan to drop the knife but Hogan failed to do so. After finally getting the knife from him, the officers were able to get one handcuff on Hogan, but the man continued to resist officers' efforts to get the other cuff on. Mayes reported using "pain compliance," striking Hogan in the ribs more than once after which Hogan reportedly complied by giving officers his other hand for cuffing.
Hogan was transported to Hopkins County jail, where he was booked in at 9:35 a.m. June 24. on an aggravated assault of a public servant with a deadly weapon charge. The Sulphur Springs man, who jail reports show is also known by Coca, was later served with a warrant for the June 15 criminal mischief charge, officers noted in arrest reports.
According to the June 15 arrest report, police responded to a report of Hogan running from a disturbance on Texas Street around 4:48 p.m. While en route to the address, SSPD Officer Victor Reyna reported seeing a male waving him down on Bellview Street. He requested another officer to contact the man while he continued to disturbance address.
There, Reyna spoke with a woman who told him Hogan had thrown a spare tire from her Jeep at the Jeep's rear window, breaking the glass. She then showed the officer a video of the incident. Reyna requested the officer to take Hogan into custody and transport him to jail.
Hogan was taken to jail, where he was booked in at 6:39 p.m. Wednesday, June 15, 2022, on a misdemeanor charge of criminal mischief resulting in $100-$750 worth of damage. He remained in Hopkins County jail until his release Thursday, June 23, 2022, on a $1,000 bond on the criminal mischief charge
The 21-year-old Sulphur Springs man remained in Hopkins County jail Saturday morning, June 25, 2022, on the aggravated assault charge and warrant. Hogan's bonds totaled $120,000 —$100,000 on the aggravated assault of a peace officer charge and $20,000 on the warrant, according to jail reports.
KSSTRadio.com publishes Sulphur Springs Police Department reports and news. The Police Department is located at 125 Davis St., Sulphur Springs, Texas. Non-emergency calls can be made to (903) 885-7602.
If you have an emergency dial 9-1-1.
The Sulphur Springs Police Department continues to serve its citizens with pride in its overall mission and will strive to provide the best possible police force in the 21st century.
If you have an emergency, dial 9-1-1
The Hopkins County Sheriff's Office is located at 298 Rosemont Sulphur Springs, TX 75482. You can reach them for non-emergency matters at (903) 438-4040.