The Sulphur Springs Senior Citizens Center was awarded 2021 Hopkins County Station of the Year by the Retired Senior Volunteer Program (RSVP) and Rick Wilson was named Volunteer of the Year at an Awards Banquet held at New Beginnings Church last week.

Station of the Year
The volunteers from the Senior Citizens Center who attended the banquet accepted a plaque and the certificate of award during the June 2 program.
"We were so happy to get the award. Our volunteers are the best all around. They give of themselves every week. We have been really short-handed and they all step up and pitch right in where and when they are needed. The Senior Citizens Center could not function without them. They are very loved and appreciated," said Karon Weatherman, Senior Citizens Center program and marketing director.
The Senior Citizens Center in Sulphur Springs has partnered with RSVP for more than 18 years. During that time 311 RSVP volunteers have contributed more than 257,000 hours toward the program's mission.
Noted as part of the was the following:
"Operating as a one-stop shop for every activity or service a senior adult could possibly need, this station provides deliveries of home-cooked meals to homebound seniors (which also serves as a friendly check-up on their well-being), and a wide variety of activities to keep older adults physically, mentally and emotionally healthy. From exercise classes, to games, to special recognition events, this station gives seniors daily opportunities to remain socially engaged and enjoy the fellowship of other older adults.
"Without question, the residents of Hopkins County benefit greatly from all this station provides to improve the quality of life for its seniors."
In 2020, the Meal A Day Program and Senior Center also were recognized by RSVP for their continued dedication to serving the community, even during a pandemic.
Volunteer of the Year
Rick Wilson also was recognized during then banquet for the time he donates to the community. Wilson received an award naming him the Volunteer of the Year for 2021 during the RSVP awards program June 2, 2022.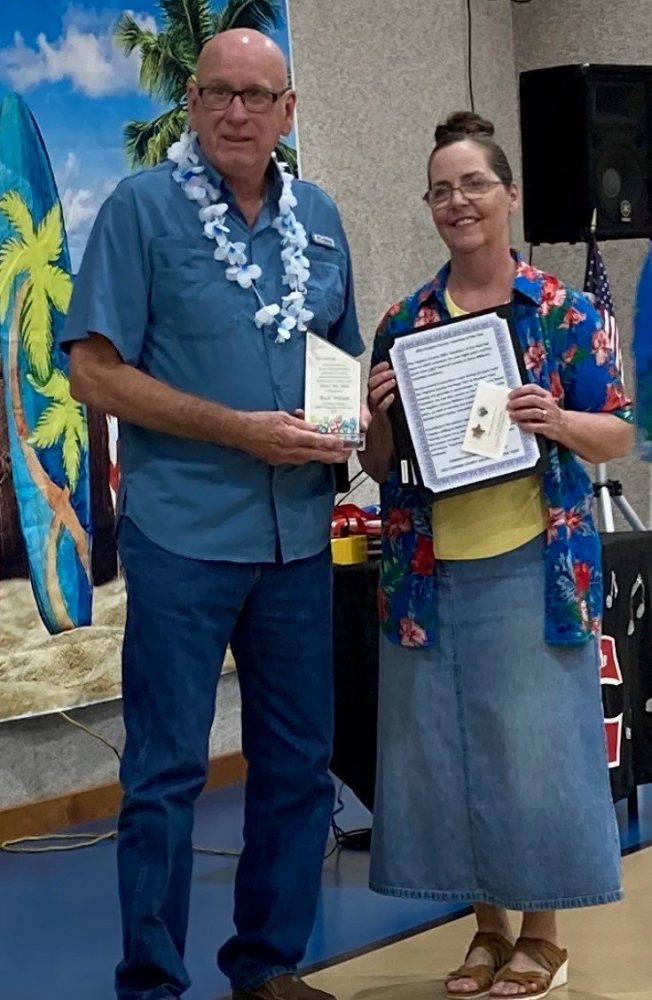 If there's something going on at Hopkins County Historical Heritage Park and Historical Society, you can just about bet Rick Wilson is involved. He helps maintain the historical site and preserve the buildings and history of Hopkins County, which includes helping to conduct activities such as Dutch Oven Cook-Offs, Indian Summer Days and Christmas in the Park; and meetings and activities featuring both the Historical and Genealogical Societies. Wilson's dedication to the organization spans at least three decades.
Wilson served his country previously in the US Army, and too has served as part of Hopkins County Military Coalition, providing military graveside honors for others who have served.
He has also has been involved with the regional Boy Scouts of America since his son was in Scouts. He's served on the Council, worked behind the scenes when weekend and weeklong summer camps were held at the regional BSA camp in Oklahoma, helped host day camps at the Heritage Park as well as pack and troupe events in Sulphur Springs and Hopkins County.
---
Congratulations to the Sulphur Springs Senior Citizens Center on being selected the 2021 Hopkins County Station of the Year and Rick Wilson on being named the RSVP 2021 Volunteer of the Year. Hopkins County is fortunate to have such dedicated community volunteers.
---
About RSVP
The Retired and Senior Volunteer Program is America's largest network for people age 55 and older contributing their time and experience to important organizations that improve the community.
Since 1971, RSVP has matched the personal interests and skills of seniors with opportunities to help solve significant problems in their communities and meet the needs of their fellow citizens. RSVP volunteers choose how and where they want to serve, from a few to over 40 hours a week in a wide range of community organizations. RSVP has no income eligibility requirements. Volunteers may receive reimbursement of some out-of-pocket expenses. Supplemental insurance coverage is provided while on duty.
To find out more about local volunteer opportunities, contact RSVP Coordinator Kelly Hamill at the Red River Valley RSVP at 903-782-0441, or email her at [email protected].