As of Thursday morning, local authorities had yet to apprehend or identify a suspect in the June 15 Pilgrim Bank robbery, according to police. Sulphur Springs Police and Lake Country Crime Stoppers are asking anyone with video or information to call in tips.
The bank robbery reportedly occurred during the noon hour at the South Broadway Street bank. SSPD was notified at 12:55 p.m. June 15, 2022.
The suspect was reported to be a heavier set, white male, approximately 6 feet tall, who was wearing a light blue hoody, glasses, a blue face mask and khaki colored pants, according to Sulphur Springs Police Chief Jason Ricketson.
Police at approximately 2:20 p.m. Wednesday disseminated the images (below) of the suspect, hoping someone could identify the suspect based on the image and writing on the back of the shirt.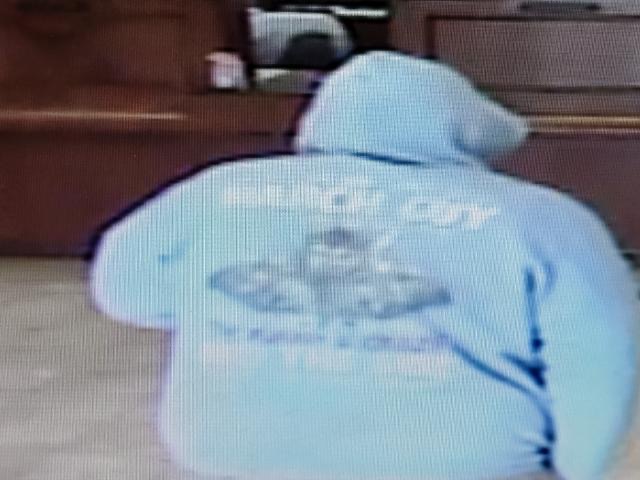 SSPD later Wednesday afternoon identified a white vehicle with sunroof and luggage rack, but no front license plate, as a possible suspect vehicle or connected to the suspect. Thursday, investigators said the suspect vehicle is a Chevrolet Suburban.
Police investigation into the bank robbery remained ongoing Thursday morning, but new leads were slim.
Anyone in the area who may have seen or have information about the suspect or vehicle shown below — especially businesses who may have captured the suspect's image on video, or anyone who may be able to identify the suspect — is asked to contact Sulphur Springs Police Department at 903-885-7602 or call Crime Stoppers at 903-885-2020.
Tips to Crime Stoppers are handled in such a way that the tipster's name remains confidential. Tips to Crime Stoppers leading to an arrest and/or conviction could result in a monetary award.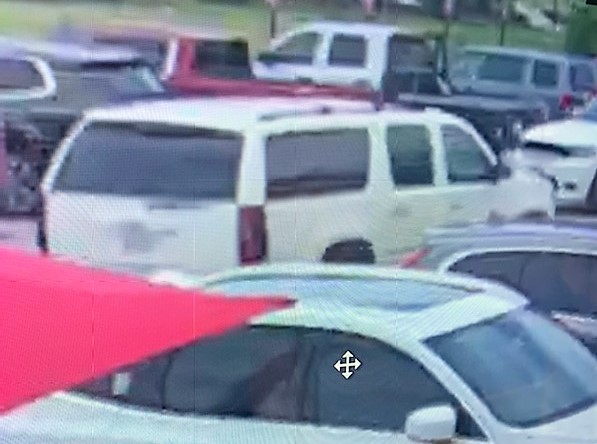 KSSTRadio.com publishes Sulphur Springs Police Department reports and news. The Police Department is located at 125 Davis St., Sulphur Springs, Texas. Non-emergency calls can be made to (903) 885-7602.
If you have an emergency dial 9-1-1.
The Sulphur Springs Police Department continues to serve its citizens with pride in its overall mission and will strive to provide the best possible police force in the 21st century.
The Hopkins County Sheriff's Office is located at 298 Rosemont St., Sulphur Springs, TX 75482. Non-emergency calls can be made to (903) 438-4040.