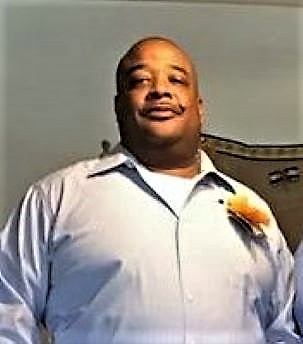 Melvin Jerome Jackson Sr. passed away on Saturday, June 25, 2022, at Christus Mother Frances Hospital in Tyler Texas. Officer Jackson was born on June 29, 1973, in Greenville, Texas, to the parentage of Melvin Smith Sr. and Cheryl Ann Jackson.  He was a graduate of Greenville High School in1991. 
Although he worked for other companies, Melvin found his true passion when employed at the Hopkins County Sheriff's Department as a Correctional Officer.  While employed at HCSO his determination and work ethic earned him several opportunities for advancement. He worked his way through the ranks, becoming a Sergeant and eventually a training officer.  One of Melvin's proudest moments was in 2016, when he graduated from the East Texas Police Academy sponsored by Northeast Texas Community College in Mount Pleasant, Texas.  On that day, he achieved the goal of becoming a Police Officer.  Shortly thereafter, he left the Hopkins County Sheriff's Department and went to work for Franklin County Sheriff's Department as a Deputy, where served for three years.   
On November 27, 1998, Melvin married the love of his life, Marsha Evonne Robinson. On that day, not only did he gain a wife but a daughter, Meghyn Le'Rose Robinson.  To their union, one child was born, Melvin Jerome Jackson Jr.  
He was preceded in death by one son and a grandson, Memfys Gipson, as well as grandparents, Hubert Jackson Sr., Lucille Jackson, and Bobby Lloyd Smith.
Melvin leaves to cherish his memory his wife, Marsha Jackson; daughter, Meghyn Robinson (Jeremy) Gipson of Springdale, Arkansas; a son, Melvin Jerome Jackson Jr., Como, Texas; his pride and joy, grandsons Maxen and Makoryn Robinson, and Messiah Gipson; his Mother, Cheryl Mathis of Tyler, Texas; Father, Melvin Lee Smith Sr (Jennette) of Greenville, Texas; Grandmother, Ida Mae Smith, Greenville, Texas; Sister, LaShawna Smith, Tyler, Texas; and Brothers, Bobby Smith of Allen, Texas, Melvin Lee Smith Jr. of Dallas, Texas, and Evertt Lloyd Smith of Greenville, Texas; as well as a host of aunts, uncles, brothers-in-law, sisters-in-law, nieces, nephews, cousins, and friends who loved him dearly. 
Funeral services will be conducted at 11 a.m. on Friday, July 1, 2022, at Cypress Baptist Center with Rev. Bobby Thomas officiating. Interment will follow at Grundy Memorial Cemetery in Hunt County with the Franklin County Sheriff's Department Deputies serving as pallbearers. Honorary pallbearers will be Bobby Smith, Evertt Smith, Jerry Robinson, Roderick Robinson, Melvin Smith, Victor Hunter and John Robinson, Jr. There will be no formal visitation.
Arrangements are under the direction of West Oaks Funeral Home.
---