Jay Hodge Chevrolet on Thursday received Chevrolet's 2021 Mark of Excellence Award, earned by only 30% of the Chevy dealers across the national annually. While it's not unheard of for a Chevy vehicle dealer to earn the recognition, to receive the award for six consecutive years, is most remarkable, which distinguishes Jay Hodge Chevrolet from most other dealerships, according to local officials.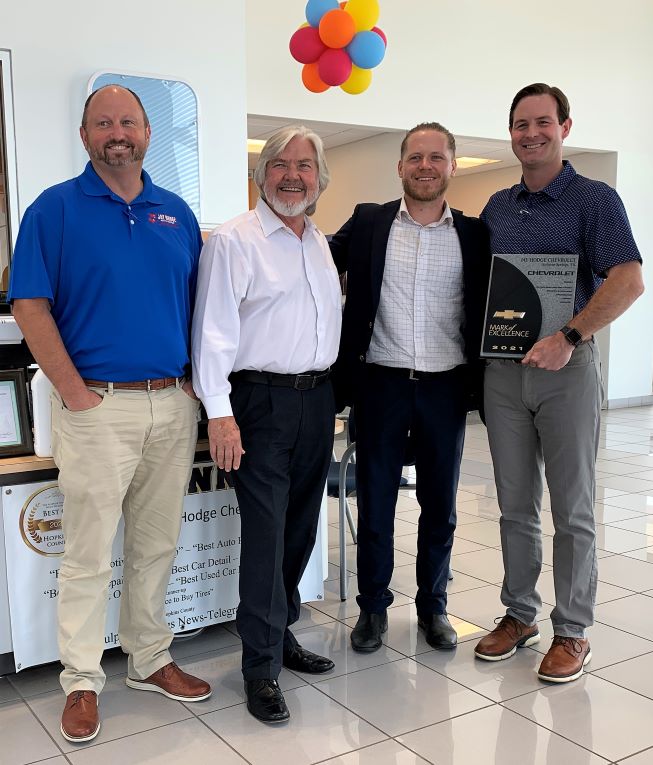 "Basically, this represents the maintained relationship Jay Hodge has with the customers, the importance they have in the community, and all the stellar remarks they get from the customers day in and day out for the sales consultants. For me, personally to them, I can't thank you guys enough for what you have done in the last couple of years maintaining this award and receiving it every year. It's really important to me and I know you guys do a lot for General Motors, so on behalf of General Motors and Chevy, you guys get this Mark of Excellence award," said Ryan McFadden, district Chevrolet representative, as he presented the 2021 Mark of Excellence plaque on behalf of Chevrolet at the Sulphur Springs dealership on June 16, 2022,.
"This is an honor. It is a testament to our staff, to our customers and the brand that we represent in Chevrolet and General Motors. We are very proud to be here, very excited and look forward to continued success with GM and with Chevrolet, and our local customers," said Jay Hodge, president of the Jay Hodge Chevrolet Group.
"We love our community here. It's the greatest place in the world to live and work and do business in. You guys and the whole community are so supportive. Thank you so much," said Bill Owens, Jay Hodge Chevy general manager. "I am so proud, I can't tell you how much. We have the best group. It starts at the top with Jay and Curt," Owens said of Jay Hodge Chevrolet Auto Group COO Curt Poore
The Chevrolet Mark of Excellence Plaque is given in recognition of a dealership's outstanding achievement in meeting or exceeding annual Divisional sales objectives, program qualifiers as well as local advertising and marketing program, parts and service, support, and Essential Branch Elements or EBE (the standards that Chevrolet dealers uphold includes monthly quotas and reports and quarterly critiques). The award also involves being ambassadors for Chevy/GMC, McFadden said.
Mark of Excellence awards "symbolize the very pinnacle of success!" They represent the highest honors in the industry and communicate to peers, customers that the recipient is truly among the "Best of the Best," according to GMC's website.
Congratulations to everyone at Jay Hodge Chevrolet for the continued hard work and excellence that has earned the auto group this prestigious award 6 years in a row.