The Hopkins County United Way 2022-2023 campaign chair, theme, goal and dates for the 2022 kickoff lunches were announced, and the budget and allocations committee recognized this week.

Kristy Moseley, who served as the 2021-2022 campaign chair and will this year serve as HCUW president, introduced Emily Glass as the chairperson for the 2022-2023 fundraising campaign and and new board member.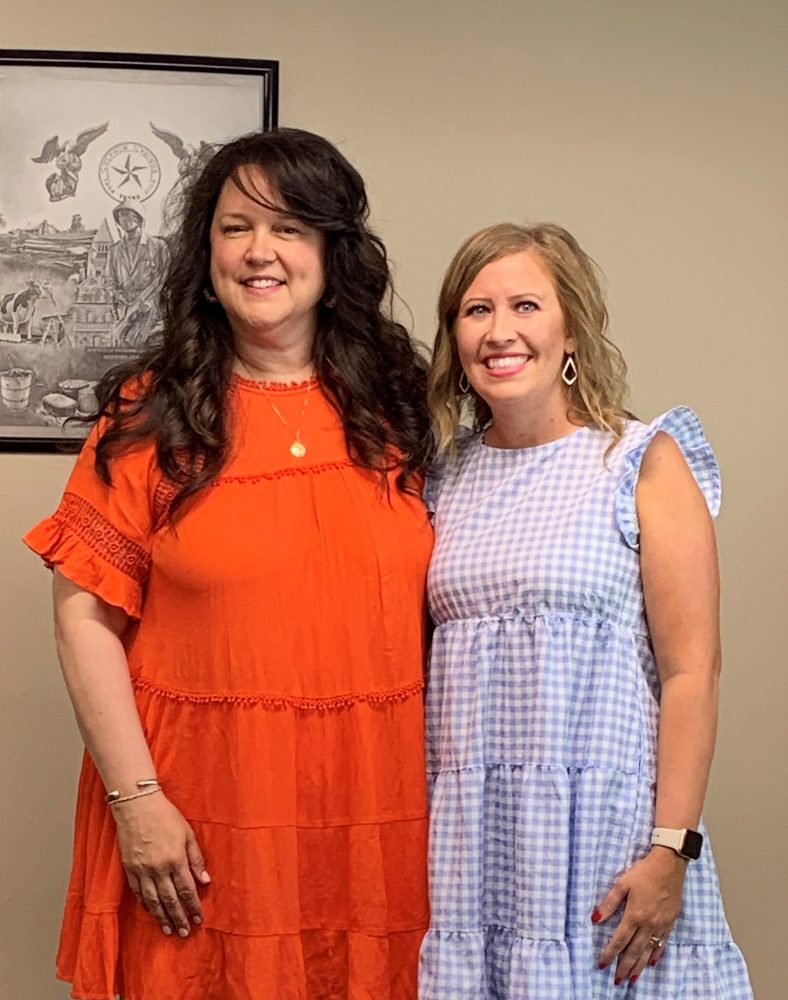 "I think we are all excited about this, especially me, because she's going to do a phenomenal job," Moseley said, then to Glass added, "We are just all looking forward to how this year goes for you, and we are all here to help you in any way that we can."
"Thank you, I am excited to get to serve in this capacity with y'all," said Glass, a proud Hopkins County native, Sulphur Bluff graduate and third generation A&M-Commerce Lion. (She earned both Master's and Bachelor's degrees from TAMUC.)
She believes that "we are not entitled to a great community," that "you have to invest in your community, give back to it." She said she is always seeking out different opportunities to do that.
Glass's community involvement also currently includes serving as president of the Dial Study Club and finance chair at Wesley United Methodist Church. She has also served on Sulphur Springs City Council as well.
Her husband is also involved with with the community as a member of the Lions Club and Knights of Columbus with his church. She said she strives to instill in their three children the importance of giving back to their community.
As chairperson for the 2022-2023 HCUW fundraising campaign, Glass said she has "very high expectations" but is "very excited about this year."
"I think that we have an amazing community, a very strong community. This year's theme is 'A History of Helping,' because I think that we do have such a strong history of helping here in Hopkins County. To just get to be a small part of that is a blessing. We have a fantastic Budget and Allocations Committee," Glass said.
The Budget and Allocation Committee members include David Burns, Ashely Crump, Tommy Harrison, Charlotte Henderson, Mike Horne, Lindsey Johnson, as well as Glass and Moseley. 
The Hopkins County native has been involved with United Way for a number of years, as a campaign worker and member of the budget and allocations committee too.
"It was a really eye-opening experience," Glass said of her two years on the HCUW Budget and Allocation Committee. "I think sometimes, being in a small town, we don't always see the need, and take things for granted that we do have a great town. We have a great community, but there's still a lot of needs here that need to be filled. Getting to learn about those in a really deep, eye-opening way is very meaningful to me and lead me to want to serve for United Way in more ways going forward."
This year's HCUW campaign goal is set at $150,000, and the theme is "A History of Helping." The workers kickoff luncheon is scheduled to be held Sept. 21 at the Southwest Dairy Museum, and the lead donor luncheon will be Sept. 28.
"In keeping with the theme of 'History of Helping,' I've secured John Sellers as the keynote speaker of the lead donor luncheon; he's going to share about the history of United Way, specifically here at Hopkins County, and just really emphasis some of the major points of United Way and impact it has in this community," Glass said. "
"It's going to be great. We are all looking forward to it," Moseley said.