A 43-year-old Cooper man was accused of running from police to avoid a warrant arrest Monday, according to arrest reports.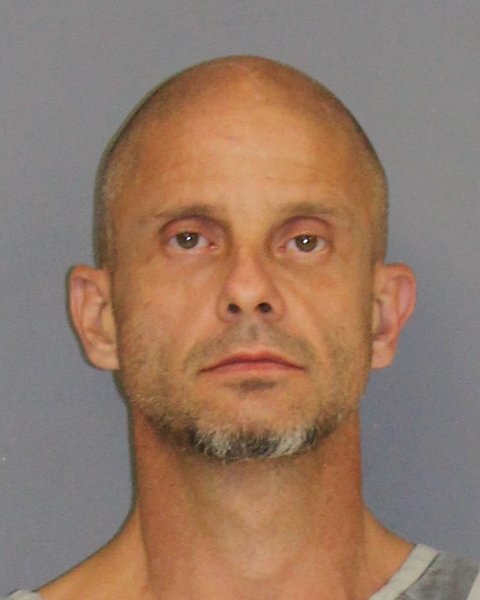 Sulphur Springs Police Officer Francisco Castro reported stopping a green Nissan for a traffic violation on West Oak Circle at Azalea Lane at 3:28 p.m. June 27, 2022. While talking to the driver, identified as Darrell Joe Dunavin, Castro smelled a marijuana odor emitting from the sedan. The Coper man admitted he'd smoked the day prior but claimed there was no contraband in the car, Castro alleged.
The officer found a bag of marijuana and a glasses case with a cloth wrapped pipe with suspected methamphetamine residue on Dunavin during a pat-down. At that point the man took off running. Castro pursued him, instructing him to lay on the ground. When he failed to do so after a short distance, Castro assisted him to the ground and placed him into custody, the officer alleged in arrest reports. The Cooper man claimed he was running from police because he knew there was an outstanding parole warrant for his arrest, Castro alleged in arrest reports.
SSPD Officer Victor Reyna and Lt. Mark Estes arrived shortly thereafter. Additional contraband was located in the vehicle. A records check by dispatch showed Dunavin had an outstanding parole warrant for his arrest. The warrant was confirmed and Dunavin was arrested at 3:43 p.m. June 27, 2022, on West Oak Circle at Azalea Lane, then transported to Hopkins County jail. Reyna inventoried the car prior to it being impounded. The contraband was seized and Dunavin was transported to jail.
Dunavin — who jail reports show is also known by Daryl Joe Dunavin, DJ Duanvin, DJ Dunavan, Fink Rat, Rat Fink and D Joe Dunavin — was booked in at 6:43 p.m. June 27, 2022, on a warrant for violation of probation, which he was on for two burglary of habitation convictions as well as an evading arrest or detention with a previous conviction, which enhances the charge to a state jail felony offense. He remained in Hopkins County jail Tuesday morning, June 28, 2022, on both charges, according to jail records.
KSSTRadio.com publishes Sulphur Springs Police Department reports and news. The Police Department is located at 125 Davis St., Sulphur Springs, Texas. Non-emergency calls can be made to (903) 885-7602.
If you have an emergency dial 9-1-1.
The Sulphur Springs Police Department continues to serve its citizens with pride in its overall mission and will strive to provide the best possible police force in the 21st century.
If you have an emergency, dial 9-1-1
The Hopkins County Sheriff's Office is located at 298 Rosemont Sulphur Springs, TX 75482. You can reach them for non-emergency matters at (903) 438-4040.