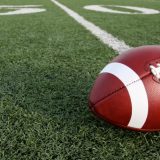 Coach Bill King's squad picked up another big win at home, beating the Bobcats 40-6 on Saturday, Apr. 30.
QB Ty Rollison lead his team to another big victory, thanks to another solid performance by him and the Dragons' offense. 
NETX powered their way to a huge 27-6 lead at the break. 
The Dragons cruised the rest of the way, blanking their opponent's offense while scoring 13 more points in the second half to win big over the Bobcats 40-6 at Gerald Prim Stadium on Saturday, Apr. 30. 
The blowout win over the Bobcats gives the NETX Dragons semi-pro football team an 8-1 record.
Coach King's team observes their third and final bye next Saturday, May 7, before wrapping up their season the following weekend.
The Dragons host the Tigers on Saturday, May 14 for their season finale.
Not only is that contest their final game of the regular season, but the victor of that game claims the division championship.
The de-facto division championship game kicks off on Saturday, May 14 at Gerald Prim Stadium at 7 P.M.