Como-Pickton High School seniors were honored this week with scholarships, honors and awards. Overall, the CPHS Class of 2022 received more than $221,000 in scholarships at the annual awards program.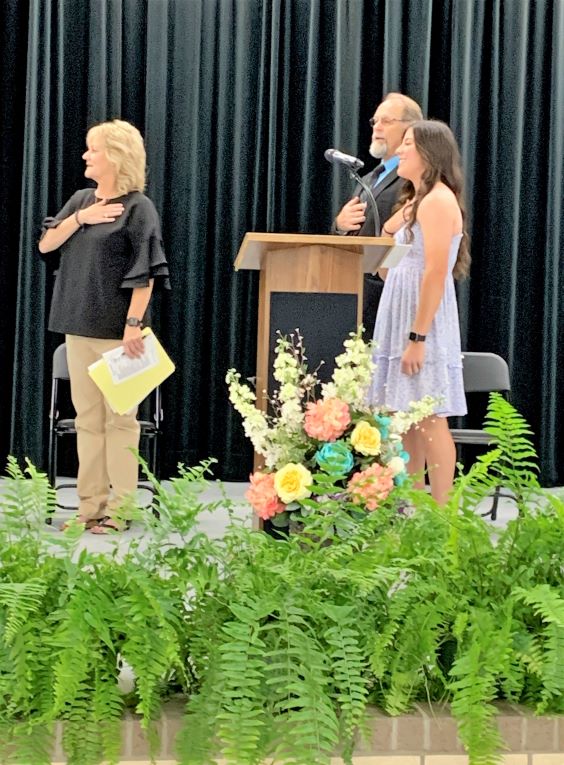 Como-Pickton Assistant Superintendent Lydia Walden presented Kara Tifft with a $500 Hopkins County Veterans Patriot Scholarship, on behalf of the Hopkins County Veterans Memorial Freedom Ball. Walden explained that the 2022 Hopkins County Freedom Ball was graciously supported this year by various families and businesses in the community who donated to the organization's scholarship fund. The scholarship is designated for a Hopkins County student who is involved in activities that support veterans in our community – things like organizing or working at the Veterans Day School Program and volunteering at "The Wall that Heals" event held back in the fall.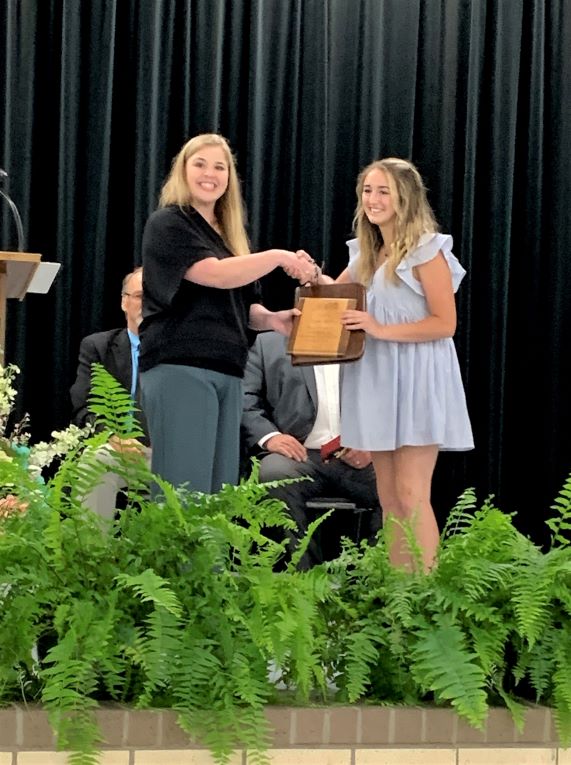 Amy Rayzor presented Tifft and Meghan Cummins with scholarships from Legacy Ag Credit, awards given to students who not only excel in academics but also agriculture. Cummins received a $2,500 scholarship and Tifft a $5,000 scholarship.
Keith Shurtleff said one of the things Alliance Bank, which has been in the community for almost 100 years, likes to most is support local youth. Alliance has an ongoing relationship with almost every school district in the county. Each year Alliance give scholarships. This year, across the bank service area, 10 scholarships will be awarded to local graduates. Two of the scholarships are designated to benefit Hopkins County youth, with one of those specifically earmarked to go to a student graduating from a rural school district. The Alliance Bank scholarship in the amount of $2,000 a year, renewable for up to four years, was awarded Meghan Cummins.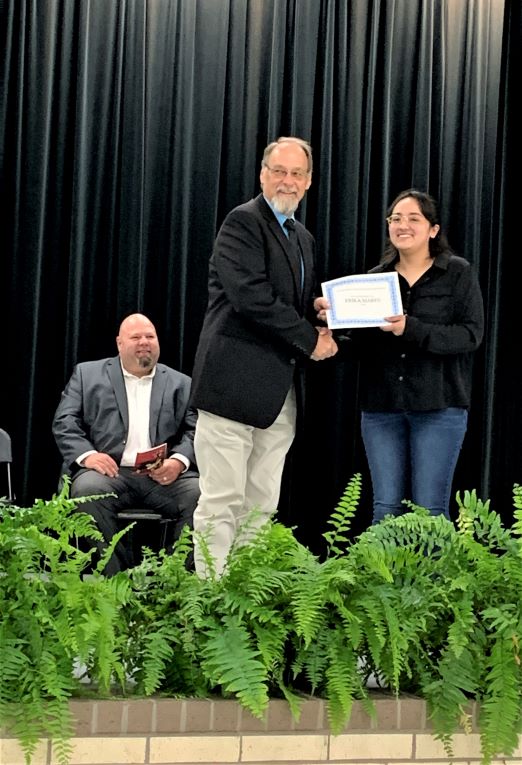 CP Counselor Lou Colvin announced Makayla Hall as a recipient of one of 10 Bright Star Scholarships, a $40,000 award. The Bright Stars Scholarship Program was created in 2018 by the John and Deborah Gillis Foundation, which exists to provide multiple educational opportunities to amplify, strengthen and empower Hopkins County students so they will be college and career ready in order to be highly competitive in a global society. The award is divided into up to eight semesters.
Colvin also presented City of Como and Sanitation Solutions Scholarships in the amount of $500 were awarded to Leslie Galvan and Erika Mares.
Coach Danny Bulls presented $500 Como-Pickton Athletic Booster Club Scholarships to Kara Tifft, Marissa Corona, Nate Lovelady, Tucker Rutledge, Sandra Tran and Kara Tifft.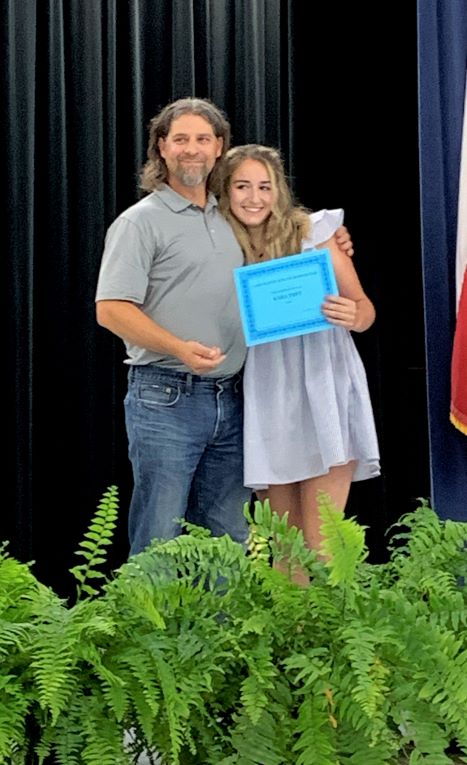 On behalf of Franklin County Sheriff's Posse, Michael Bowen awarded a Franklin County Youth Rodeo Scholarship in the amount of $500 to Logan Langley.
Jovany Tellez was announced by Bowen as the recipient of a $1,000 scholarship from Texas State Technical College.
For competing in the National FFA Dairy Handlers Association contest at the National FFA Convention in Indianapolis a couple of years ago, Presley Cummins was awarded a $2,500 scholarship.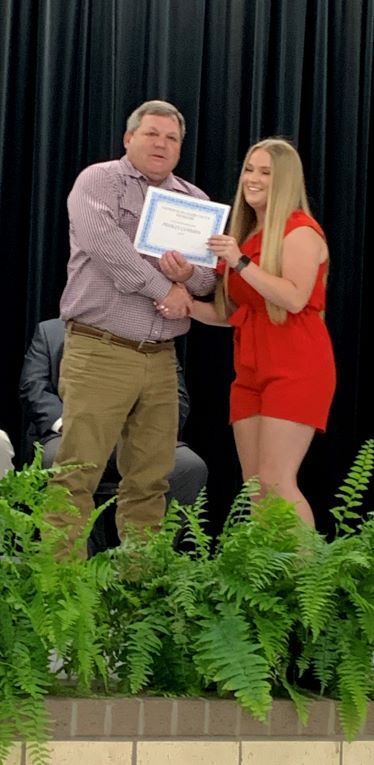 Bowen has the honor of awarding a scholarship given by the family of Dr. Wayne Parker, a Hopkins County veterinarian for many years, one Bowen recalled his family visited in when he was young. After Dr. Parker's death, his family established a scholarship fund in his memory for a student planning to study animal science.
"This year, we have a student who is going to pursue a degree to be a veterinarian. Dr. Parker, I know, would be proud of this," Bowen said, when announcing Kara Tifft as the recipient of the $1,000 scholarship.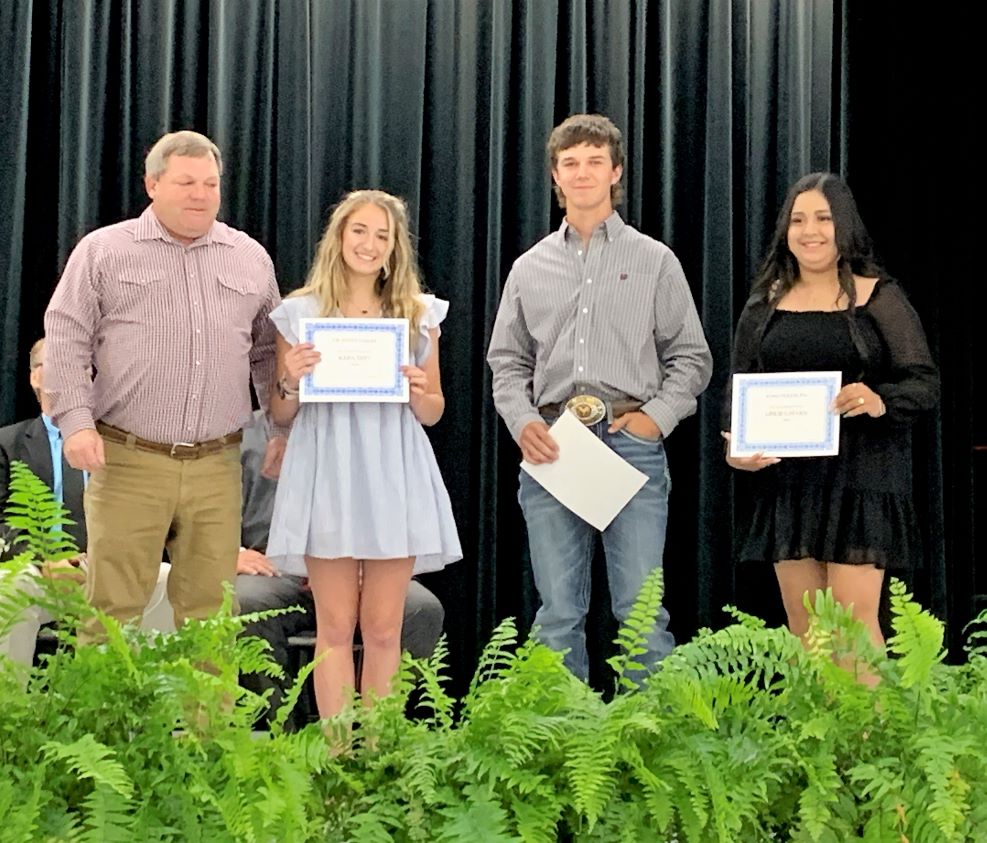 Kara Tifft, Leslie Galvan and Micah Flemens were awarded $1,000 Como-Pickton FFA Scholarships, funded by the annual FFA Stew and Auction.
Bowen also awarded Micah Flemens with a $2,500 Northeast Texas Livestock Association (NETLA) scholarship and a $2,000 State Fair of Texas Premier Exhibitor Scholarship for finishing second out of 40 students in the fair's ag mechanics sweepstakes event.
Bowen had the honor of awarding a $500 Lonnie Niblett Memorial Scholarship to Jordyn Mahoney.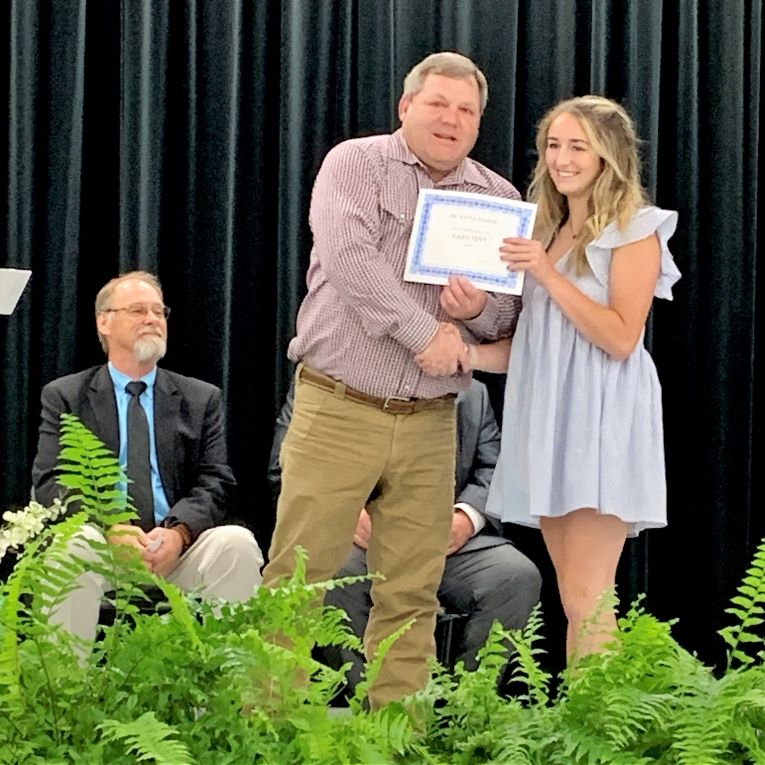 Presley Cummins, Makayla Hall, Tucker Rutledge and Kara Tifft accepted a $250 Como-Pickton Little Dribblers Scholarship, presented by Coach Trevor Wallace.
Andre Simon, First Baptist Church-Sulphur Springs music minister, had the honor of presenting a $1,000 Tommy Jackson Scholarship and a $750 FBC Scholarship to Nate Lovelady. He too presented Lovelady with three scholarships on behalf of East Texas Baptist University – a $40,000 Honors Scholarship, a $24,000 Music Scholarship and a $10,000 Christian Leadership Scholarship. That makes $76,250 in scholarships Lovelady received during the May 23, 2022 program.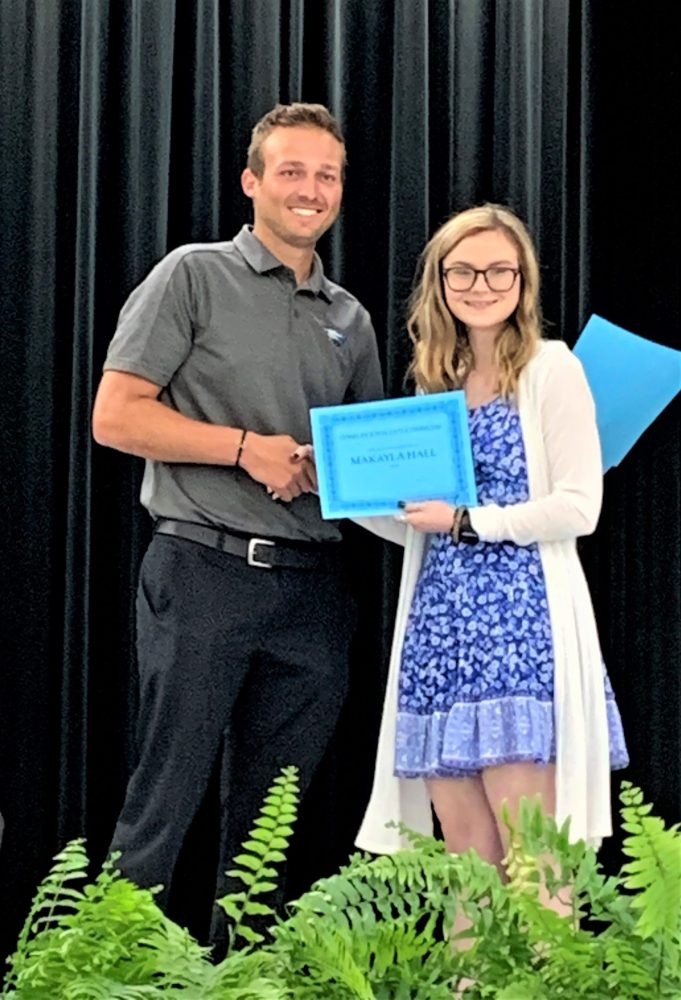 Patsy Evans had the honor of presenting to Tucker Rutledge a $2,000 Clay Evans Memorial Scholarship. Funds for the scholarship come from an annual crawfish boil, started by her sons Andy and Clay, and two of their friends were on a job in Louisiana. They were so taken by the Cajun culture – the music, food, the people who could tell catfish tales better than Texans. They liked it so much, that they stopped on the way home in 2014 and bought 2 bags of crawfish, a bunch of shrimp and frog legs on the way home. They invited friends and family to their crawfish boil. Each year thereafter, the crawfish boil was held and the number attending continued to grow into the hundreds. In 2012, they began selling t-shirts to cover the cost of the food for the boil. In 2013, the fundraiser became a fundraiser to help Clay with medical bills. It was a huge success, with a great outpouring of support with people coming from miles around to the boil to contribute. The next year, they guys decided the event would continue to be held and used to fund a scholarship annually to honor Clay's memory. The funds would go to someone graduating from Como-Pickton, the school clay and all of his siblings attended. The 2022 Clay Evans Memorial Scholarship recipient, Tucker Rutledge, has participated in many UIL events, demonstrated leadership abilities and has a plan to study computer science at Northeast Texas Community College.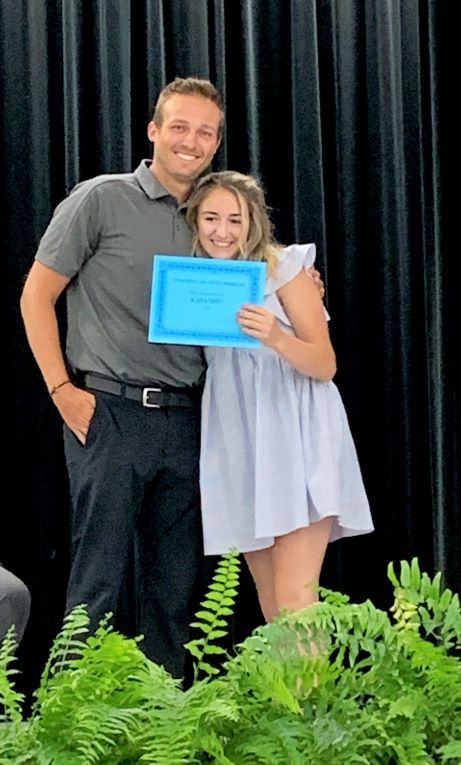 Colvin then presented Presley Cummins with a $3,500 Finnis and Onree Attlesey and Garland and Sweet Gamblin Scholarship.
Wendell Hildebrandt announced two scholarships on behalf of The Hawks Gun Club of East Texas and the Friends of the Hawks, a men's club that meets once a week for breakfast and that gather once monthly. The Friends of the Hawks consist of like-minded men who believe in the second amendment and giving back to the community. Some of the ways they give back include working with Winnsboro Police Department to host a Christmas toy drive, a helping to park cars and with parades. Another way The Hawks giveback, Hildebrandt explained is by raising money for local kids who are planning to go to a trade school and who will come back to the community and put back into the community. The Hawks awarded a $1,500 scholarship to Avelardo Villa and a $3,000 scholarship to Logan Langley.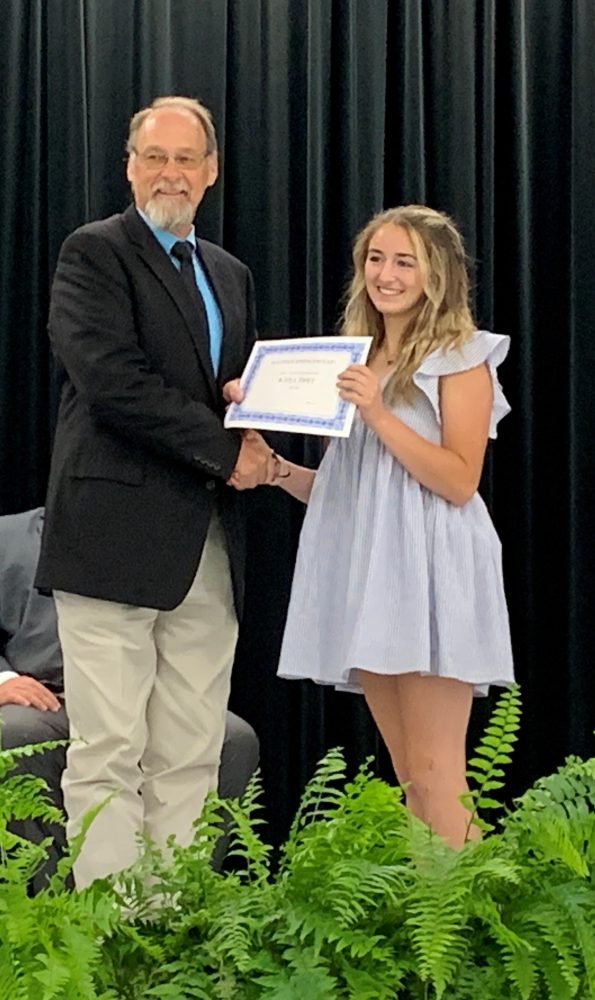 Colvin noted that each year NTCC gives a $200 scholarship to the principal and counselor to award. This year's NTCC Counselor and Principal Scholarship was awarded to Kallie Ann Ramirez.
Ben Pegues and son presented Hannah Pegues Memorial Scholarships to Alyssa Corona and Marissa Corona.
"As many of you know, 7 weeks ago today, our family and community completely changes. But, with that, we got a generosity from you that was just overwhelming. In the spirit of that generosity we have the Hannah Pegues Memorial Funds. The recipients this year are Alyssa Corona and Alyssa Corona," Ben Pegues said.
Colvin presented a Stephen F. Austin Academic Excellence Award in the amount of $2,500 to Juli Sawyer.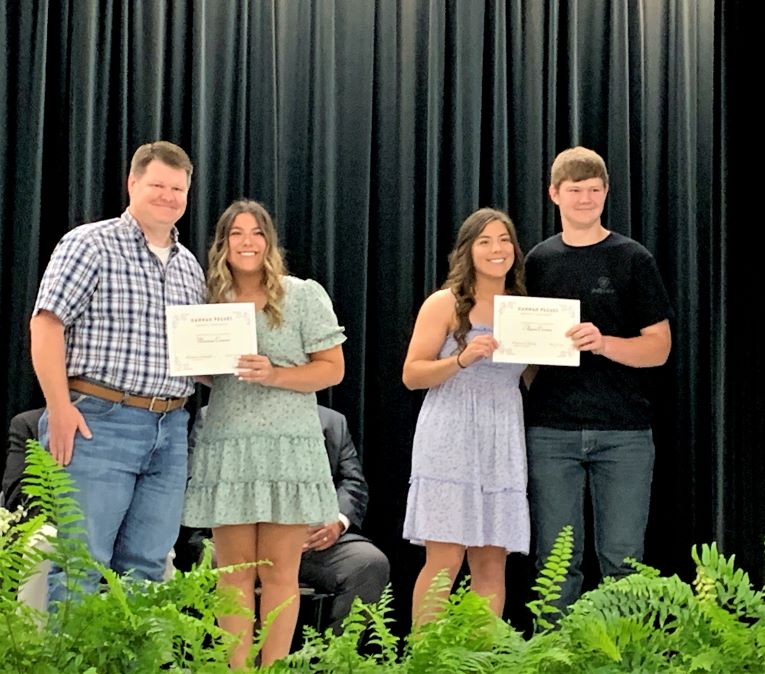 Sulphur Springs Rotary Scholarship awarded a $3,000 scholarship to Presley Cummins and a $1,000 scholarship to Kara Tifft. That makes a total of $19,750 in scholarships Cummins received. Tifft also was awarded a $4,000 Tarleton Honors Scholarship, bringing the total amount of scholarships awarded to her May 23 to $13,750.
Colvin presented a Texas A&M University-Commerce Presidential Scholarship in the amount of $40,000 to Sandra Tran. Tran received a total of $40,500 in scholarships Monday evening.
Nathan Brown and Alex Holcomb each was awarded a $500 Texas High School Bass Association Scholarship, presented by Colvin.
Jaired Maddox, UT-Tyler Admissions Officer, said while there were several eligible, he would be presenting only one $8,000 UT-Tyler Academic Excellence Scholarship to Jessica Houghton.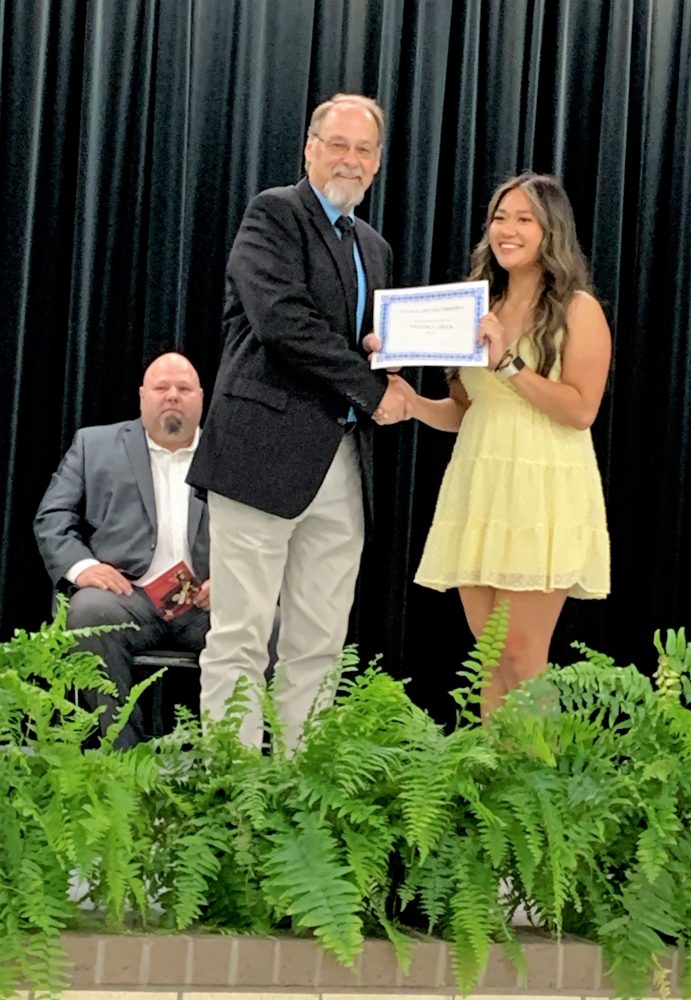 Como-Pickton CISD Superintendent Greg Bower, assisted by the other district administrators, presented two Como-Pickton Administrators Scholarships. He noted that each year the district administrators see time after time organizations, colleges, people and businesses go out and fundraiser money to help CP kids go off to college and represent CP and their school in the future. As the biggest employer in the Como-Pickton community, the administrators felt they too could find ways to raise funds to help support students as they begin the next chapter of their lives after graduating from CPHS. Over the past 5 years, the administrators have raised over $20,000, which has been awarded to graduates for college. This year's fundraising included a teachers versus students volleyball contest, and offered candy, drinks and water.
At the May 23 Senior Honors and Awards Program, CP Administrators Scholarships in the amount of $1,000 to CPHS Class of 2022 Seniors Erika Mares and Yarely Tellez.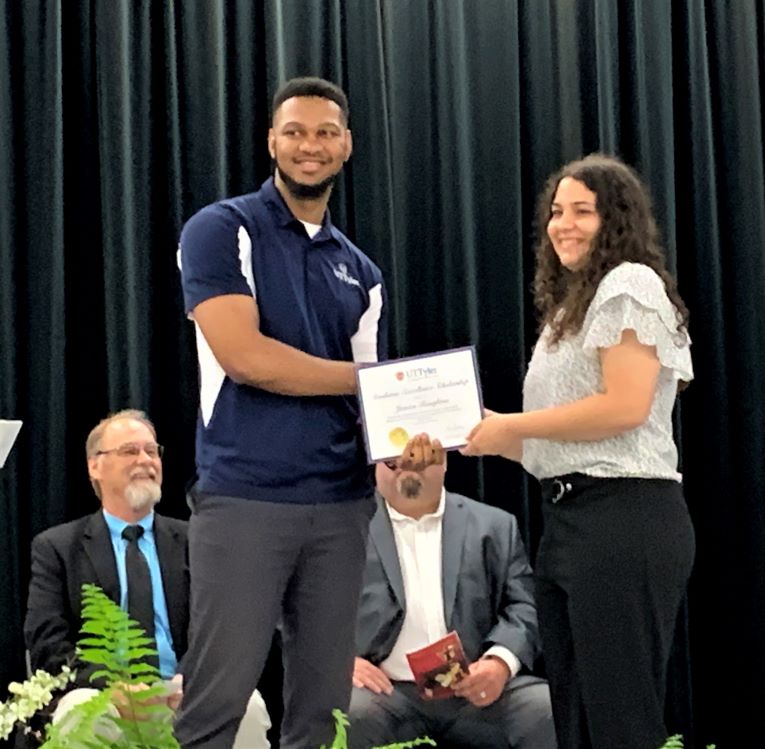 CP seniors were also recognized for being on the A and AB Honor Rolls, Red Cord Honors, FCCLA, Spanish Club, CCMR, National Honor Society, Honor Graduates, the cumulative Top 10 students in the class and 13-year Eagles (those who've attended CP since kindergarten). Awards were presented for Distinguished Eagle of Excellence, and class awards. Alyssa Corona lead the reciting of the Pledge of Allegiance, Principal Kelly Baird welcomed everyone and offered closing statements. To close out the evening, a slide show featuring the CP Senior Class of 2022 through the years was played.