The Sulphur Springs High School FFA Chapter recently recognized members' achievements and honors throughout the 2021-2022 school year at the 84th Annual Parent and Member Awards Banquet.

The students kicked off the meeting with Chapter President Cash Vititow serving as toastmaster for the occasion. Sentinel Wayne Hinton giving the invocation, then serving lines opened for the buffet meal catered by Big Smith's BBQ. Greenhand members presented the American, Texas and FFA flags, with chapter officers opening the ceremonies. Secretary Coen Bell welcomed everyone and Treasurer Caroline Coker introduced special guests.
Scholarships, Special Awards
Advisor Mattye Schmidt announced Jasmin Cordova as the recipient of a $500 Bobby McDonald Memorial Scholarship, a huge supporter of FFA and the agriculture community, especially those in Hopkins County. Cordova was unable to attend the meeting due to a work conflict.
Cash Vititow and Beau Bankston were awarded $1,000 Sterling Beckham Scholarships. Sterling and Eva Beckham spent his life in service to Texas youth in agriculture. His years of tenure at SSHS and in agricultural education allowed Sterling and wife Eva to influence the lives of many of today's agricultural leaders. After Beckham's death, his friends, students and former colleagues created a program that would continue the Beckhams' contributions to agriculture education by establishing a scholarship in their names.
The Billy Conner Commemorative Award is presented to a student who goes above and beyond to help others, who has a great work ethic and exhibits a willingness to serve. The individual can be counted on to show up early and leave after everyone else and is always eager to help.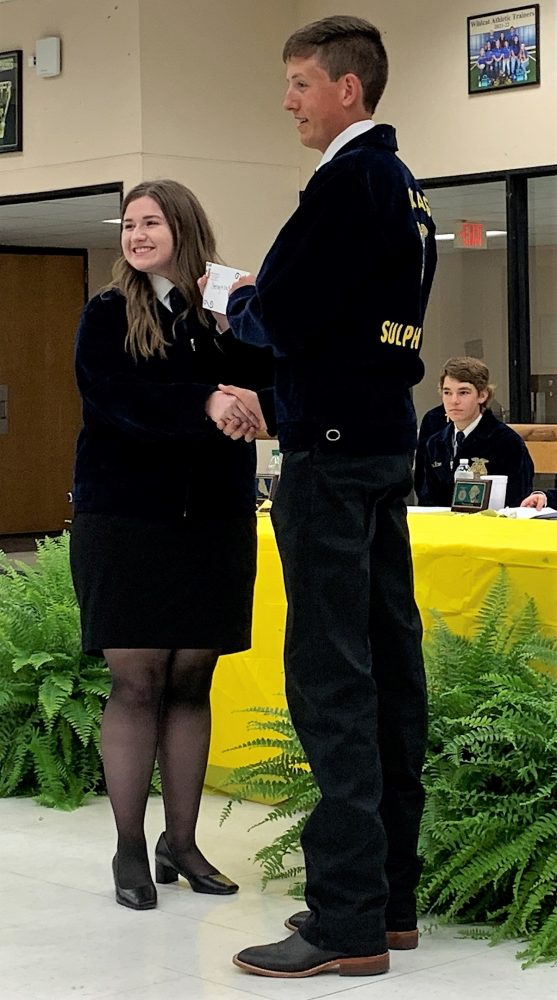 "Tonight's award goes to a very deserving young lady. She is always willing to help and goes above and beyond with everything that she does. She is not afraid of hard work and most of the time volunteers to do things that other kids do not want to do. I have watched her give it all and still be upset when she feels like she could do better. She truly takes pride in everything that she does and wants to be the best that she can be. She is even a certified science cookie baker here in the ag room. She is Olivia Palacios," SSHS teacher Lindsey Arthur said.
FFA Chapter Advisor Lindsey Arthur awarded $500 floral design scholarships to Amanda Hernandez and Ariana Arizmendez. Funding for the scholarships came from monthly floral arrangements sold throughout the school year and arrangements made for banquets and special events.
The National FFA program has five levels of active membership: Discovery, Greenhand, Chapter FFA degree, State FFA and American FFA degrees. Pins were awarded at the banquet for Greenhand and SSFFA Chapter members.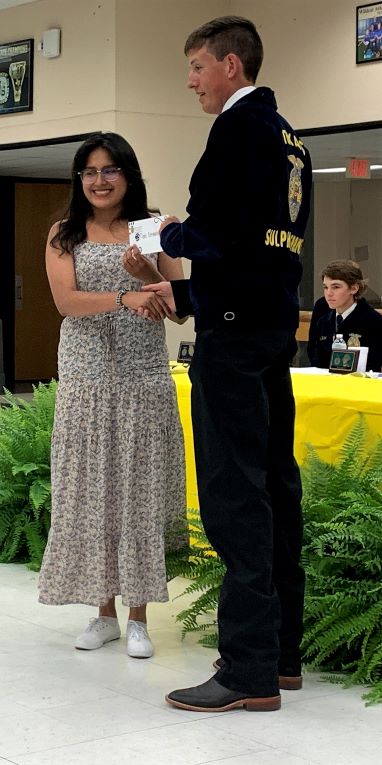 Greenhand pins went to Aspen Mayhew, Jordan VanWinkle, Gabby Tubb, Valerie Flecker, Sharon Obrego, Lane Curant, Cade Dennis, Presley Brown, Cash Gamblin, Tristan Eley and Trenton Aulsbrook.
Recognized as Chapter farmers were Coen Bell, H .Ball, Caroline Coker, Olivia Palacias, Rylie Carroll, Catherine Starzyk, Cohen Moss, Michelle Allen, Cecilly Bravo, Olivia Gabriel, Haden Herford, Janis Rivera, Braddox Rawson.
Receiving the Outstanding Greenhand award, given in memory of Randy Schaeffer and Ken Pogue, was Tristan Eley. The award was established in 1980 and is given based on the Greenhand's project program, leadership teams, judging teams, livestock shows, meeting attendance and other criteria.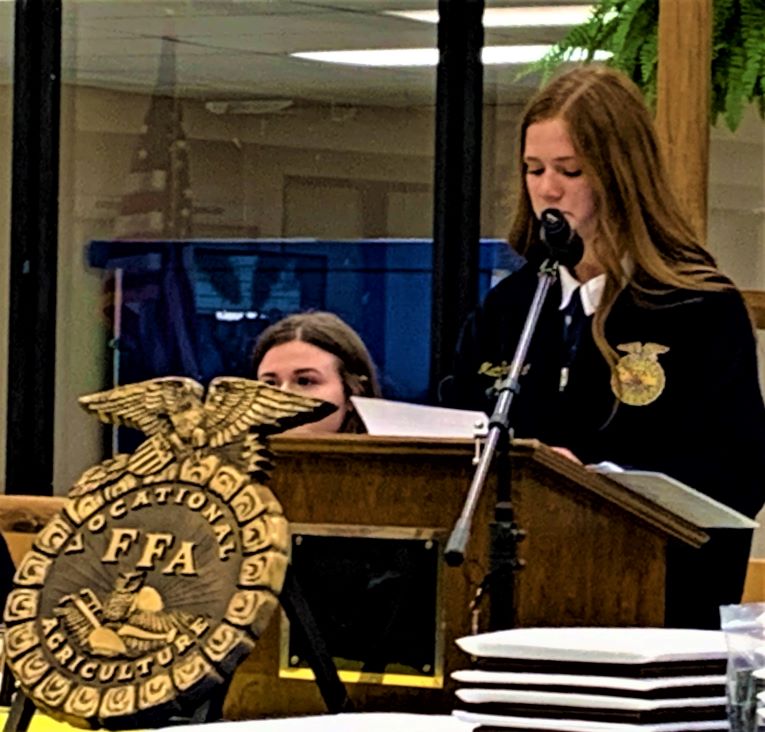 The 2021-2022 SSFFA Chapter officers recognized Principal Derek Driver by officially designating him as an Honorary Member of the chapter.
"Mr. Driver has been a supporter of our program from the day he arrived. Over the years, anytime we have run into an obstacle, he has always been there to help us overcome it. He is all about building relationships with students and helping them succeed. Mr. Driver has a huge heart and a great passion for our students. From making sure everything is running smoothly on campus so we can travel to our many events and contests to helping us secure everything we might need for those trips, Mr. Driver has always been there to lend a helping hand," SSFFA Secretary Coen Bell said.
"While he does not like to take credit for much, he works behind the scenes on many things on behalf of all students at Sulphur Springs. So we feel it is important to reward his loyalty to the Sulphur Springs FFA Chapter and to show appreciation for the wisdom and support he gave us," Bell continued.
"Your contribution as a useful citizen in our democracy serves as an example for our members to follow. As treasurer, I welcome to our organization," Caroline Coker said.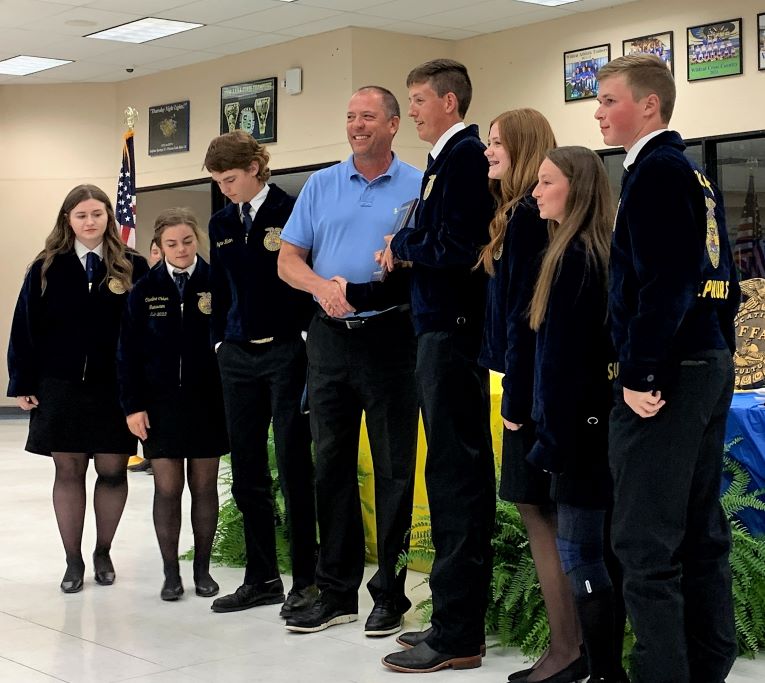 "The FFA needs counsel and guidance from recognized leaders. It is my pleasure As secretary to add your name to our roll of honor and membership," Bell told Driver, who was awarded a plaque of appreciation marking the occasion.
Proficiency & Chapter Awards
FFA advisor Taylor Thompson recognized those members who have achieved outstanding goals in their field, earning Proficiency and Chapter awards.
Proficiency Awards presented were as follows: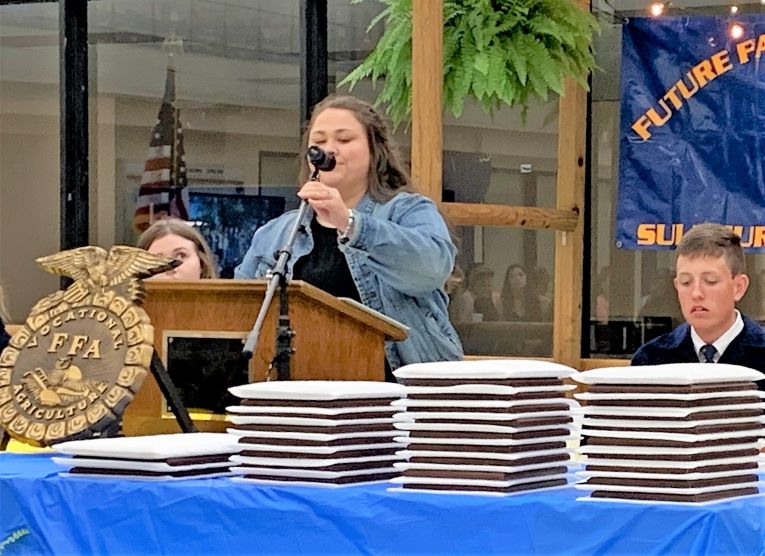 Goat and Sheep Production Entrepreneurship- Caroline Coker
Sheep Production Placement- Cash Gamblin
Ag Mechanics Design & Fabrication Entrepreneurship- Cash Vititow
Ag Mechanics Design & Fabrication Placement- Beau Bankston
Ag Mechanics Repair & Maintenance Entrepreneurship- Bradley Futch
Ag Mechanics Repair & Maintenance Placement- Kevin Perez
Ag Mechanics Project Design- Tate Bradford, Garret Tubb, Alex Flecker, Jackson Maynard, Braddox Rawson, Jonathan Pichardo, Trenton McKinney, Jake Henderson, Clayton Boykin.
Swine Production Entrepreneurship- Braddox Rawson
Swine Production Placement- Hanna Simmons
Beef Production Entrepreneurship- Cash Vititow
Beef Production Placement- Catherine Starzyk
Dairy Production Entrepreneurship- Tripp Smith
Dairy Production Placement- Wayne Hinton
Forage Production Placement- Wayne Hinton
Veterinary Science Paid Placement- Jaden Vititow
Veterinary Science Unpaid Placement- Jasmine Cordova
Diversified Livestock Production Entrepreneurship- Giselle Montes De Oca
Poultry Production Placement- Catherine Starzyk
Poultry Production Entrepreneurship- Brent Horton
Chapter awards presented to SSHS FFA members at the May 10, 2022 parent and member banquet included:
Star Greenhand award Jordan VanWinkle
Star Chapter Farmer- Rylie Carroll
FFA Member of the Year- Wayne Hinton
Officer of the Year- Cash Vititow
At the conclusion of the awards recognition, the chapter officers then took a moment to personally thank their parents for their support. They also presented each mom with a flower.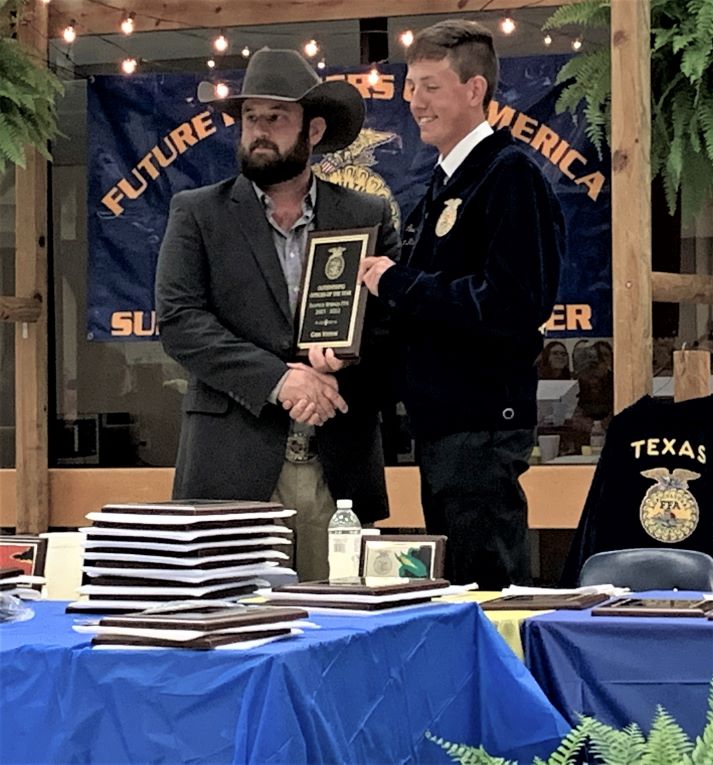 "I would like to thank the parents again. Without you and your support we wouldn't have anything to get these kids to go to if you weren't there," Advisor John Holland said, noting some truth in the comment Bell made to his dad, that FFA sometimes could more aptly stand for Father Feed Animals or Fathers Fund Animals when they're gone. "Without you we wouldn't be able to do any of this. Thank you for raising some good kids that we get to enjoy just for a few years, so give yourself a round of applause on that."
Holland then announced one final award, determined following input from all of the chapter officer team. Each votes for the person they think has done the best job leading them during the school year.
"This is probably one of the hardest year for them to pick. We've got a great group of kids up here. This year, our Officer of the Year is Cash Vititow," Holland said.
FFA Year In Review
FFA advisor Taylor Thompson also took a moment during the banquet to "brag" on the exceptional achievements and involvement by SSFFA Chapter members over the past year, as well as their many supporters.
Over the summer, Rylie Carroll placed 9th in state in the Junior Prepared Public Speaking.
Over the school year, 50 SSHS students competed in many stock shows and judging contests across the state. In the fall, 37 students on 10 different leadership development event teams competed including the agriculture advocacy, ag skills and Greenhand creed speaking teams which competed at Area.
The Beef Cattle Show Team competed at the Four State Fair, East Texas State Fair, Fort Worth and Houston Stock Shows. Individual members competed in San Antonio and other breed shows. Senior FFA President Cash Vititow served as president of the Texas Junior Brahman Association and is a National Brahman Director.
The Dairy Cattle Show Team consisting of Wayne Hinton, Tripp Smith, Jaden Arledge and Addy Koon won the Chapter Show Team Award at the East Texas State Fair; they also competed at the State Fair of Texas, Fort Worth and Stillwater. In addition to those shows, some traveled to Oklahoma for breed shows as well as many other jackpots and state shows. Hannah Simmons showed swine at the San Antonio Livestock Show, Caroline Coker showed sheep at the Houston and Austin Livestock Shows.
The ag mechanics team traveled to Houston with a 24-foot lowboy trailer built by Tate Bradford, Garret Tubb and Jackson Maynard and a four-bale hay dolly trailer built by Alex Flecker, Clayton Boykin and Braddox Rawson. They also showed a welding trailer built by Jonathan Pichardo, Trenton McKinney and Jake Henderson.
This spring, SSHS FFA Chapter had 50 students compete on 13 different CDE contests. Four of those teams advanced to state. The applied ag engineering team won the Area contest and advanced to state; Cash Vititow placed first overall and Tate Bradford second.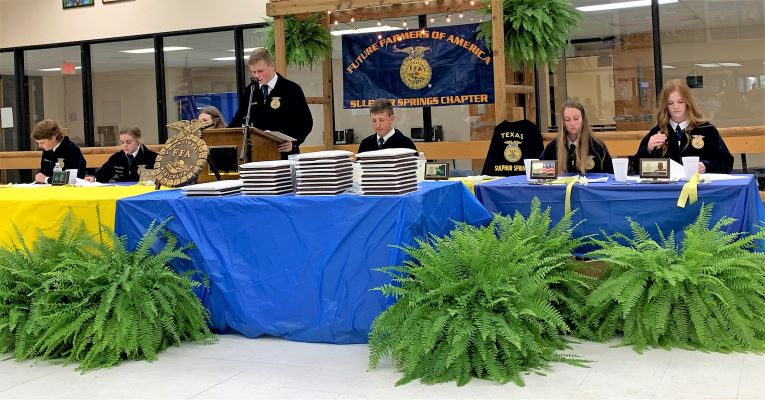 The Dairy Cattle Judging Team also won the Area contest, advancing them to state; Tripp Smith finished as the second highest scoring individual, Wayne Hinton fifth, Cash Gamblin seventh, and Tristan Eley placing 18th.
The ag mechanics team placed second at Area, advancing them to state. Beau Bankston was the fourth highest ranked individual, Clayton Boykin and Garret Tubb 8th, and Alex Flecker 13th overall.
The forage team consisting of Catherine Starzyk, Chase Mitchell, Tristan Eley and Jordan VanWinkle.
Seven students competed in the first annual sustainable agriculture contest at Texas A&M University-Commerce. Catherine Starzyk was the high overall individual and the team overall placed third.
A total of 52 SSFFA and Junior FFA members sold their livestock at the NETLA Junior Livestock Show, bringing home a collective $175,000 from the February show. Thompson offered thanks to the community who supported chapter youth and the show, and a round of applause was offered for them.