The top 10% of Sulphur Springs High School Senior Class of 2022 was recognized Tuesday morning, May 17, 2022, at a special honors breakfast at 7 a.m. at Hopkins County Civic Center.
"Today, we give special recognition to 25 honor graduates of Sulphur Springs High School Class of 2022. This class has 256 candidates for graduation. This is a special time for these young people, their families, our community and school. We are extremely proud of them," said SSHS Principal Derek Driver, who served as master of ceremony for the occasion.
The invocation was given by Jeff Harris, before the breakfast prepared by the SSH Culinary Arts Department, served by SSHS staff. For at least two years, the CTE classes at SSHS worked together to plan and prepare the Civic Center Exhibit Hall in readiness for the occasion honoring the top academic seniors. Students included those in interior design, construction, floral design/plant science, digital communications, design and multimedia arts and culinary classes.
Superintendent Michael Lamb offered thanks Alliance Bank, long time sponsor of the event which has become a celebratory tradition for students and their families. He also recognized local dignitaries and special community guests, including Sulphur Springs' mayor, the Chamber of Commerce president, local media covering the event, a Texas A&M University-Commerce representative and introduced SSISD Board Of Trustees President Robert Cody.
"Students, it's incredible what you have done so looking forward to what you move on to do, and watching you do great things. Congratulations, enjoy this day," Lamb said.
"This is one of our favorite events of the year to be a part of," School Board President Robert Cody said. "We enjoy this so much because we get to sit in the presence of students who have excel in this district and strive to make this district what it is. We are so proud of you, and we can promise you, when you leave here, you are prepared for the next step. A lot of us have had children who have gone through this district and they have gone on to excel and be the type of citizens that we are so proud of. We are proud of you. We are proud of all the moms and dads here today. Thank you so much for encouraging your children to do their very best and to excel."
Cody introduced the board members, starting with Jason Dietze, who attended not only as as the newly elected vice president of the school board member but the proud father of a 2022 honor graduate. The school board also includes John Prickette; newly elected president Craig Roberts; Leesa Toliver; Robbin Vaughn and Kerry Wright. High school staff and administrators, including College and Career Readiness Director Jenny Arledge, also were recognized during the program.
Leslie Harred noted she and the other counselors at SSHS look forward to the the honors breakfast, a celebration of the culmination of 13 years of hard work, dedication to deadlines, grades, projects, victories and sometimes defeats. She congratulated the students and parents.
Harred and her fellow counselors Jamie Ladd and Carol Cowley took turns introducing this year's honor graduates introduced in alphabetical order. Each graduate then too their place at the front of the room, along with their teacher or special guest who had the honor of presenting the graduate with an honor stole to wear at graduation.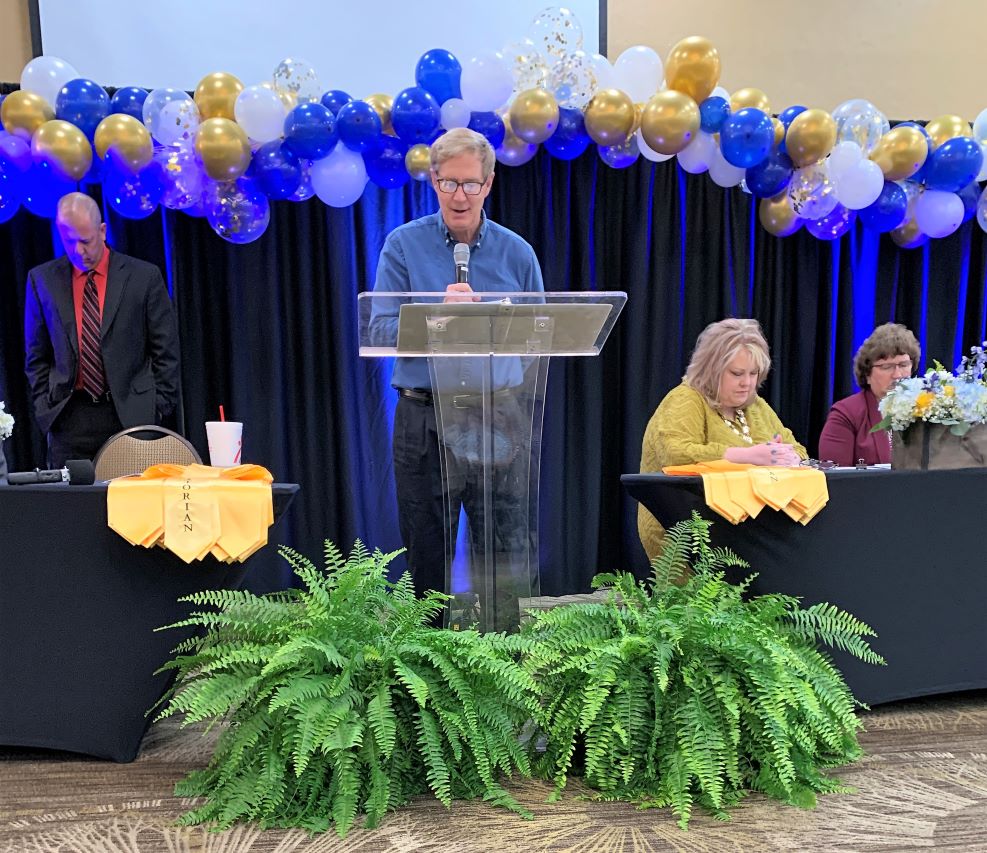 Honor graduate Emily Atkinson plans to attend Texas Christian University, where she will major in business management then plans to pursue a career in finance.
She recognized Mrs. Lynn Smith, her school "mom" for the past four years, for always helping when needed, going above and beyond to make Atkinsons' BPA experience fun and rewarding, and is the "backbone" of her BPA success.
Atkinson and was a state and national qualifier, and served as president of the school BPA chapter.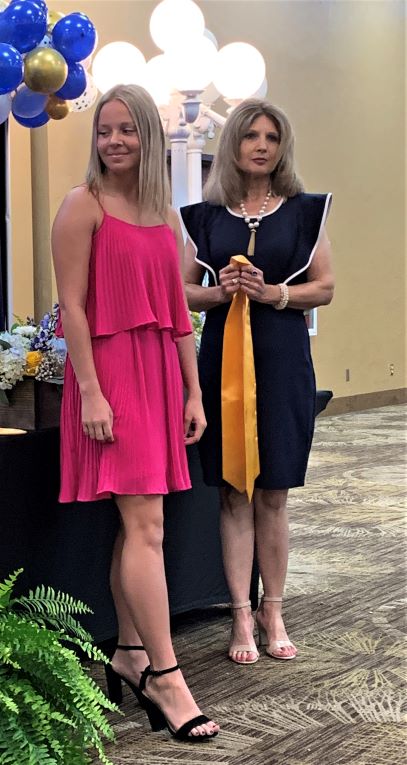 Honor graduate Connor Bailey plans to attend Oklahoma State University, where he will major in aviation with a goal of becoming a commercial pilot.
His special guest was his flight instructor, Mr. Bryce Etzkorn. He said Etzkorn has greatly invested in him and his future career as as commercial pilot.
Bailey is an Eagle Scout, a private pilot and received a Bright Star Scholarship.
Honor graduate Beau Bankston plans to attend Texas A&M University-Commerce, where he will study agribusiness.
He invited Mr. JT Luper, his junior and senior ag teacher, to be his guest at the breakfast. Luper, Bankston noted, has taught him more than any teacher he can remember. Luper's knowledge and patience while teaching him was a "major influence on what I plan to do for my career." Bankston said Luper deserves a thank you for all of the extra work and stress he endures to supply every student with a potential to learn.
Bankston is involved FFA, and was state qualifier in agriculture mechanics LDE.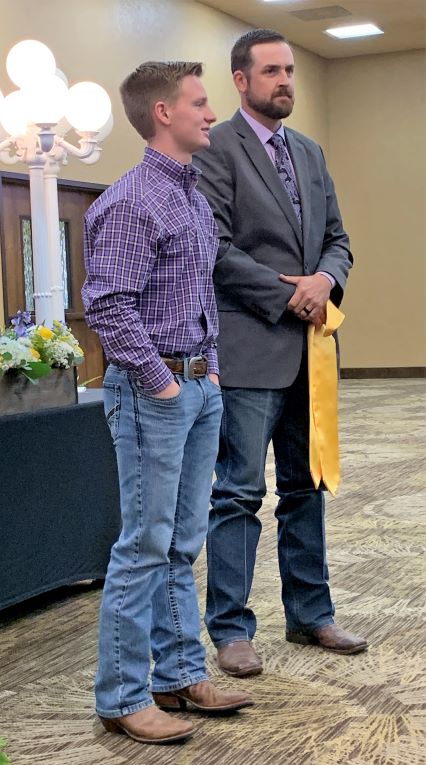 Honor graduate Paige Bimmerle plans to attend Texas A&M to study business management and plans to pursue a career in project management.
She recognized Suetta Armstrong, her fifth grade teacher. Bimmerle noted that it meant a lot to her that Mrs. Armstrong got to know her more as a person than a student.
Outside of school she is involved in First Baptist Youth Group, works for Lake Country Labradoodles. She also is a two-time recipient of the MLK Character Award.
Honor graduate Bailee Burnett plans to attend the University of Texas at Tyler, where she is enrolled in the Honors Program will major in kinesiology with a goal of becoming a physical therapist.
She invited art teacher Amber Warren to be her special guest. Burnett said Mrs. Warren can make any bad day better and always goes above and beyond to help anyone. Warren is easy to talk to, will give advice or let them rant, and Burnett says she's been so helpful to her.
Burnett has been involved with more than one school club, including serving as treasurer, secretary and president of HOSA: Future Health Professionals.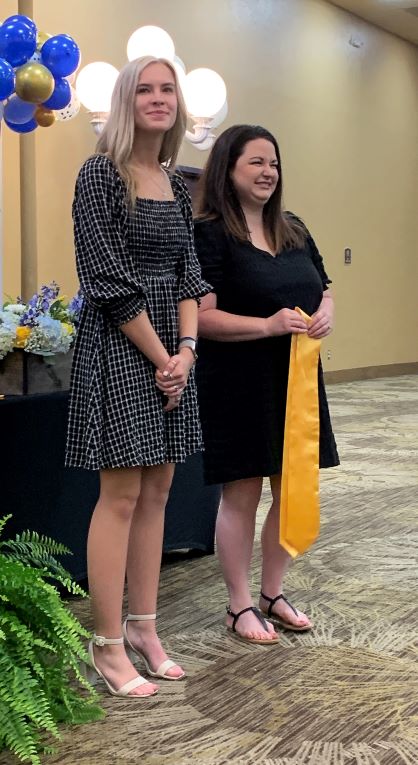 Honor graduate Addison Caddell plans to attend the University of Texas at Dallas, where she has committed to play softball and plans to major in business. She plans to pursue a career in sports management.
She invited Mrs. Bailey Dorner, her softball coach, to be her special guest. Caddell noted that Coach Dorner has always been there for her, on and off the field, helping her become the person she is today and has become a true friend and mentor.
While playing varsity softball, Caddell earned Newcomer of the Y ear, Defensive MVP and Academic All-District recognition, and was selected for the FCA Heart of a Champion All Star games. She has been involved several school clubs as well.
Caddell also served as a student representative on the SSISD Long Range Planning Committee and is a member of Paris Junior College's honor society, Phi Beta Kappa.
Honor graduate Dawson Carpenter plans to attend Texas A&M University, where he plans to major in aerospace engineering with a goal of pursuing a career with NASA or SpaceX after graduating.
In addition to earning the distinction among honor graduates as the salutatorian for SSHS Senior Class of 2022, Carpenter is a National Merit Scholarship Commended Student, College Board Rural and Small Town Recognition Scholar, Bright Star Scholar, and an AP Scholar with honors.
Carpenter invited Gail Herman, who has taught him all four years of high school. He noted that Miss Herman took him under wing as a freshman and gave him a place to belong in UIL academics for the past four years.
And, belong he did. Carpenter advanced this year in four UIL events, helping his teams earn first place honors in spelling and literary criticism, and as the second place individual in the copy editing at the state academic UIL competition.
Carpenter also played varsity baseball, and was involved in several student organizations.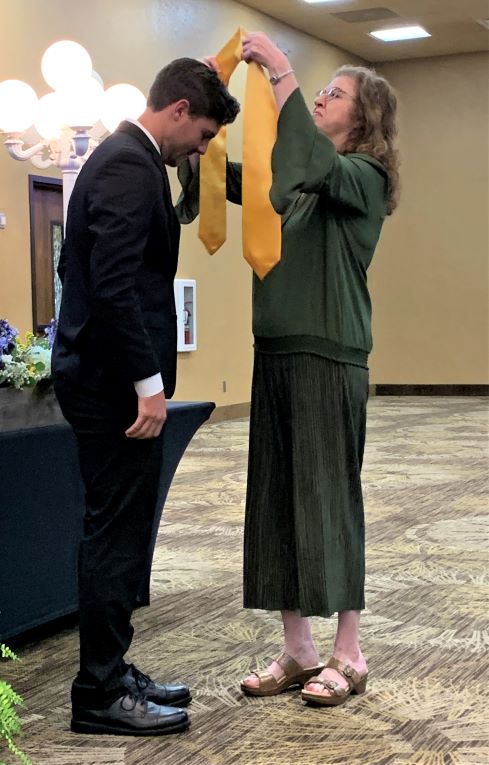 Honor graduate Litzy Chacon plans to attend the University of North Texas, where she will major in business communication. She has received the UNT Excellence Honors Scholarship and an Emerald Eagle Award.
She recognized Susanna Sanchez, her first grade teacher, who has inspired her and continued to encourage her throughout the years.
Chacon has served in leadership roles in several school organizations she's been involved with. She is a 2022 Martin Luther King Character Award recipient, received recognition through the National Hispanic Recognition Program (CollegeBoard) and is on the Yearbook Staff and sings in choir.
Honor graduate Fernando Chimal plans to attend Texas A&M University-Commerce, where he will major in accounting with a goal of becoming a certified public accountant.
He invited Mrs. Martinez, his fifth grade bilingual education teacher, to be his special guest. Mrs. Martinez made a great impact on him by motivating him to keep both languages, specifically Spanish. She also taught him to stay humble.
Chimal has been involved in various school organizations including BPA, and competed in UIL accounting and number sense contests. He is involved in Phi Theta Kappa honor society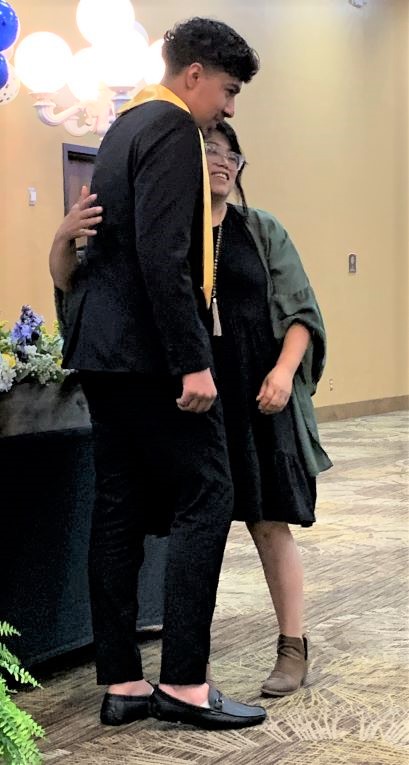 Honor graduate Luke Dietze plans to attend Baylor University, where he will major in mechanical engineering with a goal of becoming an engineer in the golf technology industry.
The SSHS graduate said his favorite high school memory is shooting a 78 on day two of the district golf tournament. He invited Mr. Jeremy Delorge to be his special guest. Dietze said Delorge is not only his golf coach, but his therapist, mentor and friend. Delorge also helped Dietze realize his full potential on and off the golf course.
In addition to playing varsity golf, Dietze has also been a member of PTK and NHS, and was involved in other school organizations as well.
Honor graduate Peyton Hammack plans to attend the University of Arkansas, where she will major and earn a degree in accounting, then further her education by attending law school.
She invited Mr. Todd McCoy. Hammack notes that Mr. McCoy took the time to really get to know her during her junior year. She says he was always patient in helping her to understand the content and continues to care about her success in all areas of her life.
Hammack said winning the district volleyball championship her junior year is her favorite high school memory. She racked up a few awards in volleyball, including being a three-time District Setter of the Year, Academic All-District her sophomore and junior years, and Academic All-State her senior year.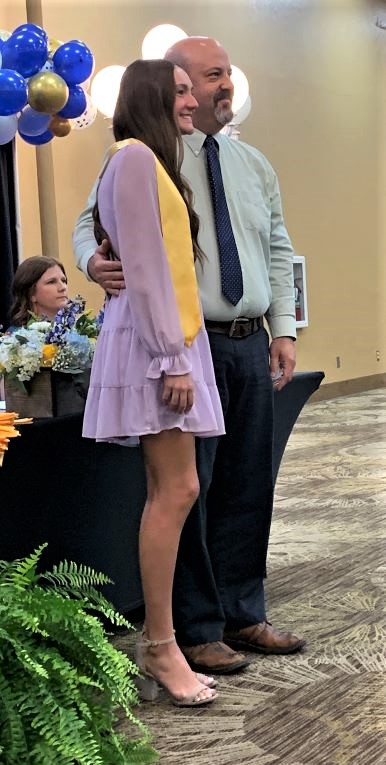 Honor graduate Juan Hernandez Jr. plans to attend Texas A&M University-Commerce, where he will major in construction engineering.
Hernandez recognized Mr. Casey Jeter. While in his class from 10th-12th grades, Jeter provided Hernandez with the opportunity to join the powerlifting team at a time when the SSHS student most needed something to work toward. Jeter offered guidance, which helped Hernandez become one of hte strongest lifter in the state, qualifying him for the Powerlifting National Honor Society.
The honor graduate also is in NHS, NTHS and competed in accounting UIL.
Honor Graduate Makayla Howell also plans to attend TAMU-C where she will major in biology.
Mrs. Amy Ridner, health science teacher, was recognized as Howell's honored guest. Howell said Ridner provided the class with opportunities to learn within the healthcare field, is a supportive teacher who is always there for her students. Ridner has taught Howell more than any previous healthcare teachers have.
Howell was active in HOSA, recognized as a Red Cord honor student and winner of an Air Force Academy essay contest scholarship winner.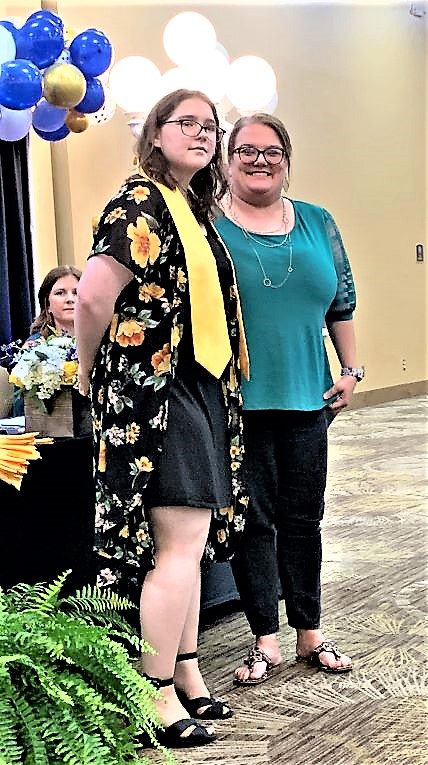 Savannah Lilley plans to attend Colorado School of Mines, where she will major in chemical engineering with a goal of eventually going into pharmaceuticals. She hopes to engineer new medications.
Not surprisingly, her favorite memories at SSHS involve participating in biology, chemistry, and anatomy and physiology labs.
Lilley invited Mrs. Beth Cole, her varsity choir instructor, to be her special guest because she has inspired her in more ways than one. Cole has also encouraged Lilley through her years with her.
She has participated in more than one school organization, including serving as Student Council treasurer and was on yearbook staff.
Honor Graduate Reese Rabe plans to attend the University of Mississippi, where he will work toward a business degree. He also plans to pursue an economics degree while there.
Rabe honored Mr. Jeff Harris, who taught him in eighth grade and remains one of his favorite teachers. Harris inspired Rabe to learn on a higher level, challenged him to start thinking about his future goals and college career.
Rabe played varsity baseball and was involved in NHS and Key Club.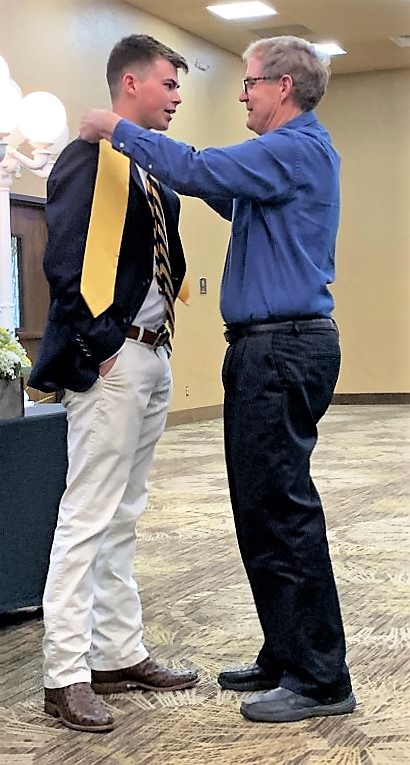 Honor graduate Shelby Ray plans to attend Texas A&M University, where she will focus on classical studies with a goal of becoming a librarian.
Ray honored Mrs. Kaley Williams, who she said brings so much joy into her life. She knows she can go to Williams with anything and she will be there for her.
Ray not only was a member of the state champion literary criticism team, but also competed in UIL journalism events, is a 2022 MLK Jr. Award recipient and NHS member. Her leadership includes the percussion section in the school band and participating in Hopkins County Leadership.
Honor graduate Ashley Rodriguez plans to attend the University of North Texas, where she will major in biology.
Her guest was Mrs. Demetra Robinson. Rodriguez noted that Mrs. Robinson has been encouraging and supportive since she had her as a teacher her freshman year. Robinson, Rodriguez said, has been involved in her life even when she was no longer in her class. She described Robinson as one of the kindest teachers she has ever had.
Rodriguez has been active in band and a member of HOSA, NHS, NTHS and other student organizations.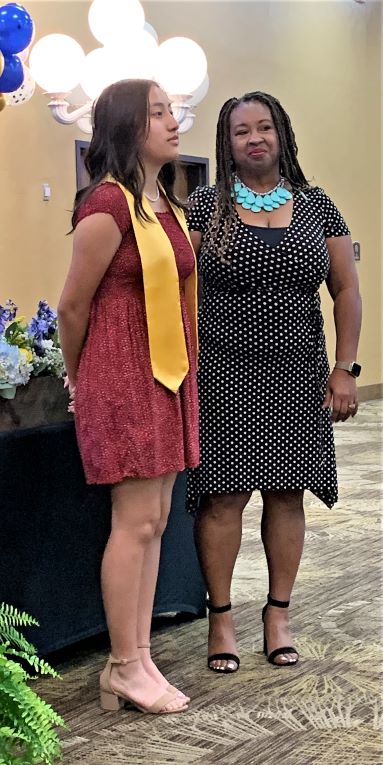 Honor graduate Jacob Semler plans to major in film and digital media at Baylor University.
He recognized Mr. Jordan Owens, who he said created a classroom environment where he could discover his passion "all while being a great person."
Semler encourages other students to take advantage or career resources available such as elective classes and opportunities to participate in extracurricular activities. Doing so, he says could help students find their passion and a future occupation.
Among the activities Semler participated in were NHS, NTHS. He serve as a BPA vice president and was a two-time national qualifier. He also was a regional powerlifter.
Honor Graduate Matthew Sherman plans to attend Texas A&M University, where he will work toward a career in orthopedics.
Sherman's guest of honor was Mr. Spencer Emmert. Sherman said Emmert taught him to have a love for playing music through his passionate teaching.
Among Sherman's honors are becoming an Eagle Scout, being the third ranked student in the class of 256, receiving the John Phillips Sousa Award., being in NHS He played on the varsity baseball and football teams, earning 1st Team Academic All-State Football Player and All-District Honorable Mention Pitcher honors. He participated in Hopkins County Leadership.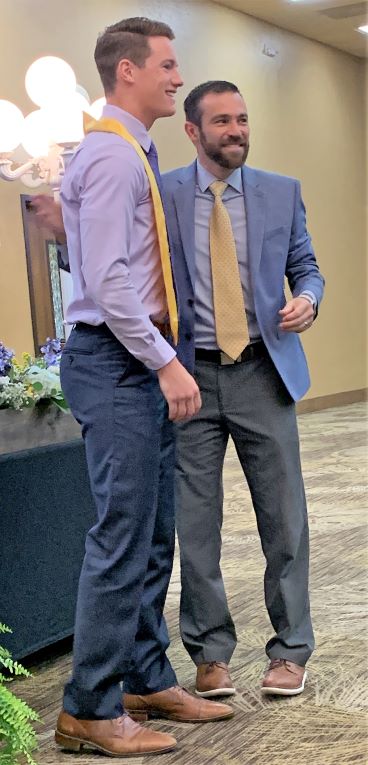 Honor graduate Katie Tiemeyer plans to attend the University of Texas at Tyler, where she will major in public health with a focus in nutrition science.
She honored Mrs. Katlin Meadows, who has been her cheer coach all four years of high school. Tiemeyer said not only has Mrs. Meadows helped her with her athletic aspirations, but has taught her so much about how to carry herself and live honorably. The varsity cheer captain said Meadows has always been an amazing example of how to love others well.
Aside from the high energy cheering during the basketball playoffs and bus rides with her team, Tiemeyer said she enjoyed time out sharing life advice with coaches.
Tiemeyer has earned a UT Tyler Athletic Scholarship for Competition Cheer and Stunt Teams and is also a Bright Star Scholarship recipient. She's also served as an officer in Key Club, participated in Hopkins County Leadership and other student organizations including HOSA.
Honor graduate Michelle Tijerin plans to attend the University of Texas, where she will major in international relations and global studies with a goal of one day having a career as an immigration attorney. She was awarded a Bright Star Scholarship to apply toward her studies.
She invited Miss Rachel Finney to be her special guest. She said Miss Finney has been a big inspiration in her life. Tijerin described Finney as a caring individual who has pushed her and encouraged her to pursue her dreams and to believe that anything is possible. In fact, one of Tijerin's favorite memories of SSHS is from sitting on the couch in Finney's classroom, bickering with her friends, eating anything they had in their backpacks and working on their assignments. Being in that stress-free environment and truly enjoying that class time with friends is a memory Tijerin said she will cherish forever.
She participated in Dare To Dream and was a member of BPA, NTHS, Phi Theta Kappa and NHS, and other school organizations.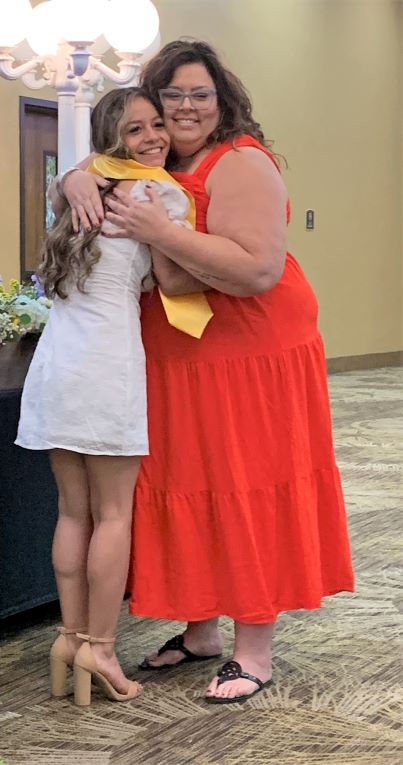 Honor graduate Jadyn Van Winkle plans to attend West Texas A&M University, where she plans to major in biology with a goal of either being a SANE nurse or vet.
Van Winkle recognized Miss Gail Herman, whose AP English classes have made her a better writer, educated thinker and more prepared for college. Herman, Van Winkle noted, is passionate about teaching and does not take shortcuts.
In fact, Van Winkle was a winner in the VFW Voice of Democracy Speech Contest, a Lone Star Youth Cowboy Poetry Contest, Air Force Academy Northeast Texas Chapter 416 Essay Contest, and Texas Elks State Association Essay Contest.
She has also been active in a number of student organizations, including NHS, NTHS, HOSA served as a student representative on the SHAC, played varsity soccer and served as class president.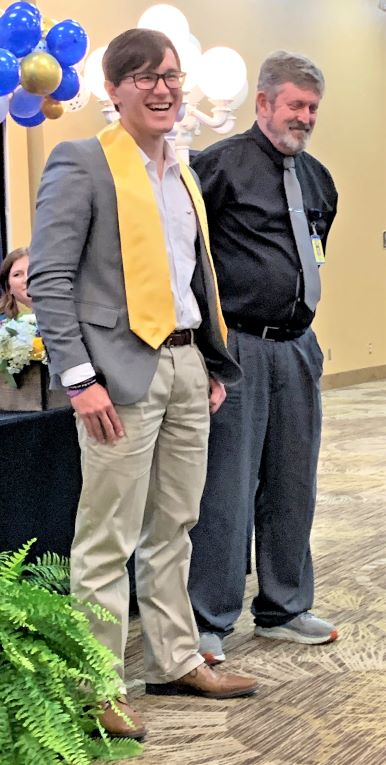 Joel Villarino is not only an honor graduate, he is the top graduate in the SSHS Senior Class of 2022. He has decided to attend Rice University to major in computer science with a goal of becoming a software engine.
The SSHS 2022 valedictorian recognized Mr. Gerald Grafton, who he said has always been extremely nice and understanding. Villarino said he always leaves Mr. Grafton's statistics and calculus classes with a positive attitude. He too noted that Grafton encourages him to ask questions, no matter how redundant they might seem.
Villarino is a National Merit Scholar, recipient of the Rotary Youth Leadership Award, participated in the CollegeBoard Recognition Program for Hispanic and Small Towns. The Wildcat Drum Major made the Area Band on F Horn and jazz guitar, and was a State Solo & Ensemble Qualifier. In Academic UIL, Villarino served as captain of the computer science team. He also served as class treasurer and was member of NHS and NTHS.
Jessica Yanez plans to attend the University of Texas to major in business, then pursue a doctoral degree in pharmacy with a goal of becoming a clinical pharmacist.
She invited Mrs. Adriana Salas to be her special guest during the honors breakfast. Yanez said Mrs. Salas was the first teacher to make her feel seen. Salas classroom provided Yanez with the warmest and safest environment to begin her academic journey. Yanez said she will forever be thankful for the memories created while in Salas' class.
Yanez's favorite memory at SSHS was getting to grow academically as well as independently. She said she had learned a great deal that she will carry with her through the years.
Receiving the National Hispanic Recognition Program Award and the National Rural and Small Town Recognition Award are among the honors Yanez has received.
She's held leadership positions, including serving as class president, Student Council Spirit director, NTHS treasurer, participated in Hopkins County Leadership, and was involved in a number of different activities, including NHS, FFA and HOSA.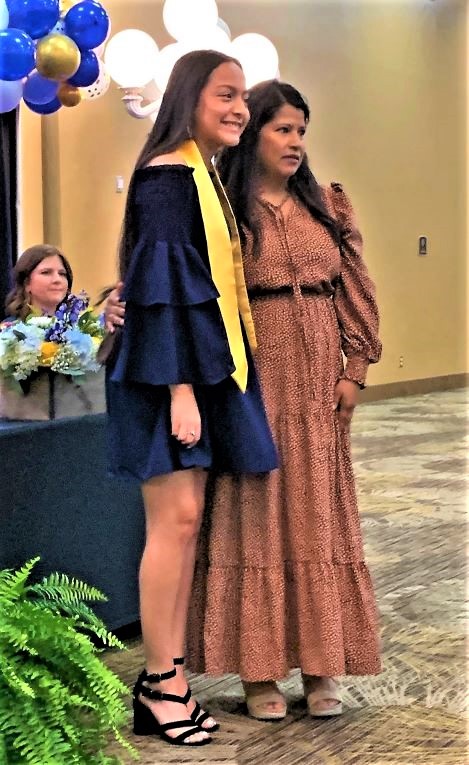 Honor graduate Emily Zarco plans to attend Texas A&M University-Commerce, where she will major in nursing.
Mrs. Adriana Salas was also the guest of Zarco. The honor graduate said Mrs. Salas continues to be an influence in her life, motivating her to do her best.
Zarco was a member of both the National Honor Society and National Technical Honor Society, and served on the Student Council.
SSISD Assistant Superintendent Josh Williams concluded the program noting how awesome the program has become with SSHS students taking on the task or planning and preparing the breakfast for the seniors. As has become tradition, he read the poem "The Goodnight Kiss," then offered congratulations to the honor graduates for a great job that would not have happened without out a lot of work.
Families and visitors were invited to the Senior Awards and Scholarship Program that followed at 4:30 p.m. May 17, 2022, in the Civic Center Exhibit Hall. The honor graduates gathered for a group photo, a few shots with family, friends and special guests, then departed to join many members of the Senior Class who donned graduation gowns and caps, boarded buses and traveled to receive cheers from and offer encouragement to students on other campuses. The Senior Walk concluded with the graduates returning to the halls at SSHS. The band, cheerleaders and other student groups and parents met the students as they exited and returned to the school.