Sulphur Springs ISD coordinators recently updated the school board on students' strong showing at all three levels of academic UIL competition this year.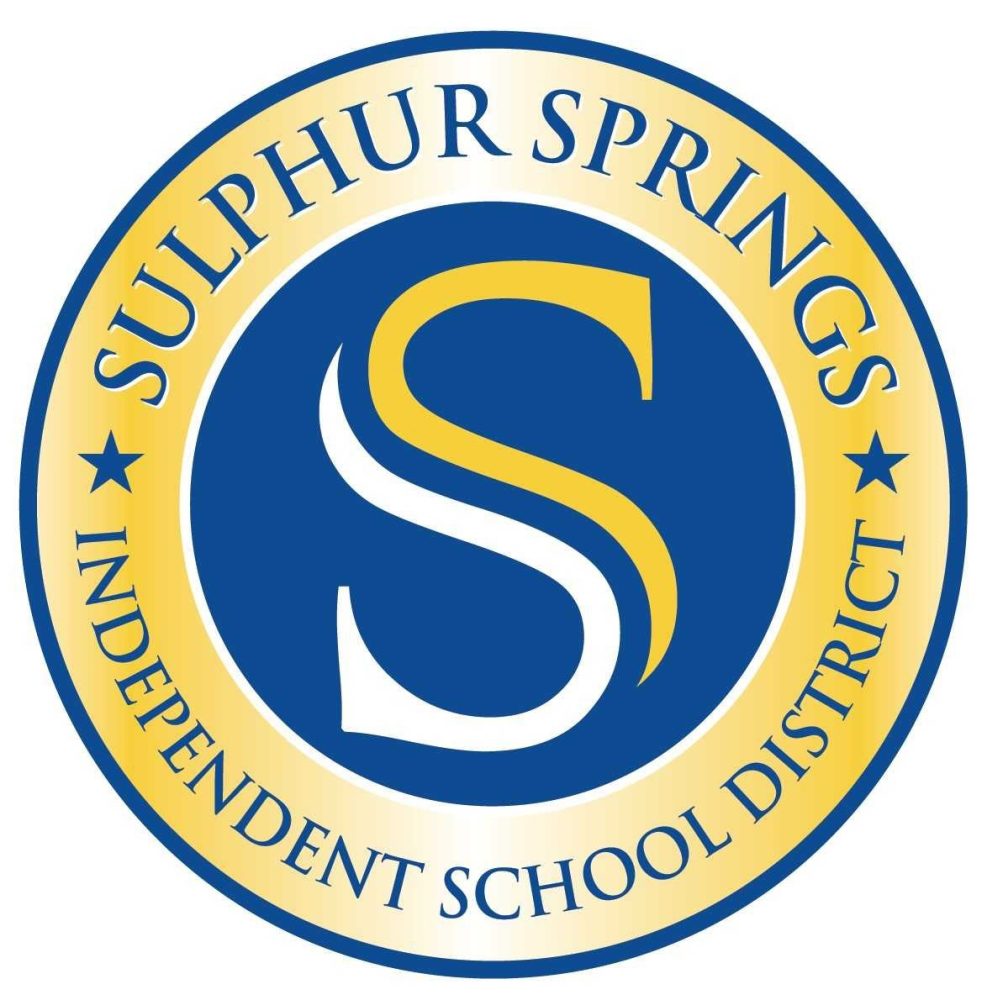 Elementary UIL
SSISD Elementary Academic UIL Coordinator Sasha Posey reported a total of 120 students, 45 coaches and five campus coordinators traveled to Greggton UMC in Longview, where Pine Tree ISD hosted an elementary academic UIL competition for grades 2-5 on Jan. 28, 2022. Joanna Foster, Ana Ramirez, Dustin Morgan and Stacie Shearer served as coordinators for grades 2-3 at their respective primary campuses, while Posey was campus coordinator for the fourth and fifth graders at Sulphur Springs Elementary.
"Our students competed in 27 events which are designed to complement and extend student learning in the classroom. These events range from demonstrating creativity through writing skills to making quick mental calculations to identifying pieces of famous artwork along with its title and artist," Posey told the SSISD School Board at their regular May school board meeting earlier this month.
UIL Award Ceremonies were held at SSES on May 2 for second and third grade students and May 18 for fourth and fifth grade students. During these award ceremonies, all UIL students received a ribbon for participating in the UIL competition. Teams who placed first, second, or third were also awarded a ribbon. Students who placed individually in their event received a UIL medal to commemorate their performance.
Second Grade
Out of 18 competitors in four events, second graders garnered one team award and one individual award.
The second grade music memory team consisting of Finley Peugh, Rachel Weber, Isabella Bañuelos and Kaylee Roque won first place honors; also recognized for participation in music memory were Isabella Gamblin and Jaciel Gaona. Music memory coaches were Shara Roden, Amber Harmon, Karen Miranda and Kelly Herriage.
Second grader Sadie Lawrence was recognized for finishing fourth in storytelling competition. Also competing in storytelling were Elle McClendon, Hank Daniel and Quintten Thesing. Storytelling coaches were Justin Findley, Kaci Smith, Olga Tellez and Sarah Miles.
Additional second graders recognized for participating in UIL competition included Jaxon Arnold, Rosalia Davila, Sebastian Sanchez and Cole Wasilowski in chess puzzle; and Avery Bryant, Ja'Kobe Hall, Ava Pruitt and C.J. Teer in creative writing. Coaches for chess puzzle included Dylan Blair, Kim Gillem, Margarita Gonzalez and Anna Moreland; and for creative writing were Kimberly Earhart, Amy Tanton, Lissette Cruz and Cassity Egan.
Third Grade
SSISD third graders competed in five different UIL events. One team was recognized and one student placed in individual competition as well.
The third grade music memory team earned third place team recognition. Competitors included Zachary Birdwell, Chip Emmert, Stetsyn Sanchez, Caleb Eoff, Haddie Brantley, and Jaclyn Chisom. Coaches were Danette Lovelady, Amber Harmon, Christi Emmert and Kelly Herriage.
Third grader Kyler Ramey earned individual fourth place recognition in storytelling. Other third grade storytelling competitors included Emma Mejia, Harley Bryant and Abel Miles. Coaches were Cassie Ibanez, Kaci Smith, Ashley Sanchez and Terri Rogers.
Additional third graders recognized for participating in UIL competition included Amelia Ansley, Kenzie Marquez, Gavyn Ashmore and Brandon Bilyeu in chess puzzle; Layla Shackleford, Braylee Normandeau, Spencer Shiever and Will Toliver in ready writing; and Ka'Mariyah Thomlinson, Ivana Vega and Eli Reyes in spelling. Coaches were DaMarcus Johnson, Kim Gillem, Carolyne Rowe and Laura Kring for chess puzzle; Kimberly Earhart, Amy Tanton and Amanda Walker for ready writing; and Carissa Williams, Blake Miles and Nallely Carreon for spelling
Fourth Grade
Fourth graders competed in seven different UIL events. Six earned individual honors in three different competitions and one team was recognized.
The fourth grade number sense team was recognized as a third place team. Individually, Jessica Chen won second place honors in number sense. Also competing in number sense were fourth graders Justin Ditto, Declan Thesing and Colter Holland. Sherry Baugh is the coach for the number sense team.
All four fourth graders competing in oral reading earned medals. Jayci McClung won third place honors, Bailey Fisher placed fourth, Brayden Moreland fifth and Abigail Gravens sixth in oral reading. Vicki Nugent is the team coach.
Rounding out the list of fourth grade individual winners was Hunter Robinson, who earned a third place medal in ready writing. Also competing in ready writing were Brantlee Robertson, Chesley Roden and Mabry Mitchell. Joanna Byrd was the team coach.
Additional fourth graders recognized for participating in UIL competition included Matthew Guerrero, Katherine Glass, Gabriela Chim, Collin Walker, Ben Draper and Brynlie Swann in art; Erik Gonzalez, Aziyah Clough, Brantley Scroggins and Ian Preas in chess puzzle; Olivia Holloman, Macy McDowell, Sofia Bonilla, Olivia Davis, Aubrey Boatman and Chandler Wood in music memory; and Emma Pogue, Emmalynn Overly, Lexie Slaughter and Brantley Scroggins in spelling. Coaches for these teams were Erick Perez, art; Alisa Kulak, chess puzzle; Jennifer Young, music memory; and Megan Wiggins, spelling.
Fifth Grade
Fifth grade won second place overall at this year's competition, with students competing in 11 different UIL events. Eight teams earned recognition and 22 fifth graders received individual medals.
The first place spelling team included Chandler Armstrong, Ayla Oud, Chloe Johnson and Jaetyn McPherson. McPherson won second place honors, Armstrong fourth place and Oud fifth place. Sonya Matthews was the team coach.
The second place dictionary skills team included Taryn Ford, Lila Wells, Kaleigh Payne and Brittan Hill. Individually, Wells won second place honors, Ford fourth place and Hill sixth place. Hayley McKinney was the team coach.
The second place listening skills team consisted of Moises Guerrero, Cassidy Smith, Tess McKenzie and Riley Mathews, with Mackenzie Pettit as coach. Mathews won second place honors and McKenzie placed fourth.
Making up the second place music memory team were Jesse George, Kaleb Turner, Raleigh Pryor, Aurora Ricker, Avery Rosamond and Kymora Young. Rosamond won second place honors and Young fourth place. Jennifer Young is the team coach.
The social studies team made up of Olivia Caldwell, Berhazi Hernandez, Lukas Cote and Nate Russell won second place team honors. Individually, Russell won first place honors and Cote fourth place. Cain Langhoff was the team coach.
The chess puzzle team consisting of Michael Perez, Seth Gillem, Alberto Gaona and Aldahir Guerrero earned third place team recognition. Individually, Gillem won second place honors in chess puzzle competition. Lisseth Carmona was the team coach.
The third place maps, graphs and charts team included Chloe Johnson, LillieMae Peterka, Shai Walker and Adddison Woodall, with Jennifer Walters as coach.
The third place number sense team consisted of fifth graders Ryson Hodges, Giovanny Romero, Brittan Hill and Blake Bimmerle, with Jasmine Mejia as coach. Individually, Hill was recognized for finishing sixth in number sense.
In ready writing, Kylee Harrison won first place honors, Riley Mathews second place honors and Chandler Armstrong sixth place. Also competing in ready writing was Jaslyn Carter. The team coach was Julie Silman.
Although no team award is given for oral reading, SSISD fifth graders won four of the six medals in this event. Hallie Lawrence won first place honors, Presley Bland second place, Kayla Slaughter third and Claire Toliver fifth place in oral reading. The team coach was Lori Green.
Also participating and contributing to the fifth grade's overall second place ranking were Sybilla Carnes, Courtney Wiblin, Naomi Ramirez, Madilynn McWhorter, Cherish Rimes and Ryan Ragan in art. Karen Moreland was the art team coach.
Elementary UIL Coordinator Sasha Posey said looking to the future, the elementary UIL coaches and students will continue to place emphasis on academic events by practicing weekly with students, targeting specific skills, and forming final teams leading up to the yearly competition.
"We expect our elementary program to generate enthusiasm for academic UIL, thereby increasing student participation that will continue into our middle school and high school programs. This, in turn, will increase SSISD's statewide competitiveness at the high school level," Posey stated.
---
---
Middle School UIL
Sulphur Springs Middle School students competed against students from Hallsville, Pine Tree, Marshall, Texarkana and Mount Pleasant ISDs in 18 events at the District Academic UIL Contest. Overall, sixth graders and eighth graders both earned second place sweepstakes awards, and seventh grade finished in third place overall for the sweepstakes award, Middle School Academic UIL Coordinator Jeffrey Denton reported.
Sixth graders earned 24 individual awards and five teams sixth grade teams were recognized. Seventh graders also earned 24 individual awards and had eight teams recognized. At the eighth grade level, seven teams and 29 individuals were recognized. Denton noted that team awards were not given in speaking and writing events, only individual awards.

One Act Play
In One Act Play competition, SSMS finished second overall out of the eight schools competing, and was awarded first place points for academic contest. The four members of the SSMS thespian troupe winning individual honors included Nathan Bilyeu, Best Actor; Emma Boatman, All-Star Cast member; Taylor Price, Honorable Mention Cast member; and Aiden Barnes, Best Technician Award. Kristopher Luce is the director.
Art
In art competition, seventh grader Ryane McCullough placed sixth.
Kannon Gibons won first place honors, Camila Martinez-Barradas second and Piper Welch third place honors in eighth grade art, assuring a first place team finish as well. Jordan Ortloff is the art team coach.
Calculator Applications
Seventh grader Brooklyn Hodges was recognized for finishing sixth in calculator applications, and the seventh grade team made up of Ashley Monsivais, Daniela Hernandez, Brooklyn Hodges, and Robert Denton was recognized for their third place team finish. Mandi Denton is the team coach.
Chess Puzzle Solving
All three SSMS grade levels earned first place team honors in chess puzzle solving. Alysia Butler is the coach for all three teams.
The sixth grade chess team included Gabriel Castro, who won first place individual honors, Jensen Jumper second place and Grant Hansen third place.
The seventh grade chess team included Eric Li, who won first place honors; Uriah Lee, who won second; and Haiden Horrocks.
The eight grade chess team included Isaac Stanley, who won third place individually; Luke White, who finished fourth; Rhett Williams and Sulivan Lamb.
Dictionary Skills
All three grade levels also won first place team honors in dictionary skills competition as well. Cassidy McClure is the coach for all three teams.
The sixth grade team included Brielle Garing, who won second place honors; Marcos Valasquez, who placed fourth; Aiken Grimes, who placed sixth; and Danya Medina.
Making up the seventh grade team were Yosgar Marquez, a first place winner; Drake Griffin, a fourth place finisher; Perla Santacruz, a sixth place finisher; and Tania Ruiz.
The eighth grade team consisted of Lily Bankston, Kyler Van de Laar, James McCoy, and Bryan Medina; individually, Bankston placed third, Van de Laar fourth and McCoy fifth in eighth grade dictionary skills competition.
Listening Skills
All three of the listening skills teams coached by Brandi McCain earned team recognition.
The first place eighth grade listening skills team consisted of Amy Hurtado, the first place winners; Madison Jeter, second place winner; and Amani Finnie.
The sixth grade listening skills team made up of Abigail Montoya, Mitchell Emmert, and Kayden Pierce was recognized as a third place team; individually, Montoya earned second place honors.
Making up the third place seventh grade number sense team were Zoe Phillips, Alexandra Springfield, and Tania Ruiz; individually, Phillips was recognized for finishing fifth and Springfield sixth.
Maps, Graphs And Charts
The eighth grade maps, graphs and charts team won first place honors by taking four of the top six places. Chase Maynard won first place honors, Preston Nottingham second place, Justin Strickland fifth place, and Dylan McKinney sixth place. Kimberly Isonhood is the team coach.
Music Memory
Music memory was another contest SSMS students performed especially well in; all three grade levels not only had three individual winners but also won first place team honors. Aaron Lovelady coaches these teams.
The first place sixth grade music memory team included Juliet's Tellez-Mariscal, Lillian Fleener, Isabella Salas, Jentri Hill, and Ja'Kaden Yarbrough. Tellez-Mariscal won second place honors, Fleener third and Salas sixth place.
The first place seventh grade music memory team consisted of Sarah Mireles, who won first place honors; Bailee Wilkerson, who won second; and Abby Noguera, third place honors.
Eighth graders Grayson Wall, Anthony Small, Julia Ricker-Garcia, Cara Batterton, and Nathan Bilyeu were recognized as the first place music memory team. Individually, Wall won first, Small second and Ricker-Garcia fourth in music memory.
Number Sense
Only one student and one team earned recognition in number sense competition. Sixth grader Kayden Pierce won first place honors in number sense. The seventh grade number team made up of Colby Mayfield, Zack Young, Eduardo Chimal, and Hannah Speed earned third place recognition as well. Sarah Giles coached the SSMS number sense teams.
Science
One student in each grade level earned individual recognition in science. Seventh grader Bailey Winn finished third, while sixth grader Jacob Love and eighth grader Aiden Barnes each finished sixth in science.
The seventh graders Bailey Winn, Hayden McCoy, Kelley Case, and Gavin Solorzano also earned third place team recognition in science.
Kelly Holloman was the science coach.
Social Studies
In social studies competition, the eighth grade team consisting of Cameron Davis, Aiden Barnes, and
Jonathan Gardner won second place team honors.
Three students – one in each grade – also earned individual recognition. Seventh grader Cole Willis won first place honors, eighth grader Cameron Davis won second and sixth grader Gabriel Gomez won third in social studies.
Jill Crump is the coach for the social studies competitors.
Spelling
Spelling teams at all three grade levels earned team recognition. Taylor Thorsen is the coach for all three.
The first place eighth grade spelling team included Kale Burgin, who won first place honors; Abigail Bautista, who won second; and Colby Schwartz won third.
The sixth grade spelling team made up of Jackson Williams, Kaston Willis, and Vanessa Reyes earned second place recognition. Individually, Williams won second place and Willis finished fourth.
The second place seventh grade spelling team included Kenzi White, Cameron Endsley, and Kaylie Resendiz. Individually, White won second place honors in spelling.
Writing Events
In editorial writing, Lilyann Butterfus was recognized for placing fifth and Ireland McNair sixth among sixth graders. Christine Thomas was the event coach.
Sixth grader Lilyann Butterfus won second place honors and seventh grader Chloe Willis third place honors in ready writing. Patty Isonhood was the team coach.
Speaking Events
Six SSMS students, two at each grade level, earned individual recognition in impromptu speaking. Faith Ratliff won second and Elijah Teer third in sixth grade competition. Jessica Reed won second and Andrew Vo fourth among seventh grade impromptu speaking competitors. In eighth grade competition, Briana Dykes was recognized for finishing first and Conner Curtis sixth in impromptu speaking. Trevor McClure was their impromptu speaking coach.
Six SSMS students also placed in modern oratory. Sixth grader Riley Reynolds, seventh grader Piper Lilley and eighth grader Paige Batterton all won first place honors. Seventh grader Oakley Wies won second place honors and Sara Ferguson was recognized for finishing fourth in modern oratory. Adrienne Lilley was the SSMS modern oratory coach.
In poetry oral reading, two of the students Karina Perez coaches placed: seventh grader Alexa Gonzalez placed fifth and eighth grader Rachel Law won second place.
Three students in each grade level earned individual recognition in prose oral reading. Michael Ann McKenzie won first place honors, Jovi Young fifth place and Natalie Gomez sixth place among sixth grade competitors. At the seventh grade level, Lindsey Hayes won first place, Miley McCormack second and James Winnett-Moore fifth in prose oral reading. Emma Boatman won first place, Nathan Bilyeu second and Jaycie Arledge fifth among eighth grade prose oral reading competitors. Hayley Glenn is the coach for all three grade levels in this event.
---
---
High School UIL
SSHS UIL Coordinator Gerald Grafton also gave a review of the SSHS UIL Academic Team's year, which he noted has provided some exciting moments.
Robotics
The year began in the fall with UIL B.E.S.T Robotics Competition. The robot the SSHS team built performed well. SSHS students also participated in a fall speech practice meet at Princeton and our UIL Academic events participated in three big UIL practice meets in the fall.
Congressional Debate
The SSHS congressional debaters competed at the Regional UIL Congressional Debate meet held at Region 8 Service Center on Nov. 11, 2021. The team composed two pieces of legislation, and three students competed. Jack Bain was awarded a 6th place medal at the event.
UIL Film
The UIL Film program experienced continued growth this year. SSHS submitted three films (two narratives and one traditional animation) in the UIL Young Filmmakers Competition. Two of those films advanced to the second round of judging.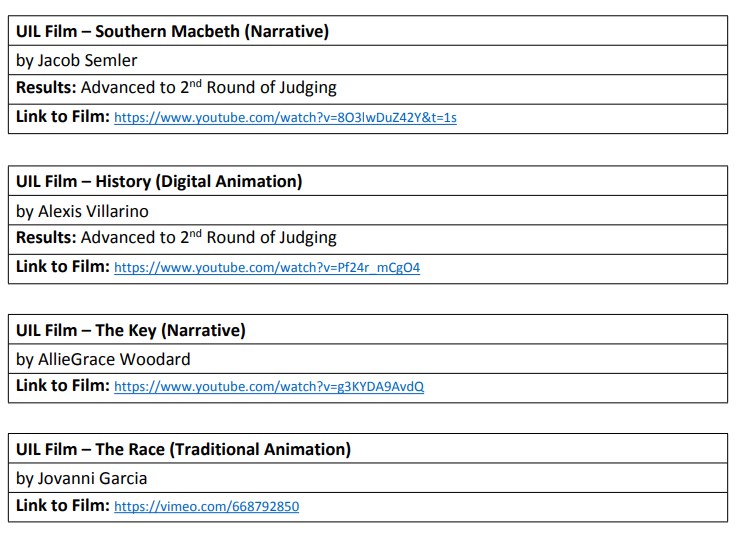 One Act Play, Theater
UIL One Act Play had an amazing run this year. The cast and crew of "Peter and the Starcatcher" advanced all the way to regional competition. To do this, the One Act Play team had to go through the gauntlet of District, Bi-District, and Area, Grafton noted.
For the third consecutive year, AllieGrace Woodard brought home a medal in the State UIL Theater Design competition. Her creations were presented and judged at the state level May 3-4. This year, AllieGrace finished second in Costume Design and fourth in Hair & Make-up.
Historic Essay Contests
SSHS UIL Essay competitors continued their tradition of success. Each year, UIL offers two essay competitions: the Barbara Jordan Historical Essay and the Latino History Essay. In each event, 12 finalists are chosen with six receiving medals. This year, 10 out of 24 state finalists in the UIL essay competitions were from SSHS. And, two are the new state champions: Addisyn Wall in Barbara Jordan Historical Essay, Lausen Ost in the Latino Historical Essay Contest. Lexi McCoy came in second at state in the Barbara Jordan Historical Essay Contest. Andrew Flores finished fifth and Lindsey Plumley sixth at state in the Latino History Essay Contest.
Academic UIL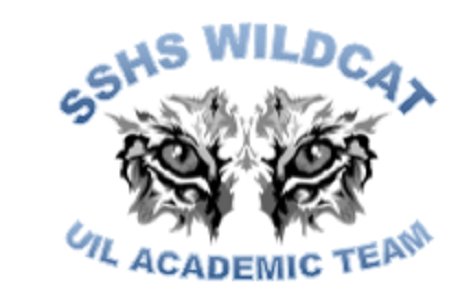 Academic UIL teams finished second to Hallsville at district with 17 students advancing to Regionals in 11 events. At regionals, the team finished second to Highland Park with 12 students advancing to state in 7 events. At the UIL State Academic Meet May 5-7 at UT Austin, both the spelling and vocabulary team and the literary criticism team won the state champions. Individually, Shelby Ray is the 2022 literary criticism state champion and Alexis Villarino came in second, while Dawson Carpenter finished second and Lexi McCoy fifth in copy editing at state. The social studies team finished fourth at state as well.
The state competitors and their coaches were recognized at the Monday, May 9, 2022, school board meeting, along with this year's valedictorian and salutatorian (Joel Villarino and Dawson Carpenter.)
Senior Competitors
Grafton and the UIL coaches noted that SSHS is "very proud of the senior class of 2022. They led by example and will be missed. Senior UIL students of 2022 are Lucy Braddy, Dawson Carpenter, Fernando Chimal, Anayeli De La Cruz Andres Flores, Lani Horn, Savannah Lilley, Shelby Ray, Caleb Talmage, Joel Villarino, Brandon Williams, and AllieGrace Woodard."