A crew from S&S makes repairs at Kids Kingdom Saturday morning, the first step in restoring the children's playground.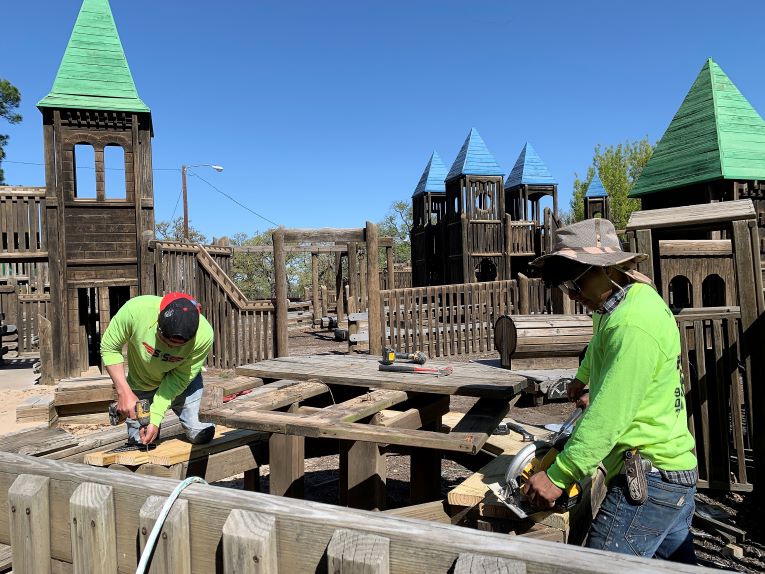 The Sulphur Springs Leadership Class has selected to rehab Mary Bonham's Kids Kingdom in Buford Park. And just like when it was constructed 25 years ago, the community is invited to help Friday and Saturday, April 22-23. Class members and volunteers will re-stain all the wood and spread mulch during the two work days.
Church and civic groups, as well as individuals, are encouraged to help with the project. To sign up to help, go to https://forms.monday.com/forms/bcbe10e346b300167c125ad23b7dd17c?r=use1 or contact the Chamber at 903-885-6515 or [email protected] .
The Adult Leadership Class is also planning to replace and/or repair the equipment, such as the handicap swing, chains, swings, tires, etc. for the playground, restore the ground mulch and install lighting for safety and security.
In readiness for the April 22-23 work days, the S&S crew began work on Kids Kingdom Saturday morning, April 9, 2022, making repairs to the wooden equipment, sawing, cutting replacing, securing piece in place and other renovations.
The playground is also slated to be professionally power-washed before that weekend to prepare for the staining.