A new Local Health Authority took office, reorganization of the county fire department and a shared grant with the city for equipment were announced, consolidated voting for May 24 election and an asset disposal was approved by Hopkins County Commissioners Court Monday morning.
Local Health Authority
The Commissioners Court at their last meeting recognized Dr. IL Balkcom IV for his 25 years of service to Hopkins County as the Local Health Authority, then approved Dr. Darrell Pierce to become the new LHA. Pierce was not able to attend the March 9 Commissioners Court session to be sworn into the office.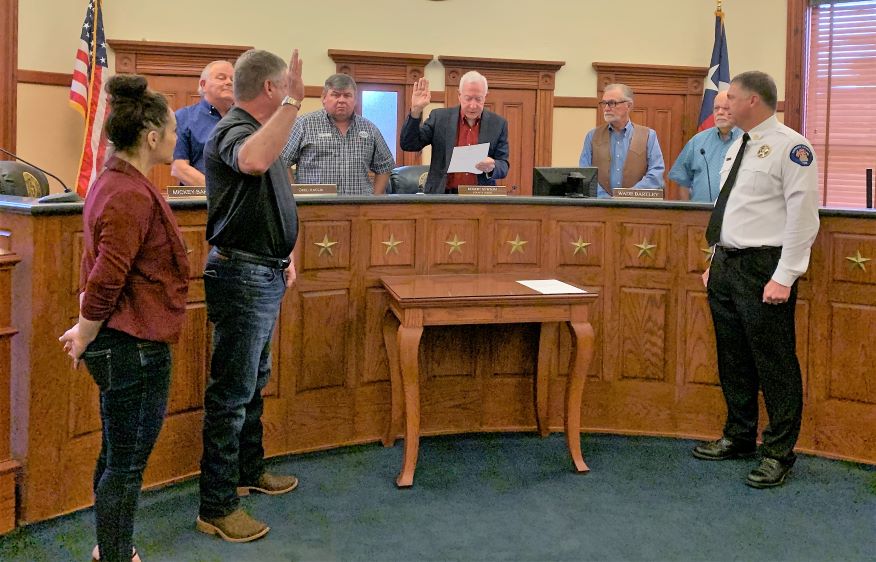 The LHA acts in place of a local Department of Health in a health or other community emergency, such as the COVID-19 pandemic. The LHA also has the authority to sign documents to allow county officials to proceeds in cases such as hazardous materials causing environmental issues, such as sewage, according to Hopkins County Fire Marshal Andy Endsley.
The position is a volunteer, not paid office, Hopkins County Judge Robert Newsom noted. That is an indicator of Pierce's servants' heart, being willing to sacrifice his time for the community, even time with family on occasions. Newsom expressed appreciation to Pierce for "coming on board" and willingness to serve.
Pierce says he feels he's been part of the community for some time and is "proud to be able to serve."
Precinct 3 Commissioner Wade Bartley too thanked Pierce for giving of his services and time."
Fire Department Reorganization
Marshal Endsley noted some reorganization changes made recently at Hopkins County Fire Department.
Doug Skinner is working part time as the newly appointed operations chief, overseeing the day-to-day operations for HCFD. Skinner has recently put in for retirement from Longview Fire Department.
Rodney Caudle will served just under Endsley as Deputy Fire Marshal. Caudle also brings a wealth of knowledge to the job He has been employed with HCFD part time for a little while in he capacity of a fire investigator. He works full time as a fire captain in Rockwall, and plans to continue doing so. With the reorganization, Caudle will be the deputy fire marshal, a part time position, assisting with law enforcement investigations and things of that nature., Endsley said.
"I appreciate the privilege to be able to help the citizens of the county in this manner," Caudle said.
The Commissioners Court, on a motion by Bartley that was seconded by Precinct 2 Commissioner Greg Anglin, unanimously approved making Caudle deputy fire marshal.
"Welcome aboard," Precinct 1 Commissioner Mickey Barker said.
Calibration Device
Endsley also reported that Sulphur Springs and Hopkins County have received a joint $5,000 donation from Atmos to purchase equipment needed to calibrate gas detectors both fire departments use on calls. The City of Sulphur Spring will serve as steward of the grant. In the past Atmos has calibrated the devices for the fire departments. They will no longer be able to provide that service. The grant will cover the full cost of the calibration device, enabling the departments to calibrate the equipment themselves moving forward.
Consolidated Voting
Hopkins County Clerk Tracy Smith asked the court to consider consolidating voting for the May 24 Election down to six boxes, as voting in this election is expected to have lower turn out. The request was approved on a motion from Precinct 4 Commissioner Joe Price, which Anglin second.
Asset Disposal
Precinct 1 Commissioner Mickey Barker is trading in two International dump trucks that are not satisfactory for county uses and will use the funding to get one used truck from Enterprise's Grand Saline feet.