A high speed chase through Hopkins and Wood Counties concluded with a crash, according to arrest reports.
Hopkins County Sheriff's Office Deputy Elijah Fite reported turning around April 4, 2022, to see if a vehicle with a broken back window had been abandoned on County Road 1196 west or if there were occupants that might need assistance.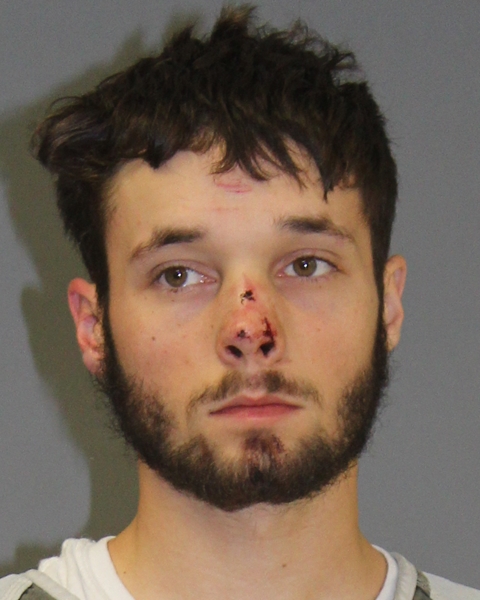 The black Volkswagen Jetta began moving, traveling west on CR 1196 west when Fite attempted to stop him at 3:18 p.m. Tuesday. When the car began moving at rates of speed above the posted limit for the county road, the deputy activated both lights and the siren on his patrol vehicle to try to get the driver to stop. When the driver continued on, Fite notified dispatch and other officers via police radio that he was in pursuit of the car, the deputy noted in arrest reports.
The pursuit continued heading east on CR 1196 west, then turned south onto Wood County Road 1730, reaching speeds of about 80 miles per hour. As the pursuit approached the intersection of County Road 1730 and County Road 1726 in Wood County, the driver attempted to turn the VW east onto CR 1726. Unfortunately, Fite noted in arrest reports, the car was unsuccessful in making the turn at that speed, causing the car to go through a CR 1730 fence, then struck a tree.
Fite and other deputies, who'd responded to assist in the pursuit and included Deputy Justin Wilkerson, were able to remove the driver and sole occupant from the car. He was identified in arrest reports as 18-year-old Dalton Shane Dakota Wallace of Yantis. The deputy claimed that Wallace's direct action evading detention by law enforcement caused what appeared to him to clearly be greater than $2,500 worth but less than $30,000 worth of damage to one of the patrol units.
EMS personnel soon arrived on scene and transported Wallace by ambulance to CHRISTUS Mother Frances Hospital in Sulphur Springs, with Fite following close behind. Texas Department of Public Safety troopers conducted the crash investigation, then had the car impounded by an on-call wrecker service.
When Wallace was released from the hospital after being treated for minor injuries (his jail photo showed cuts on his nose and forehead), deputies transported him to the county jail, where he was booked in at 6:48 p.m. April 5, 2022, on a third-degree felony evading arrest or detention with a vehicle charge and a felony criminal mischief charge (for damages to the patrol unit). The 18-year-old Yantis man was released from the county jail Wednesday, April 6, 2022, on a $10,000 bond on the evading charge and $5,000 on the criminal mischief charge, according to jail reports.
If you have an emergency, dial 9-1-1
The Hopkins County Sheriff's Office is located at 298 Rosemont Sulphur Springs, TX 75482. You can reach them for non-emergency matters at (903) 438-4040.