Como-Pickton High School FFA Chapter Vice President Kara Tifft has been named a junior intern for the Texas FFA Foundation Leadership Team.
Tifft and Texas A&M University students Nathan Barrett, who will be a senior intern, will assist the foundation's leadership team in executing programs, activities, and providing service to Texas FFA members, advisors, sponsors, special guests and other stakeholders during the annual FFA Convention.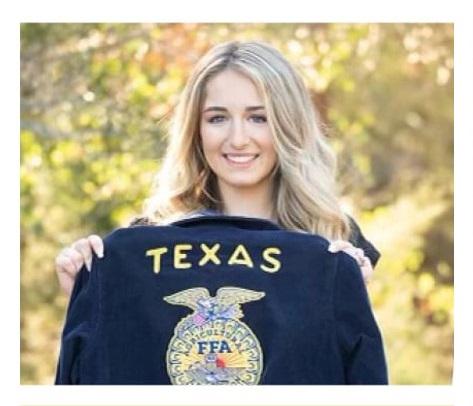 The Texas FFA Foundation staff members include Aaron Alejandro, executive director; Chandra Orren, executive assistant/comptroller; and Kassie Montford, coordinator for planning and development.
Tifft aspires to be an outstanding agriculturalist and leader. Along that line, in addition to serving as chapter vice president, she serves as a class officer is a member of the National Honor Society as well as other clubs at CPHS. She too has served as a Texas FFA Foundation Ambassador three times since 2019, an experience that inspired her to pursue this internship this year.
In addition to her active involvement in FFA, Tifft also participates in CPHS athletics programs and UIL.
Kara Tifft plans to attend Tarleton State University to major in animal science and eventually become a large animal veterinarian.