Sulphur Springs and Hopkins County residents are invited to two first responders events: a First Responders Meet & Greet from 10 a.m. to 1 p.m. Saturday, April 23, 2022, at the new Grays Building, located at 413 Beckham Street, on the south side of in Pacific Park; and to a Battle of the Badges Softball Tournament Saturday, April 30, 2022, at Sulphur Springs High School softball field.

"We invite everyone out, the more the merrier. If you're in for a good time and a lot of smiles, then come out and hang out," Sulphur Springs Police Lt. Brad Horton said.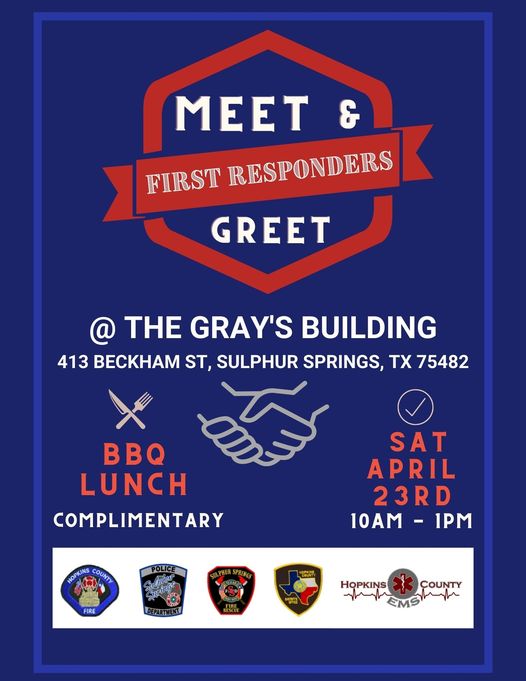 In addition to becoming acquainted with the first responders from Sulphur Springs Police and Fire Departments, Hopkins County Sheriff's Office, EMS and Fire Department, the community can enjoy a free barbecue lunch during the family-friendly event.
"It's going to be catered by Bodacious Bar-B-Q. The city is taking care of the bill. The city manager really wanted to give something to community," said Horton, during a recent Morning Show broadcast at KSST. "Bodacious barbecue is providing barbecue and all the sides, and it's free of charge to whoever wants it. They will be there starting around 10 o'clock as well."
There will a bounce houses for kids to enjoy. Weather permitting, the first responders hope to be able to have a medical helicopter land behind the Grays building, alongside fire trucks, police vehicles and ambulances for kids and families to check out.
There might event be some popcorn available, for free, for kids to enjoy as well.
Although City of Sulphur Springs staff have been working hard the last couple of weeks installing the new playground in Pacific Park, it is, unfortunately, not quite ready for children to enjoy, City Manager Marc Maxwell reported Friday. But, community members can get a peak at it from outside the fencing.
Kids can still enjoy the grounds, an up close look at emergency apparatus and get to know the local responders. It's also an opportunity for the first responders to get to know the people in the community they serve outside of an official call.
Horton said this is an opportunity for first responders to give back to the community that gives so much to them, and a great opportunity for community members to become acquainted with officers, firefighters and paramedics. Many people wouldn't otherwise encounter these first responders unless there is an emergency situation or or official call for service – often scary times, especially for kids.
Sulphur Springs Law Enforcement Association and Firefighters, and Hopkins County Sheriff, are donating about 10 bicycles, boys and girls, which will be awarded as door prizes during the meet and greet event on April 23.
"The major goal of it is to not giveaway things as much as communicating with the community, giving back to the community that gives so much to us – just trying to build better bonds," Horton said. "One of the things that's always easy for people whenever you show up in terrified moments for them is to see a face they know. Hopefully, this helps to build that trust… More than anything this is just to give us an opportunity to stand around in a not so formal way, be able to sit down and let people get to know us."
The community is also invited to another fun event hosted by local first responders the following Saturday, April 30, at 10 a.m. on the SSHS girls varsity softball field. All are invited to stop by and watch the Battle of the Badges Softball Tournament.
This year's tourney, Horton noted, will be a little different than the Battle of the Badges tournaments held locally in the past. In 2022, athletes and students will be playing alongside the first responders, filling out teams during the tourney and bonding with the officers and emergency responders.
"Due to manpower issues, trying to get all the shifts covered, we talked with the high school softball and baseball coaches and they are going to allow the kids to play with the officers and firemen on those days too. It'll be a good community event, getting everybody together," SSPD Chief Jason Ricketson explained earlier in the month when inviting the Sulphur Springs City Council and community members to both events.
"They're just setting it up to be a good time to come out and have fund. It's open to the public. Come and join," Horton said. "It'll be fun, a lot of laughs, hopefully, a lot of smiling. Again, it'll be something that helps form bonds between the first responders of the county and city and the citizens."