Over a salad lunch Wednesday, school administrators discussed with interested community members the P-Tech Program at Cumby ISD and Sulphur Springs ISD's $93 million bond election. The educational Lunch & Learn was hosted by Hopkins County Chamber of Commerce at The Oaks April 20, 2022.
Cumby Programs
Cumby ISD Superintendent Shelly Slaughter and High School Principal Donna George introduced the PTech program, part of Collegiate EduNation which the school's been doing for 2 years, by playing a short video featuring another CEN school. (Click here to view it)
The video explains that rural schools are having to restructure not only their schools but the way they do things in order to adequately prepare students for the future.
P-Tech is basically CTE and early college courses combined, Slaughter noted. Students earn not only a high school diploma but every student also has the opportunity to earn an industry-recognized certification and an associate degree and gain relevant work experience in their chosen field free of charge to the student. The school partners with businesses and industries to provide students with internships and externships that are paid. Cumby EduNation's goal is to have 90% of seniors graduating with an associate degree in the next 3 years. Then, they hope to have 80% of students with associate going on to attain a master's degree, then later 70% of the master's recipient group to attain a doctorate.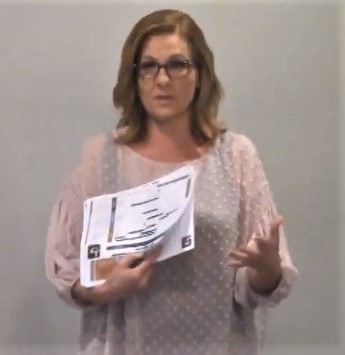 The school has opted to be part of P-20, which allows CISD students to continue work toward a bachelor's degree and beyond for a couple of years after graduation. While some opt to continue their education with a traditional university experience when they graduate, others opt to stay on at Cumby ISD as adult learners in various fields to benefit from that opportunity.
Slaughter noted that P-Tech is a great opportunity to "grow your own." Ideally, students complete the courses or training, then want to return to give back to the district opportunities they had to other students. This year, has a student who will receive her associate's degree two weeks before she graduates from high school. She will be hired next year by Cumby ISD as a paraprofessional and, as an adult learner for the district, go through an alternative program through A&M Commerce. At age 20, on her current track, she will have earned her bachelor's degree at no cost to her. Then, as teaching positions open up, Cumby ISD can hire her.
Schools participating in Collegiate EduNation can share instructors through the network, ideas about programs, professional development and costs of different programs to make the schools stronger, Slaughter said. Doing so can also help break a generational cycle of poverty, gives back to rural communities, growing them so they don't die and go away.
"We're starting a lot things earlier to prepare our kids to be ready to take college classes as freshmen. We've seen some success with some things there as well," Slaughter said.
Students spend three hours each morning of Montessori methods for students in pre-kindergarten through grade 2 and traditional activities in the afternoon. Students in grades 3-7 will engage in blended learning (more individualized learning). Students then begin college classes as high school freshman. Students begin high school course work in eighth grade, and some as early as 7th grade in order to receive CTE credit for high school. Students may also attain dual credit for college courses beginning in 9th grade.
The district too is implementing an AVID program, which is college and career preparation so the students are on track to be ready for the courses they will be taking in later years.
"We want our kids to have every opportunity that kids everywhere have. Just because you're in a small school does not mean that there is not opportunity and that you're not producing awesome students who go out and give back," Slaughter said. "The other thing that we teach is job skills; social and emotional things go into all of this."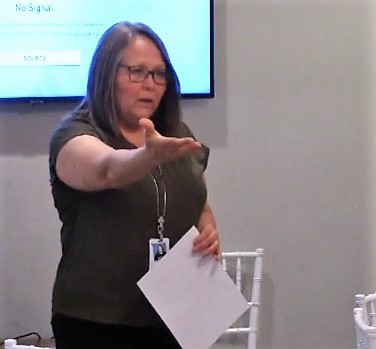 Cumby ISD also is a National Showcase District; they are trying some new things that should be in place by 2025, which would allow representatives from other schools to come in an replicate those things.
George noted that P-Tech is the instructional piece while CEN is the organizational part of the program. CEN is how Cumby ISD organizes the district in the P-20 model. P-Tech is also a P-20 model, the instructional part of it. P-Tech provides additional funding to pay for the students' education, so they do not have to pay a cent for the college courses they take at Cumby ISD.
Through P-Tech, Cumby ISD can hire professional skilled individuals who are not certified teacher to come in to help teach the students in their skill area. For instance a welder could be hired to teach a welding class or a financier to teach financial classes. Also some teacher can have industry experience which would enable them to teach dual credit courses. She said Cumby ISD would like to be able to send teachers to work or job shadow at industries to attain the requisite industry experience and in some cases certification required to be able to teach a dual credit class for which a student receives dual credit.
Even having business people to visit classrooms to explain what they do and the different career options industry certification and an associates can open the doors to.
Slaughter said while Cumby wants these opportunities for students in that school district, but wants it for all local schools and children, to grow programs and direct students toward careers in Hopkins County, to grow the community so that it flourishes and thrives.
SSISD Bond Proposal
Sulphur Springs ISD Superintendent Michael Lamb explained the basics of the May 7 bond election, called so voters can determine whether or not the district goes out for $93 million in bonds to fund school improvements including construction of a new elementary campus and CTE Center, and purchase of 20 buses. The bonds would be paid back with an 8.5-cent increase on SSISD ad valorem taxes.
Lamb explained that the bond is part of a 20-30 year plan to update and in some cases replace aging district facilities. The oldest district building, the administration building, is 100 years old. The two newest, Middle School and Bush Primary, are 9 and 25 years old. The next oldest building, High School, is 43 years old, while the rest have been in service 55-67 years.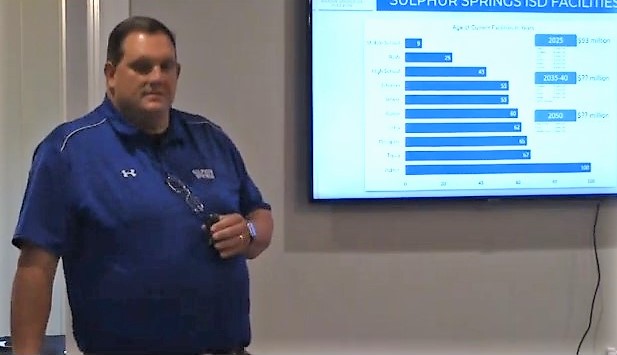 Forty years is the recommended lifespan for an elementary school before it is replaced. Houston and Austin Elementary were about 80 years old when they were closed, with Houston eventually completely demolished and the worst parts of Austin were torn down and other parts refurbished. Since, 80 years seems to have become the accepted standard for school building in the district. SSISD will have six campuses that turn 80 within the next 20-30 years; as is, the district will still in no way be in a position to replace that many schools at one time or within a 10 year time span. Thus, the plan proposed to gradually over that time make repairs and refurbishments that will extend the life of campuses as much as possible and replace others on a schedule.
As more and more electricity is needed in educational settings, the bigger a challenge powering all of the needed devices in classrooms becomes. Travis Primary, the campus to be replaced with a new facility, for instance, has cords running down and along walls to fully meet district classroom needs. This became a potential hazard last year when some flooding occurred at high school, where power strips were run throughout to power the laptops used for classwork.
Eventually, district facilities planners would like to have four elementary campuses which each housing students from kindergarten through fifth grade.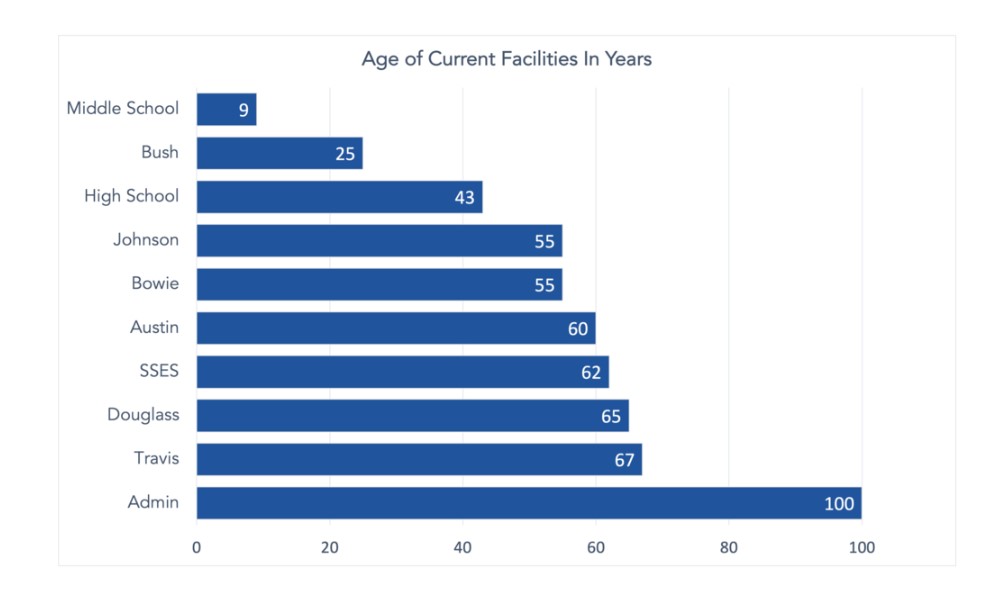 Lamb explained that the maintenance and operations school tax rate has gone down over the last few years, based on a state formula, over the last 3 years. Tax appraisals have gone up, however, so some people have still experienced an increase in their tax bills.
Also on May 7 ballots cross the state are two constitutional propositions. One would increase the homestead exemption eligible property owners receive for their taxes from $25,000 to $40,000. If passed, that would apply to school taxes beginning in tax year 2022. The state would make up the difference in revenue for school districts. If the homestead amendment is approved one person's monthly tax bill could actually decrease, if there's no change in appraisal value of the property.
The owner of a $200,000 home would only pay taxes on $160,000 with a $40,000 homestead exemption (if it passes). Even with an 8.5-cent tax increase, that tax payer would actually see their tax bill decrease by $3.45 per month.
Eligible property owners who have applied for homestead exemptions for people age 65 and older, under the state law, would not see the dollar amount of school taxes imposed increase above the amount paid in the first year after the person turned 65 or disabled. That doesn't mean these individuals' taxes won't increase, it just won't increase above the amount it was the year they turned 65.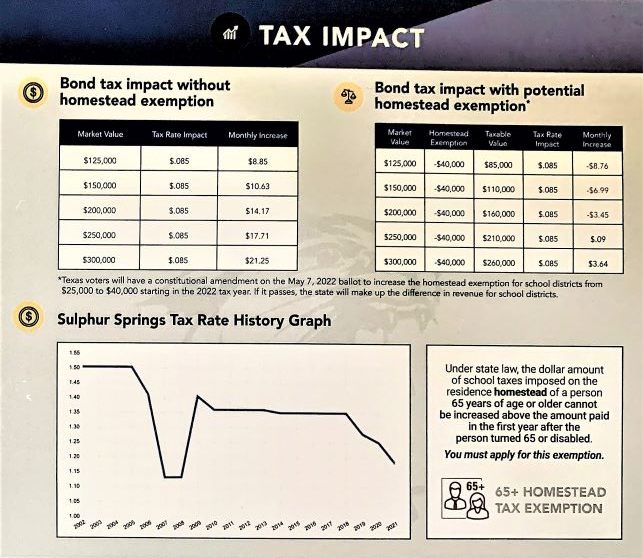 The planned new Travis Elementary would be constructed where the community walking track now sits down the property from the current Sulphur Springs Elementary. The district plan to put a lighted walking trail around the entire school block where SSES and the new Travis would be located.
School officials believe traffic will not be an issue. SSES, when previously used as a middle school for three grade levels totaling more than 1,000 students, there was no traffic issue. Even constructing Travis in the same school-owned block, the two facilities would still house less than 1,000 students. A cut-through street also is planned to help with traffic flow between the two facilities as well, Lamb explained. Lamb said based on the current plan, SSES likely will continue to serve as a student campus for only 10-15 more years.
Bowie Primary needs a new wing. A whole new campus could be constructed on the school property behind the gym. The district would build only about a third of a new school, then add onto it later.
Drainage and parking work and a new roof are needed at Barbara Bush Primary. Entry work is planned at Douglas ECLC.
The $9 million designated for capital improvements includes roofs for SSES, High School and Bush Primary; HVAC and plumbing work at Middle and High School; and bare-bones repairs at Austin Academic Center. Lamb said emergency plumbing repair work at high school became necessary 2 months into the school year when the pipes in the back of the cafeteria fell in.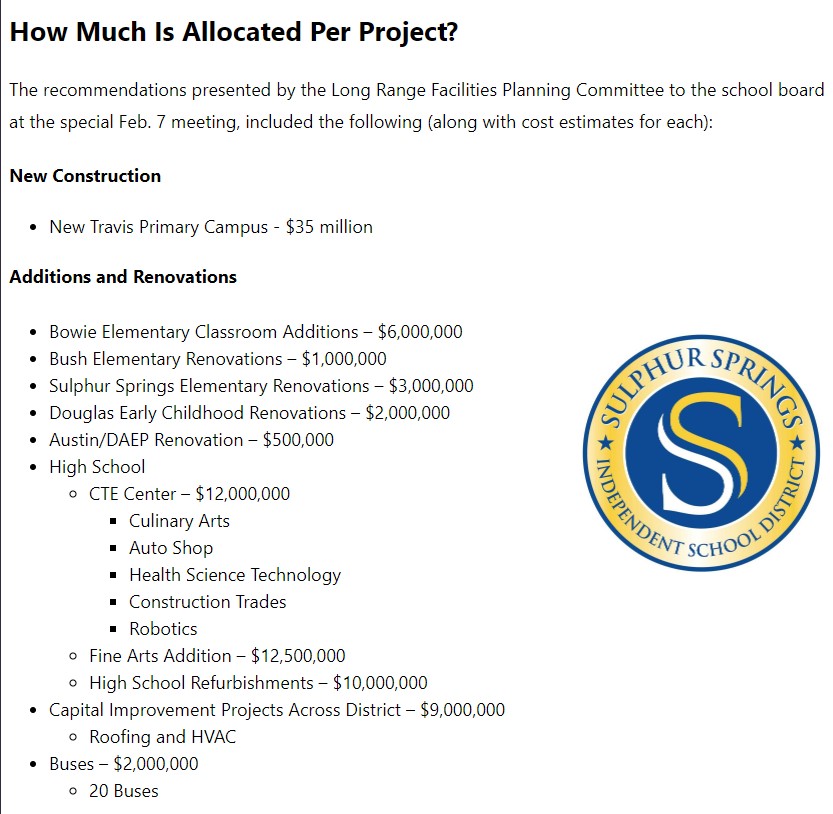 At high school, the plan is to enclose the area between the fine arts and gym to provide additional office space, which would help solve some security issues, and free up other office space. A new band hall would free up the current band hall to become a dance studio for the Blue Blazes and provide additional choir rooms. A new CTE center would house more updated equipment and facilities for culinary arts, a new auto shop with modern computerized equipment, a woodworking shop, robotics and health science technology programs. This would allow more skills based learning. Moving those programs into a new building would free up the other 10 rooms that are needed at high school.
The district also plans to purchase 20 buses to catch up with district needs. The district has a 60 bus fleet. Buses are estimated to last 15 years each. That's mean the district should be buying four new buses each year to keep up. The district has not over the past 20 years purchased four buses a year. Ten years ago, district purchased only two buses per year, but now is implementing a schedule and budgeting for four a year. Purchasing the 20 buses would put the district on track to keep up, Lamb said.
Similarly, a schedule is in place to replace air conditioners in the building, but that has not always been the case, hence the need to catch up, the SSISD superintendent noted.
Chapter 313 agreements can benefit school districts. One company is interested in bringing a $100 million business to Sulphur Springs, with a agreement which would require them to pay only taxes on only $25 million. A solar farm also has requested a Chapter 313 agreement. These agreements can only be made through Dec. 31, 2022. These businesses coming to town are contingent on tax incentives. These types of businesses would be granted the incentive only on the M&O portion of the school tax rate, but would still be paying on the I&S (debt service) portion of the tax rate, Lamb said.