Did You Know The Law Applies To TxDOT, Towing And Certain Utility Vehicles In Addition To Police And First Responder Vehicles?
With the number of people killed in crashes in work zone increasing by 33% in 2021, motorists are reminded how vital it is to move over and slow down when they see first responders and other emergency response vehicles with lights active on Texas roadways.
Inattentive diving can be especially dangerous in a work zone or an area where highway construction or repairs are in progress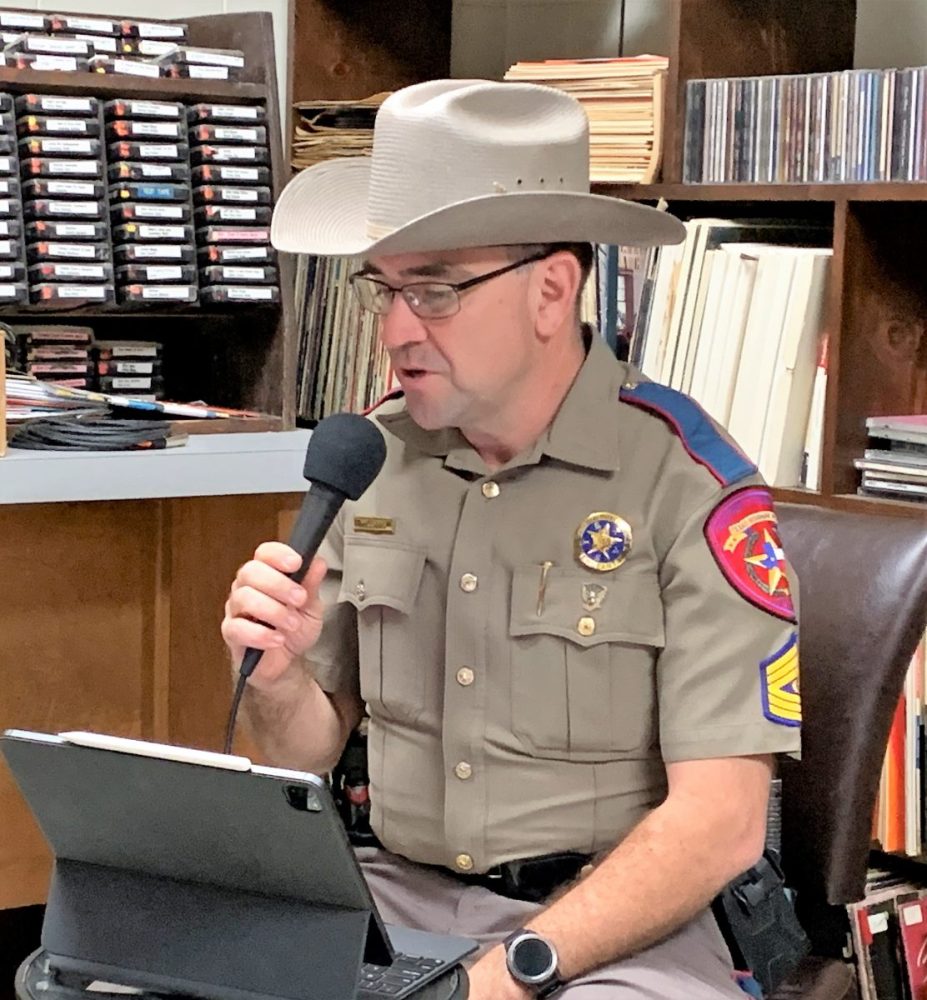 Last year, 244 people lost their lives in work zones. Of those killed, there were 195 vehicle occupants (drivers or passengers), 38 pedestrians, four bicyclists and three roadside construction workers. And, acording to Texas Department of Transportation, speeding and driver inattention were among the leading causes of the crashes.
According to TxDOT, last year was a 40-year high as far as the number of people killed on Texas roadways.
Texas Department of Public Safety Sgt. Gregg Williams, Texas Highway Patrol Media Communications and Safety Education Officer for the Texarkana/ Mt. Pleasant Region, noted that more than 1,300 tickets and warnings were issued in the North Texas DPS Region last year and 12,708 violations issued state-wide last year.
Sgt. Williams recently visited KSST's Morning Show to remind motorists the necessity for everyone to do their part to make things safer while traveling along the many highways and roads in Texas. With more people out during warmer months, that means more motorists, pedestrians, construction workers and bicyclists out on and along roadways, making it that much more necessary for people to drive cautiously, watching out for others.
Adhering to the Move Over, Slow Down law, Section 545.157 of Texas Transportation Code passed in 2003, is one big way to do that.
Essentially, that means motorists traveling in Texas are required to either vacate the lane closest to the vehicle on a highway with two or more lanes when traveling in the direction of the stationary emergency vehicle.
Most know that Move Over, Slow Down law requires motorists to move over for first responder or emergency response vehicles which include ambulances, police and other law enforcement and fire department apparatus. However, the law has been expanded since it's inception, to include more vehicles motorists must move over and/or slow down for, including utility service vehicles, highway construction and maintenance vehicles.
"Throughout the years they have seen a need to add more vehicles to that list. It first started with just a first responder – whether it was ambulance or police vehicle or fire truck or apparatus. Then they saw the need to actually expand that. Now, the tow truck drivers are actually part of that list," Williams said. "Here recently they have actually included Texas Department of Transportation – which, as you can imagine, they are on the road probably more than we are."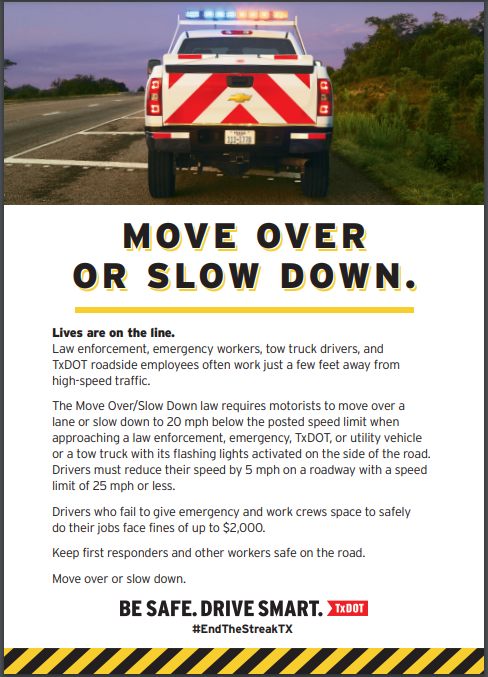 In instances where there is not another lane available to move over into, and no officer available to direct passing traffic away from the location, motorists then are required to slow to a speed not to exceed 20 miles per hour less than the posted speed limit when the posted speed limit is 25 miles per hour or more. On roads where the speed limit is less than 25 mph, motorists are required to reduce speed to no more than 5 miles per hours where a traffic control channelizing device is used. (A traffic control channelizing device is defined in the transportation code as equipment used to warn and alert drivers of conditions created by work activities in or near the traveled roadway, to protect workers in a temporary traffic control zone, and to guide drivers and pedestrians safely through the area. It may also include traffic cones, tubular marker, vertical panel, barricade, temporary raised island, concrete or cable barrier, guardrail or channelizer.
The penalties for not following the Move Over, Slow Down law include a misdemeanor fine of up to $200, misdemeanor fine of $500 if there's property damage, Class B misdemeanor charge if the violation results in bodily injury, the DOT. Traffic fines double in work zones when workers are present and can cost up to $2,000. Failure to heed the Move Over, Slow Down law also can result in a fine up to $2,000, TxDOT officials noted.
"We encourage everybody on regular safe driving habits. Check your cars, check your vehicles. Make sure, of course, you buckle your seat belt," Williams said.