A Sulphur Springs High School jury found a defendant guilt during a mock murder trial performed at Hopkins County Courthouse Tuesday morning. The mock trial is an annual event conducted to allow SSHS students to practice in a real courtroom things they've learned in class as part of the pretend case.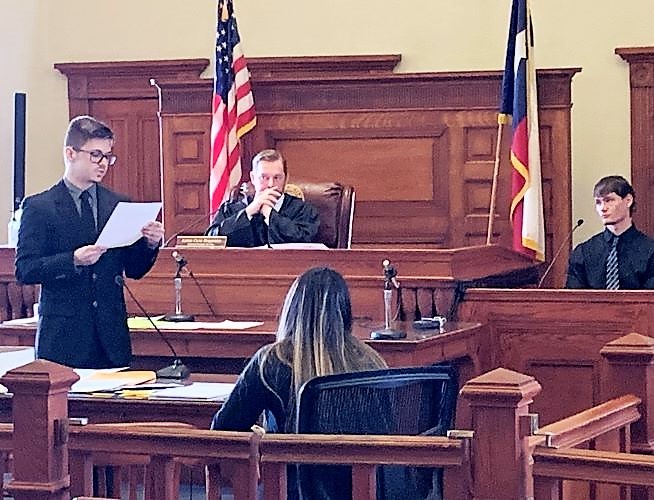 Students are selected to serve as witnesses, court bailiffs, prosecuting and defense attorneys, victims or those connected to them, the defendant, investigators, officers and others who would be involved in a murder investigation and trial. The "case" was heard before County Court-at-Law Judge Clay Harrison, in the second floor courtroom at Hopkins County Courthouse, to give the students a real feel for a trial.
Students are each tasked with researching their roles, compiling their "evidence," preparing to testimony, questioning of witnesses, opening and closing statements, whether to have the "defendant" testify, and many other important preparatory measures required for a court case.
In this case, a meal delivery person previously accused of voyeurism, and reported to be undergoing psychotherapy, was accused of murdering a woman. The "defendant" claimed he saw a woman running out of the house upon arrival, then observed a woman on the floor and a man with blood on him. Use of medication prescribed by the therapist was cited. The student "prosecutors" pointed out inconsistencies in testimony of defense "witnesses" compared to initial statements given to authorities, and argued that the defendant watched a woman's activities and killed her at the address where he claimed to have delivered a food order.
Judge Harrison at various times during the trial answered questions, responded to objections. He commended the students on their performances in the rolls assigned to them. He also pointed out different elements or facets of the trial and took questions from the audience, students who did not have an active role in the mock trial. To help document the mock murder trial, local media and instructors were allowed to bring cameras and recording devices into the courtroom – something not typically permitted.