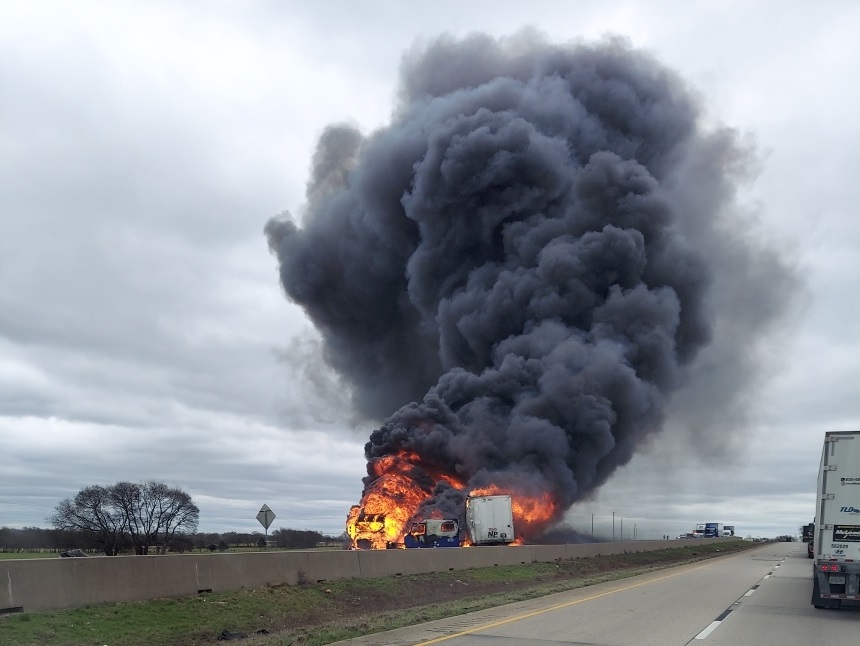 Both lanes of westbound Interstate 30 were shutdown for several hours due to a two-vehicle crash near mile marker 115; the north service road also was shut down just before 2 p.m. and were expected to remain closed 5-6 hours Tuesday.
Those traveling along that stretch were warned to take a different route or plan for travel delays.
One truck-trailer rig reportedly crashed into the trailer of a truck-trailer rig parked on the side of I-30 west, injuring the driver of the parked rig. The vehicles reportedly burst into flames.
The crash, called in just after 1:40 p.m. Tuesday March 22, 2022, reportedly involved two 18-wheelers, at least one of which was reported to have caught on fire. The injured truck driver reportedly sustained serious enough incapacitating injury for a medical helicopter to be landed near the crash location to fly him to a trauma center.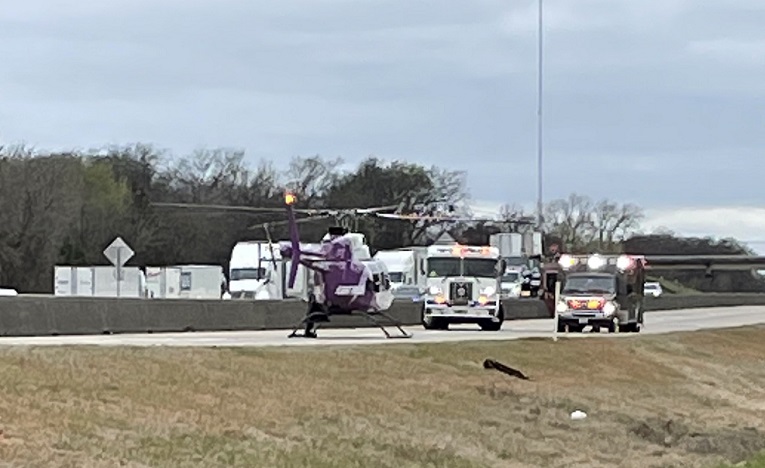 Only the south service road remained open at 1:55 p.m. to westbound traffic, officials at the crash site reported. Traffic had reportedly backed up from the 120 mile marker eastward on I-30 west at 1:50 p.m. Law enforcement and firefighters from multiple agencies responded at the crash Officials, as soon as possible, began diverting westbound traffic away from the crash.
Just before 3 p.m., westbound traffic had backed up along I-30 and the north service road (Industrial Drive) into Sulphur Springs between Hillcrest Drive and South League Street. Officials were working to open one lane of the north service road at an exit down from the wreck, to allow some of the motorist to exit the highway and continue westward. Those between the exit and the wreck were locked in for a few hours, until the backlog of traffic could be diverted enough to safely back the locked-in section back out of the location.
One lane of of the north service road had been reopened around the crash around 4 p.m., with traffic exiting I-30 and directed past the crash. Just before 5 p.m., authorities had begun turning around the stranded motorists, directing them east on the westbound lane to an exit, getting those units of the Interstate.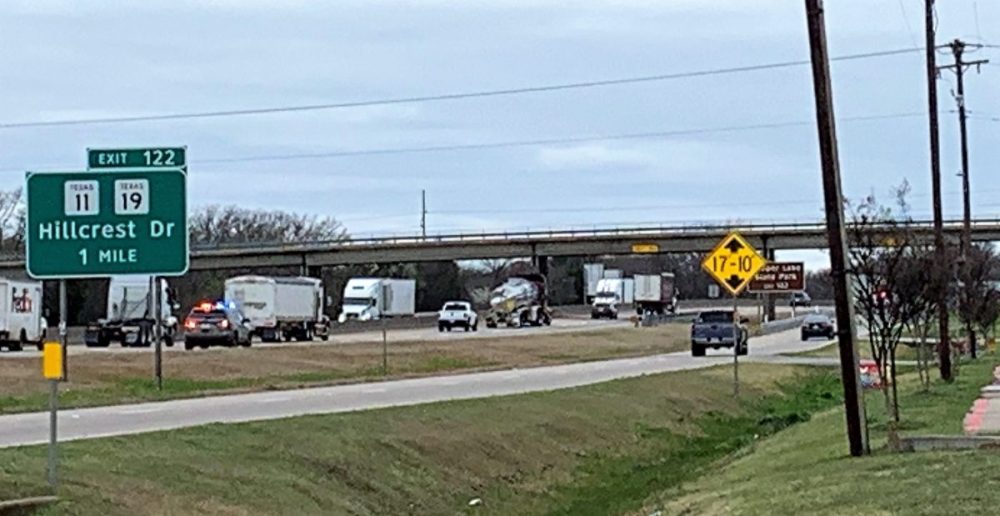 Meanwhile, westbound traffic on the north service road from League Street and Hillcrest Drive were being directed an alternate route or halted as the motorists stranded on I-30 for hours were evacuated off the closed section of roadway. Thus, traffic had reportedly begun to stack up again on the north service road and I-30 between the US Highway 67 overpass and Hillcrest Drive. City authorities and constables were assisting with traffic direction before 5 p.m. Tuesday. Authorities were monitoring Hillcrest Drive and Rockdale Road. Traffic was being directed away from the service road and onto the I-30 at League Street exit.
The roadway remained closed after 5 p.m. Tuesday and remained closed another 1-2 hours as officials worked to clear the wreckage, get stalled traffic off the highway and assess travel conditions on that section of I-30. A crew was expected to return to the location during daylight hours to finish clean up at the roadside