Hopkins County Commissioners Court agreed to abandon a portion of County Road 4746, set the date and time for county clean up days and approved two plat requests during the regular court session Monday morning, March 14, 2022.'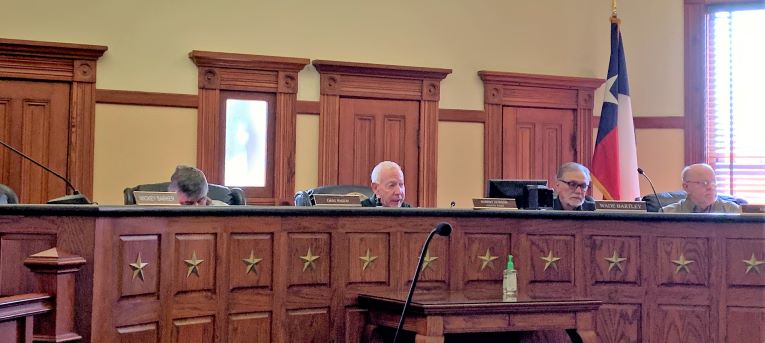 CR 4746 Road Closure, Abandonment
Precinct 4 Commissioner Joe Price explained that the section of County Road 4746 that a property owner has petition to have closed and abandoned by the county is a dead end dirt road that has only been bladed but otherwise not maintained. The person asking for the closure and abandonment owns both tracts of land on either side of the road.
Price noted that all of the other steps to close and abandon a road have been followed, including obtaining the number of signatures from other residents of the area indicating they would not be adversely affected by the change nor would to they disapprove the request. The person submitting the application for the change was planning to attend the court session, but was in Montana with his mother.
The Precinct 4 commissioner made the motion, which Precinct 3 Commissioner Wade Bartley seconded, that the Commissioners Court approve the request to close the segment of CR 4746 and abandon it to the property owner on either side of it. The court approved the request on a 4-0 vote; Precinct 1 Commissioner Mickey Barker continues to be out due to illness.
County Clean Up Days
Hopkins County Commissioners Court approved April 29-30 as County Clean Up Days. County residents may bring personal household trash, brush and certain appliances to the county barn of their precinct. This will be the week following the City of Sulphur Springs' Spring Clean Up Days, which are set from 7 a.m. to 7 p.m. April 18-23.
County residents may dispose their items from 8 a.m. to 5 p.m. Friday, April 29, and from 8 a.m. to noon on Saturday, April 30. No toxic or hazardous materials will be accepted. That means no tires, no shingles, no chemicals, no household hazardous wastes, no pesticides, no paint and no appliances containing Freon.
Commissioners plan to have some staff available to assist people when they arrive, but noted those bringing larger items to discard should be prepared to help off load them.
Also, any metal items donated during the Spring clean up days will be scrapped, with funds received again designated to benefit the county volunteer fire departments.
Typically, the commissioners recommend not pull up with gooseneck cattle trailers packed with items to be discarded due to difficulty getting them in and unloading.
The four county precinct barns will serve as collection sites for the Hopkins County Clean Up Days. The barns can be found at the following locations:
Precinct 1 Barn – 5516 State Highway 19 south, Sulphur Springs
Precinct 2 Barn – 12080 State Highway 11 east, Como
Precinct 3 Barn – 583 County Road 3564, Dike
Precinct 4 Barn – FM 2653, Cumby, 1.7 mile south of State Highway 11 west
May 7 Special Election
As is required County Judge Robert Newsom called for the May 7 Special Constitutional Amendment Election per the Governor's Order. The Commissioners Court also approved the order for the election. The election for two propositions which could impact taxes will be held in conjunction with any school and municipal elections that may be called.
Sulphur Springs ISD is holding an election, asking district voters to cast ballots either for or against a $93 million bond for school improvements, including a new Travis elementary school, and a new career and technical center and fine arts additions at high school. The City of Sulphur Springs was able to cancel the City Council Election, and Sulphur Springs and Yantis school district canceled their trustees election because the candidates were unopposed by the seats each sought.
Early voting will continue to be conducted in the Precinct 2 Justice of the Peace's courtroom, located inside the Hopkins County Courthouse Annex Building at 128 G Jefferson St., April 25-May 3, 2022. With the election following from 8 a.m. to 5 p.m. May 7 at six consolidates voting center instead of 12. They include:
Voting Precinct 1 – 1 Sulphur Springs Middle School cafeteria, 835 Wildcat Way, Sulphur Springs, Texas 75482;
Voting Precinct 2 Justice of the Peace Courtroom, 128 G Jefferson Street, Sulphur Springs;
Voting Precinct 3 – Hopkins County Courthouse first floor courtroom, 118 Church Street, Sulphur Springs;
Voting Precinct 4 – Hopkins County Civic Center, West Hall, 1200 Houston Street, Sulphur Springs;
Voting Precinct 11 – Cumby Municipal Building meeting room, 100 East Main Street, Cumby; and
Voting Precinct 1, Como-Pickton CISD art room, 13017 TX Hwy 11 East, Como.
(Art Room)
For information about the two Proposed Texas constitution amendments, click here. To read or download a copy of the Governor's order, click here. Additional voter information may be found on the Voter Information link on the Hopkins County website, https://www.hopkinscountytx.org/.
Plat, Replat Requests
Precinct 2 Commissioner Greg Anglin noted that two property owners sold land, one piece to the other and have filed a motion to have it re-platted in Honeysuckle Estates, and recommended the court approve the request. Price seconded the motion which received approval of the Commissioners Court.
A preliminary plat for Oak Grove Subdivision too was submitted for court approval. Price said as he understands it, the planned subdivision is located in both Precinct 4 and Precinct 1, at the crossroads of the two. The Precinct 4 Commissioner said he has gone out to look at it, but didn't think Barker has had the chance to do so. Price said he did not have any problem with the part in Precinct 4.
The preliminary plat appears to be in good order. Price and Fire Marshal Andy Endsley have conference with the developer via Zoom and neither had any issue at that time with the proposal.
County Clerk Tracy Smith said the request is preliminary. The applicants do have all of the required paperwork in.
Price made a motion to approve the preliminary plat for Oak Grove Subdivision. Anglin seconded the motion, which received full approval from the two other court members present as well.
Property Disposal
Sheriff Lewis Tatum noted that the department has had a hard time finding vehicles, and plan to trade out one of the criminal investigations division vehicles. He asked the Court to allow a check to be written out the seizure funds instead of the department budget.
"We are writing a check for $7,050 out of your seizure money so that it's at no cost to the county. They are trading in a vehicle, and you had paid for the vehicle you are trading in also," Hopkins County Auditor Shannah Aulsbrook said.
"Yes, we paid for it out of the seizure fund also," Tatum affirmed.
"They are disposing of it though. It's on county inventory, so they just need to put that in the record that they are getting rid of the vehicle," Aulsbrook said. "It's a 2020."
Tatum noted that the vehicles are on a three-year replacement cycle. The department after considerable searching, has found a suitable vehicle. It will cost more than the department normally pays, but due to the shortage, Tatum said there's really not much choice in that.
Aulsbrook noted that the Chief Deputy had ordered the vehicle a few months ago, but only received a call Monday morning notifying him that the vehicle was expected to be delivered today and the trade in collected.
Tatum said the department has two Explorers for K-9 units, but were unable to find any Tahoes. The Tahoe the department is purchasing for CID is not a police edition interceptor, just a normal Tahoe with 4-wheel drive. The two Fords used by the K-9 officers are interceptors.
Anglin made a motion, which Bartley seconded, and the two other court members approved, for disposal of the vehicle.
Other Business
The Como, Cumby, Miller Grove, North Hopkins/South Sulphur, Sulphur Bluff and Tira Volunteer Fire Department turned in to county officials agreements for the 2021-2022 year. They were submitted for the record. The five other departments had turned their contracts and they were submitted for the records at at a prior court meeting.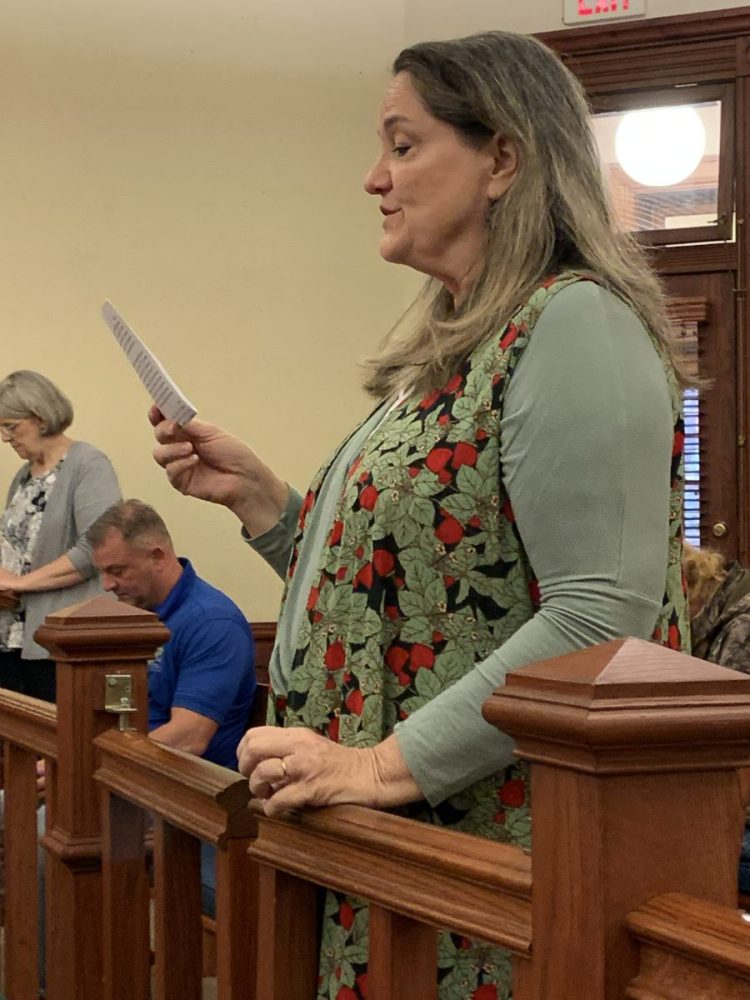 The court also voted unanimously to pay the bills, and approve revenues, expenses, payroll and financial statements as presented and approved the consent agenda, which included:
Meeting minutes from Feb. 14 and March 4 court sessions;
Spectrum/Charter's request to construct and place meter base poles or ground mount meter bases on County Road 3404 and County Road 4760; and
Oncor Electric's request for a service order.
Dike resident Michele Barnes addressed the court during public forum regarding her displeasure that what she called a "legal loophole" was found and the case filed by Cynthia Martin was dismissed by a judge.