Sulphur Springs Senior Citizens Center was full Saturday. Feb. 26, with 25 teams playing in the 2022 Winter 42 Tournament at the Saturday. The top four teams earned a certificate, cash prizes and bragging rights until the next domino showdown.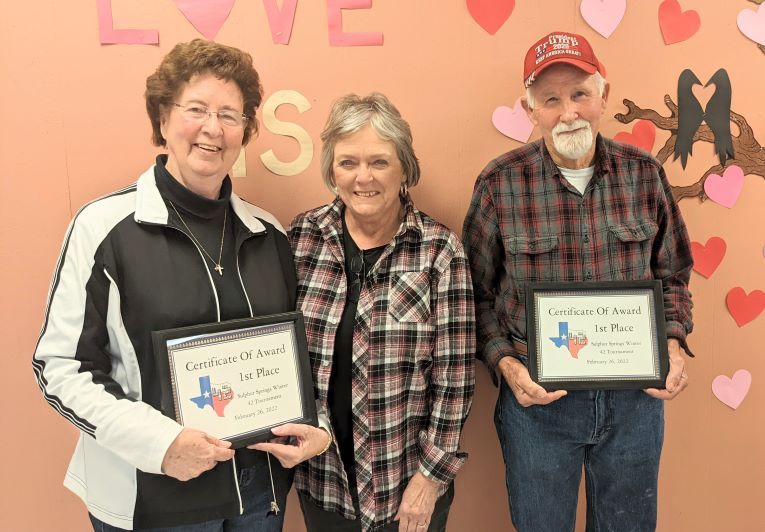 The overall 2022 Winter 42-Tournament winners were Travis and Patsy Patridge. Additional teams recognized included Chris Orr and Trey Newsome, second place; Peggy Decker and Royce Canady, third place; and David and Kimberly Epperson, fourth place.
Senior Center Director Karon Weatherman offers thanks to Donna James and Cecil Toenniges for helping out Saturday. James served as scorekeeper.
42-Tournaments are typically hosted at the Senior Citizens Center in Sulphur Springs quarterly.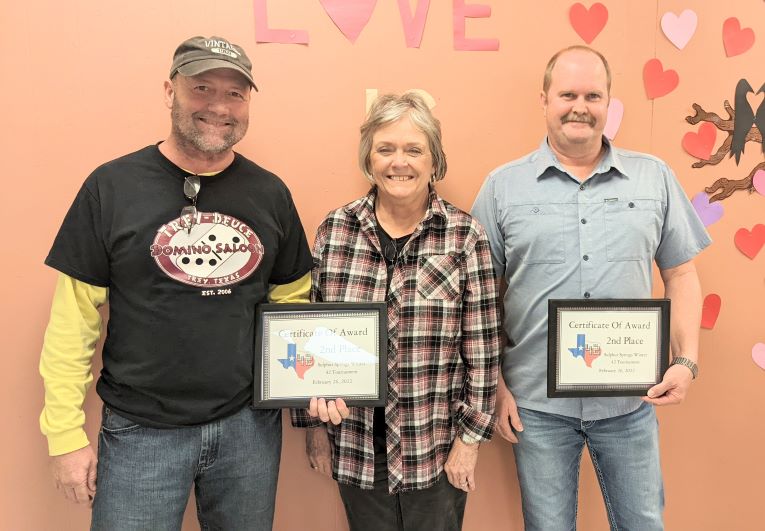 The next 42-Tourney is a summer contest, scheduled to begin at 10 a.m. Saturday, July 16, at the Senior Citizens Center. Teams who register no later than July 1 will receive the early registration fee of $10. After July 2, the cost per team to enter the Summer 42-Tournament, will be $25 per team. Checks should be made payable to SS Senior Center. Again, participants play for bragging rights, certificates to commemorate top places, as well as a chance to win cash prizes and lots of fun with other 42-enthusiasts. Lunch will be offered at the July 16 tourney for $5 per person. The Winter Tournament offered warm taco soup for lunch.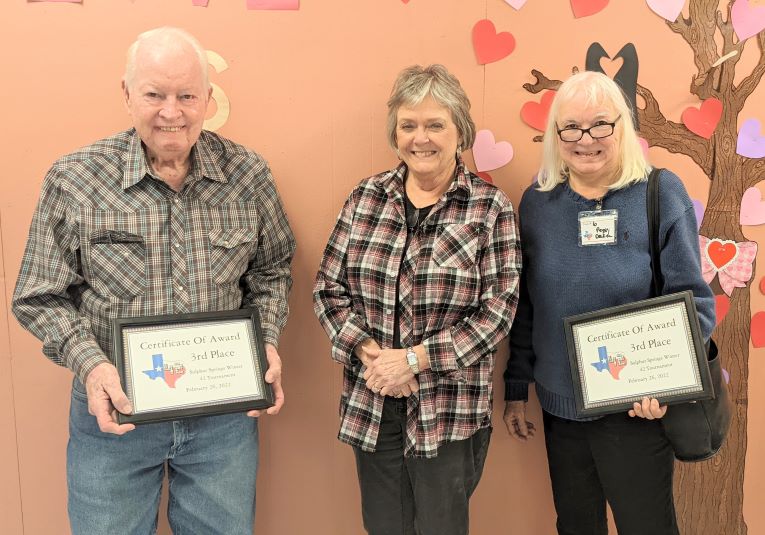 The Earl W. Martin 42 Tournament also is planned for 10 a.m. Saturday, Oct. 22, at the senior center. Teams registering for this domino contest no later than Oct. 7, also will get in at the $10 per team early registration rate. The fee will increase to $25 per team after Oct. 7, 2022. Cash prizes will be awarded and Hopkins County stew will be offered for $5 per person.
For additional information about these or any of the other activities offered, hosted or promoted by the Senior Citizens Center, contact Karon Weatherman at center, 150 MLK Dr.; at 903-885-1661; or [email protected]; or go online to the Senior Citizens Center website: https://sulphurspringssrce.wixsite.com/sulphur