Local public servants received sweet treats Monday afternoon in appreciation for their tireless work every day – including holidays – to keep the community safe as part of Off the Streetz Living Community's Day of Love, Valentine's Day Public Servant Appreciation.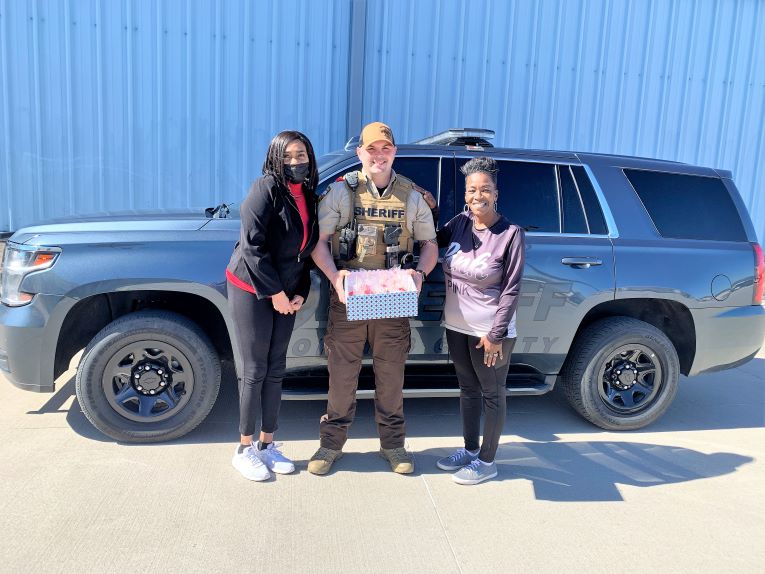 Leslie Breckenridge-Bailey and Sandra Cummings, president and vice president of Off the Streetz Living Community, delivered to Hopkins County Sheriff's Office and Sulphur Springs Fire Department boxes containing candied apples prepared by LoveTAB Gourmet Apples, goody bags they filled with candy and boxes of chocolate candy for the local public servants as part of a Day of Love.
Breckenridge-Bailey explained that the items are Valentine's Day gifts of appreciation for those Sulphur Springs officers and firefighters for their continued service during difficult times.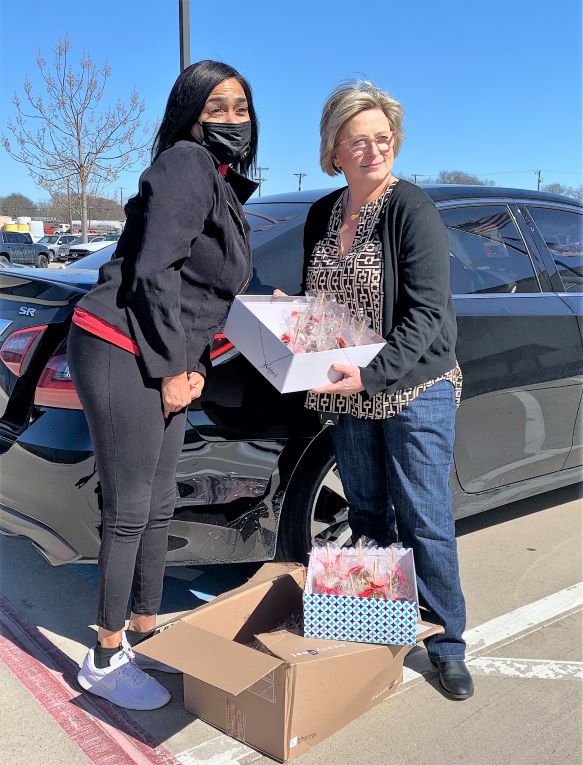 "Our public servants have worked diligently to keep us safe throughout the pandemic, inclement weather, and many other situations, and we are making this day about their day. So often they are overlooked. This is a Day of Love for them, to say thank you," Breckenridge-Bailey explained.
The Day of Love also provided the pair with an opportunity to spread awareness for Off the Streetz Living Community, and a desire to extend assistance in the local community.
Breckenridge-Bailey lives in Dallas, but has family ties to the Northeast Texas, including Sulphur Springs. Cummings lives in Sulphur Springs, where some will recognize her from her volunteer work with Lil 4s, and said she knows the consequences of making bad decisions, and over the past 15 years has worked to help others who may be in similar situations, by offering hope, testimony and making them aware of resources available.
According Breckenridge-Bailey, Off the Streetz Living Community began as a mission to relieve the plight of children and/or adults who are living in poverty, a dangerous, difficult or otherwise unfortunate living situation. The organization's founders are dedicated to creating "housing solutions in a healthy, inclusive community that offers economic, educational and social growth opportunities."
In early 2020, as the COVID-19 pandemic began sweeping across the world, OTSLC's founder reached out to help 6 adults and 2 children by offering them housing for almost a year. That inspired her to start Off the Streetz Living Community, to be the a nonprofit a catalyst for positive change by providing a pathway for people to enhance their quality of life. Affordable housing, the organization founders noted is an important part of the solution to reduce poverty and homelessness.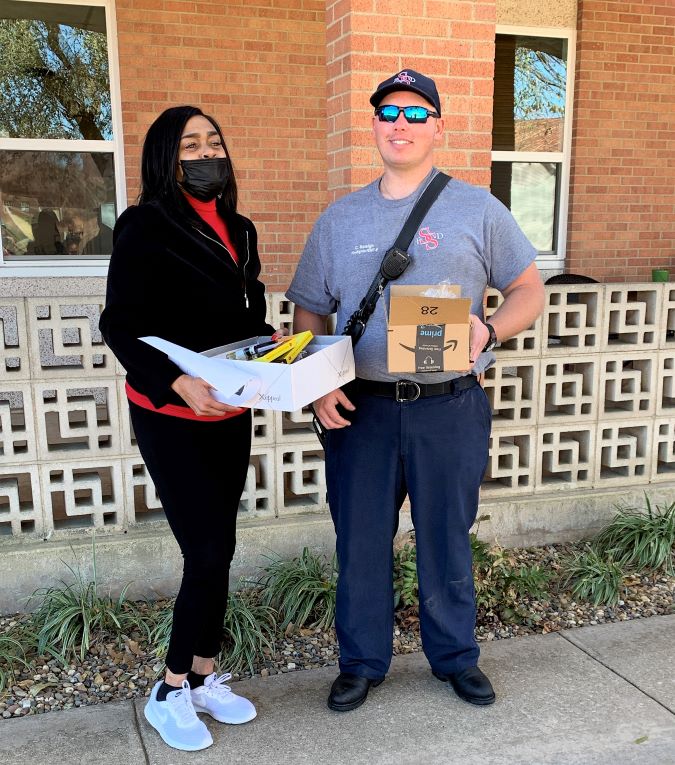 OTSLC, according to the information provided, hopes to become active in and provide opportunities for individuals in the Sulphur Springs area as well, and hope to work with local organizations and individuals to achieve their mission of:
Offering a better living situation;
Thriving to educate those who seek a better livelihood;
Striving to keep people off the streets;
Listening, sharing, and motivating effectively; and
Cultivating and communicating with full transparency.
For more information about Off The Streetz Living Community, including how to donate, volunteer or refer a family or individual, send a message via OTSLC's Facebook page or send an email to [email protected].