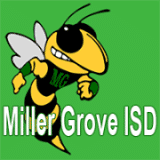 Miller Grove on Monday, Feb. 28 makes the long bus trip to Burleson to take on Graford in the Regional Quarterfinals.
The Regional Quarterfinal playoff tips off at 7 P.M. on Monday.
Tickets for the match must be bought online. Those tickets for that match can be bought here.
Miller Grove takes on a Graford team that routed Saltillo in the Area round 74-55 Friday to move on to the third round. Miller Grove dominated Midway 54-36 in their Area contest.
The Rabbits enter the Regional Quarterfinals sporting a 32-3 record, going a perfect 10-0 to win District 21-1A.
Miller Grove has their hands full Monday when they take on Graford in the third round of playoffs.
That game tips off Monday, Feb. 28 at Burleson HS at 7 P.M.
The winner of Tuesday's Regional Quarterfinal moves on to face the winner of Huckabay-Strawn in the Regional Semifinal on Friday.