More than a dozen awards were presented Thursday, Feb. 17, 2022, during the 95th Annual Hopkins County Chamber of Commerce Membership Banquet to those who've made a big difference in Hopkins County over the past year and some businesses that have continued to provide exceptional service and a positive impact on the community.
Chamber President Butch Burney presented the Citizen of the Year award, sponsored by Echo Publishing, to Mandy Kennedy for her many charitable endeavors, including her dedication to Heart of Hope and CASA; serving as a founder of Chicks for Charity, an women's organization that donated more than $100,000 to nonprofits over the 8 years of it's operation; programs that help veterans, including seeing that Sulphur Springs was the only city in Texas to host The Wall That Heals and finding services to assist Vietnam Veterans who visited it to honor those they served with and receive honor for their service.
Large Business of the Year was presented by Chamber of Commerce Chairman of the Board Don McCann to Alliance Bank, for the bank's continued dedication to customer service since its start in 1927, financial impact, support of all local charitable causes, especially those supporting youth and their activities, issuing the loans that helped keep many businesses afloat during COVID shutdowns and restrictions, as well as the involvement of most employees, officers and board as members who give their money and time as members of the various organizations in town, charitable projects and even getting together in small groups to adopt underprivileged children last fall. Alliance Bank Chairman of the Board and
Chief Executive Officer Tom Sellers accepted the award, thanking all Alliance Bank board, officers and employees as well as customers.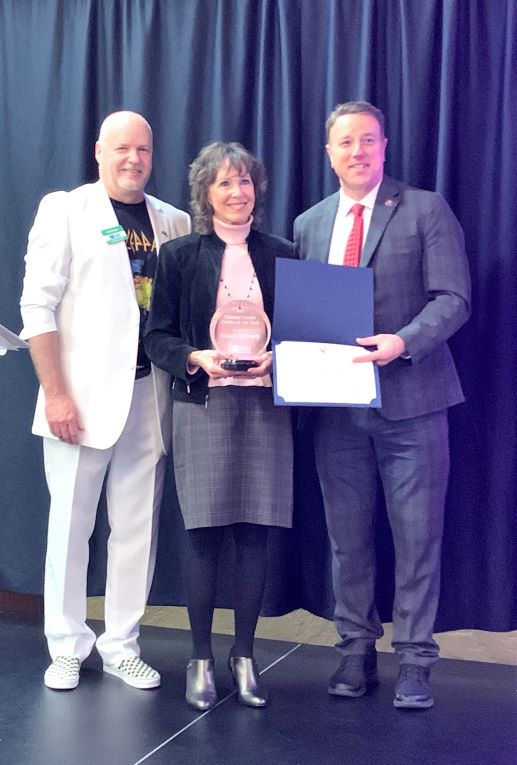 Chamber Treasurer Mike Horne presented the Small Business of the Year award to Bell Concrete, Inc., a Sulphur Springs company that began in 1946 with three mixer trucks and has expanded to the point the business has over 100 employees and a turnover rate of less than 5 percent.
Sheila Boyd presented the Woman of the Year Award on behalf of Beta Sigma Phi to Sharon Burney, who has volunteered with United Methodist Church children's church and camp, CASA, Mother's Culture Club, Dial Study Club, as well as the library. She has been caregiver to her 101-year-old mom and for 40 years has been a bright, welcoming light to all who enter Ardis Center for Dance.
Andy Wright awarded the Outstanding Agriculturalist/Family of the Year on behalf of Hopkins-Rains Farm Bureau to Roy King. He earned a Bachelor of Science in animal science and nature from East Texas State University in 1974, King worked in many agricultural and related jobs over the years before retiring, served on various committees and organizations including Northeast Texas Livestock Association, Hopkins County Dairy and Fall Festivals, and has raised dairy and beef cattle on the family farm.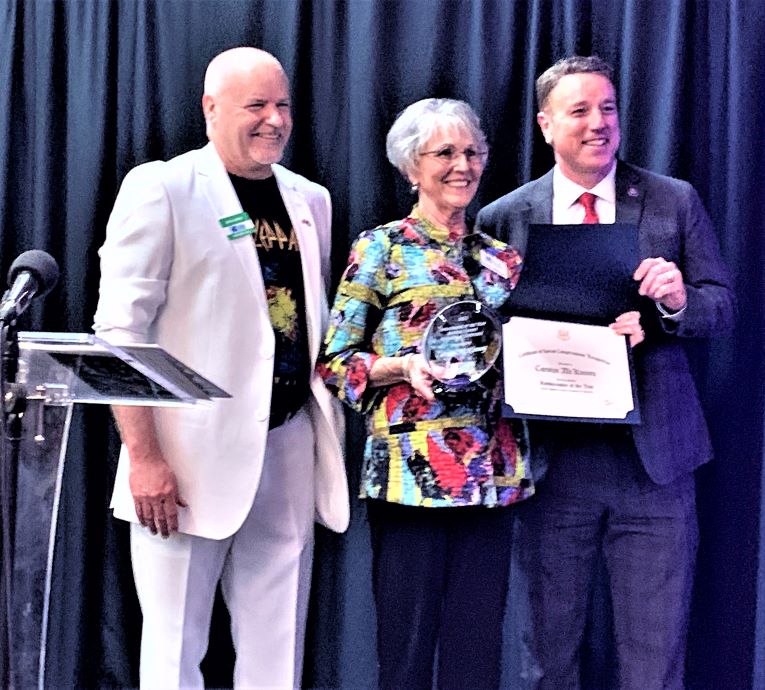 Chamber Vice Chair Bethany Ferrall presented three education awards.
Professional Educator of the Year went to Sulphur Springs High School teacher Debbie Stribling, whose work goes far beyond the family and consumer sciences and education classes she has taught for more than 40 years. She also is an advisor and/or sponsor for numerous school organizations, including Texas Association of Future Educators (TAFE pronounced Taffy), FCCLA (Family, Career and Community Leaders of America), and National Technical Honor Society.
The Auxiliary Educator of the Year went to North Hopkins ISD Nurse Carolyn Neal, not only for all of her work during the pandemic, including tracking cases and exposures and providing notification but her dedication and the many other tasks she takes on.
Paraprofessional Educator of the Year was awarded to North Hopkins ISD Secretary Sharlene Brice. She has dedicated more than 40 years at the school where she graduated. She takes care of so many things at hte school, often addressing and handling situations before most know about them.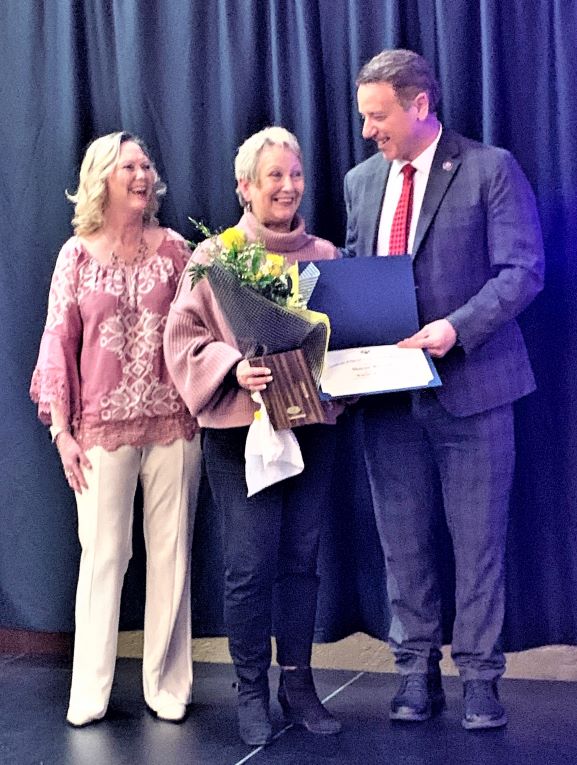 Judge Robert Newsom presented the Community Pride Award on behalf of the 1994 Adult Leadership Class to the Lions Club Lighted Christmas Parade. Newsom note that the Lions Club is an active organization with 22 members who make charitable donations, award scholarships and send eligible kids to Lions Camp. The club also helps usher in the holidays with the Lighted Christmas Christmas Parade, which brings people from out of town to Sulphur Springs to join local residents lining the parade route to see the lighted entries in December, and usually make an evening of it, with local shopping and a meal. John Campbell accepted the award on behalf of the Lions Club.
Chamber President Butch Burney presented the Ambassador of the Year Award to Carolyn McKinney, who after retiring recently has devoted even more of her time to community projects and service, not only helping organize but set up, work and stay to help clean up after huge community events such as the annual Stew Contest – and that's just her involvement with the Chamber.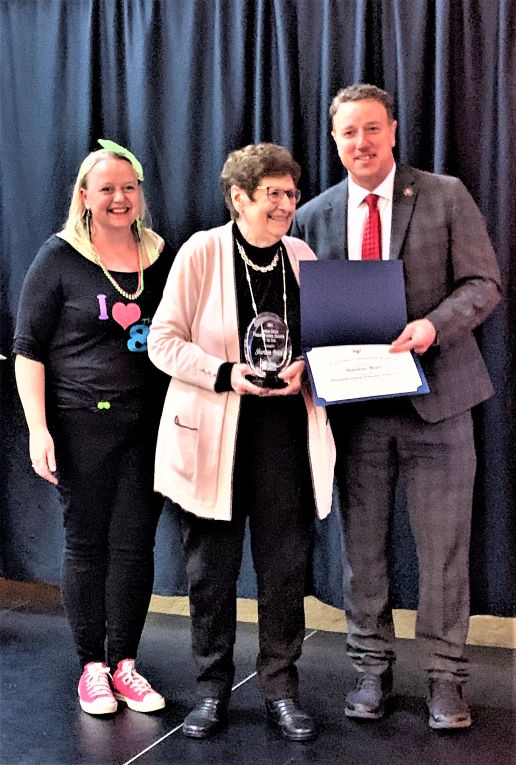 Lara Colby presented Marlene DeYong with the Growth and Renewal Award given by Sulphur Springs Downtown Business Alliance. Colby noted that if there's something going on downtown, DeYong has been involved in it.
Charlotte Baxter and Beverley Owens presented Caregiver of the Year Awards to two individuals for their dedication to their spouses: Marilyn Smith to the husband she worked alongside in the dairy and beef business and raising beef cattle until retiring and more recently has used a wheelchair; and Don Camper, who has tirelessly cared for is wife, taking over all household duties for the past 4 years.
In addition to each receiving awards, Congressman Pat Fallon also presented each with a certificate of recognition as well. Fallon too presented Butch Burney with recognition for his work as well at hte conclusion of the evening.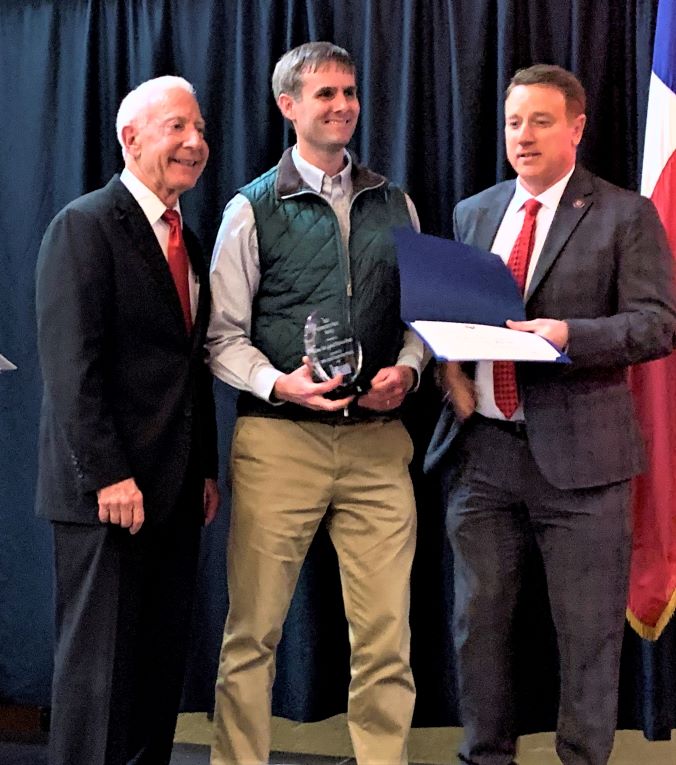 Community members packed Hopkins County Civic Center Exhibit/Banquet Hall during the 95th Annual Hopkins County Chamber of Commerce Membership Banque Thursday night, Feb. 17, 2022, excited to be able to gather together and celebrate outstanding businesses and individuals.
The atmosphere was a little more relaxed than some years as several individuals donned big hair, sparkles, concert t-shirts, ragged jeans, big bows, pointy shoes and bight ruffled attire topped with jean, bomber and leather jackets in keeping with the "Back to the 80s theme" of the Feb. 17, 2022 event.
Clayton Homes sponsored a prize of Bon Jovi Concert tickets for the best 1980s-dressed person at the banquet. When the contest came down to two couples, funding was provided so that both couples received tow tickets each to the April concert in Dallas.
Stations with video games and balloons offered a fun place to take pictures and relax while networking and socializing before taking their place in line to enjoy the meal prepared by Haystacks Restaurant & Catering, with beverages available from Phinesse' Farms Winery and Backstory Brewery.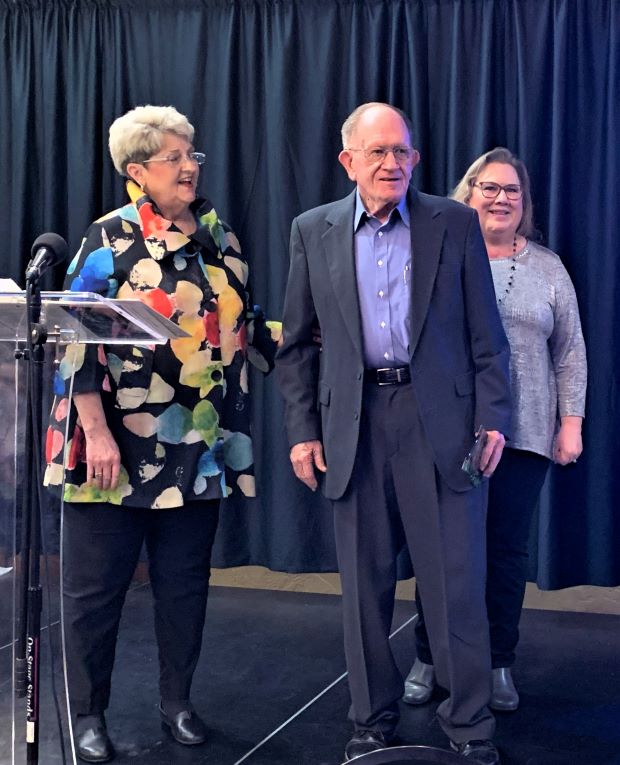 Additional thanks were offered to Echo Publishing, Eternity Creations, Calvin Hickerson for keeping the 80s tunes blasting before the program began, Latsons.com and the Civic Center staff.
The Banquet Committee Chaired by Rusty Posey included Mike Horne, Beth Dattomo, Price Orwosky, Larry Willis, Andy Endsley, Uriel Gutierrez, Bethany Ferrall, Chris Brown, Jaci Glenn and Amanda Tredway.
The outgoing Chamber Directors, current officers, directors and board of directors were recognized. Burney offered and thanks to Alina Sanders for stepping in to sing the National Anthem and Chamber Past Board President Rusty Posey for giving the invocation.
95th Annual Chamber of Commerce Membership Banquet Awards

Education Award Recipients

Chamber President/CEO Butch Burney and Past Board Chairman Rusty Posey

2022 Chamber Board Chairman Don McCann

Tom Sellers, Alliance Bank CEO/Chair Tom Sellers, Large Business of the Year

"Doc" Mike Horne, Chamber Treasurer

Recognition for Outgoing Chamber Directors

Congressman Pat Fallon recognizes Chamber President/CEO Butch Burrney

Back to the 80s Costume Contest Winners Receive Bon Jovi Tickets