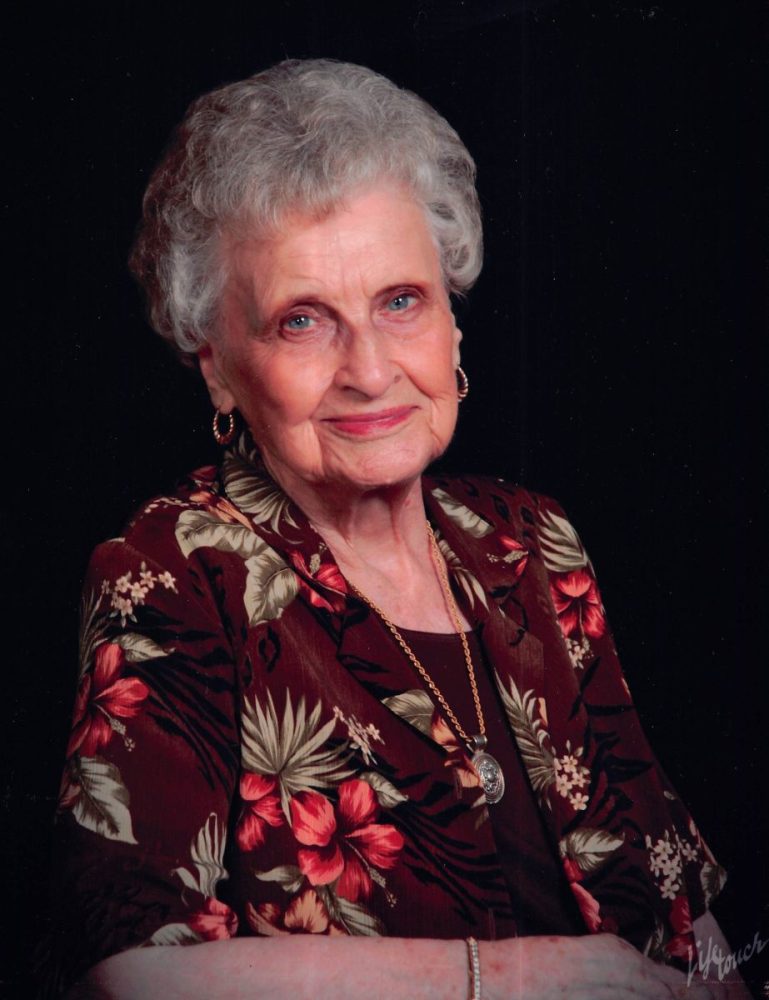 Funeral services for Velma (Short) Rawson, 95, of Sulphur Springs will be held at 2 p.m. Thursday, January 27, 2022, at West Oaks Funeral Home Chapel with Jerry Savage officiating. Graveside services will be at Restlawn Memorial Park with Bryan Heaps, Mason Rawson, Chad Rawson, Leslee Rawson, Troy Tutle and Caleb Denton serving as pallbearers. Visitation will be at West Oaks Funeral Home on Wednesday, January 26, 2022, from 5 p.m. to 7 p.m.
Velma (Short) passed away January 24, 2022, quietly at her home. She was born September 2, 1926, in Cumby, Texas, the first daughter of Thomas Floyd Moseley and Winnie Gertrude Moss Moseley. Velma married J. Jean Rawson on December 22, 1945, in Greenville, Texas, following a two week courtship, after Jean's November 1945 return from World War II. They celebrated 69 years and 11 months together, before Jean passed away on November 19, 2015.
Before their marriage, Velma was a graduate of Droans Business School in Dallas, Texas. After they married, she later worked as a bookkeeper for Punk Helm and, then, Maddox Motor Company from 1955-1982, when she then became the bookkeeper for Paula Rorie at Flowerland Florist. Velma worked at Flowerland, until Paula sold the business in 2014 and Velma finally retired. While doing all of this, she was also the bookkeeper for the farm implement business that she and Jean owned from 1958 to 1979; while also operating a dairy from approximately 1970-2000. Yes, together Velma and Jean were quite a team of business entrepreneurs!
During all of this time of running multiple businesses, if you wanted to find them, you needed only to check the ball schedules — basketball, football, baseball and softball — of their grandchildren or great-grandchildren. Yes, Velma watched grandchildren and great grandchildren play many baseball and softball games in Sulphur Springs as well as watching several rodeo events of one great-grandchild. She even traveled to watch great grandchildren play football games and cheer at ballgames in Sunnyvale. One of her greatest loves was to go watch her grandchildren and great-grandchildren play sports even in the rain, snow or sleet! Velma was a long time active member of League Street Church of Christ.
Velma is survived by Tommy Rawson and wife Carolyn, Michael Rawson and wife Mary Ann, all of Sulphur Springs; and daughter, Judy Heaps and husband Stan of Sunnyvale; and grandchildren, Amy Tutle and husband Troy of Sunnyvale, Bryan Heaps and wife Tecka of Roscoe, Chad Rawson and wife Susan, Leslee and wife Daci, Mallory Denton and husband Caleb, all of Sulphur Springs and Mason Rawson of Brashear; 16 great-grandchildren; and 3 great-great-grandchildren; sister, Lynda Hager and husband Bill of Sulphur Springs, several nieces and nephews, caregivers, who have become like family Christon Dabney, Michelle (Shelly) Williams, Wendy Wilder, Rose Dial and Lucy Hall. We also want to thank Choice Hospice Group for
their support and kindness.
Preceding Velma in death are her husband, Jean, and her parents, Winnie and Floyd Moseley.
In lieu of flowers, memorials may be sent to the League St Church of Christ Youth Scholarship Fund at League Street Church of Christ, 1100 League St. South, Sulphur Springs, TX 75482.
Services are under direction of West Oaks Funeral Home
---