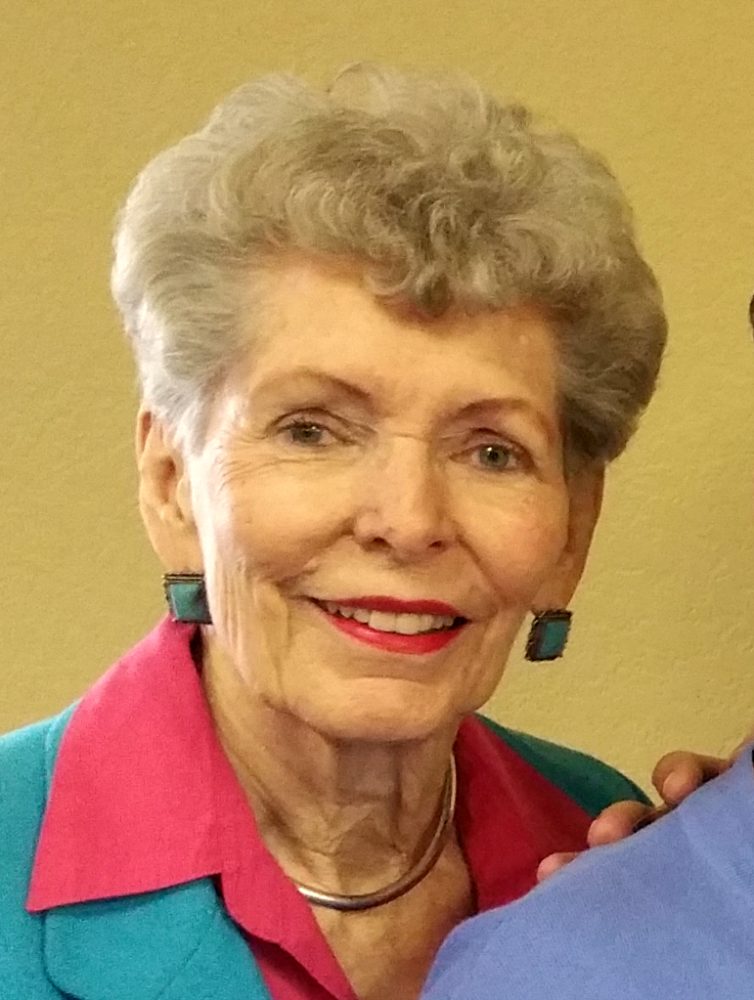 A celebration of life memorial service for Lillian Thompson, age 90, will be held this Saturday, January 15, 2022, at 2 p.m. at League Street Church of Christ in Sulphur Springs, Texas. Visitation will precede the service at 1 p.m.
Lillian Jean (Hearne) Thompson  died peacefully on Friday morning, December 3, 2021, in Sulphur Springs after several years of Alzheimer's disease. She was a resident of Wesley Oaks Memory Care in Sulphur Springs. She was born April 11, 1931, the daughter of Coy Winston Hearne and Lillian Eoline Walker Hearne. She graduated from Woodrow Wilson High School in Dallas in 1948 and earned her Bachelor's degree in Art and Education at Sam Houston State College along with her Texas Teacher's Certification in 1966. She went on to earn her Master's degree in Art at East Texas State University in 1971.
She married Barnie Lee Thompson on June 2, 1950, in Abilene, Texas. He preceded her in death in 2004 after 54 years of marriage. She was also preceded in death by her parents, and by her oldest son, Winston Allen Thompson, in 1988.
She is survived by 2 sons, John Layton Thompson of Ida, Louisiana, and James Evan "Jim" Thompson and his wife, JoBeth, of Sulphur Springs; and by 7 grandchildren:
Kimberly Meyer of Chad, Africa,
Leigha Pettigrew of Evansville, Indiana,
Amanda Kennelly, of Richardson,
John Dylan Thompson of Howe,
Ashley Yehezkel, of Prosper,
Hailey Beck of Conway, Arkansas, and
Whitney Thompson of Dallas;
by 14 great-grandchildren (Isaac, Judah, Calla, Norah, Madeleine, Asher, Jorja, Jimma, Zoe, Jewell, Owen, Mason, Miles, and Emersyn);
by one sister, Carolyn Britt of Georgetown;
by three beloved nieces, Heather, Kendall, and Paige;
by daughter-in-law, Mary Jo Thompson Plouchard of Indiana;
and by granddaughter, Loren Paige Kaiser of Ohio; and
by daughter-in-law, Sandy Webster Thompson of Farmersville.
Mrs. Thompson was reared in a Christian home and lived a long life dedicated to her Lord. In recent years, she was an active member of League Street Church of Christ and was notable even late in life for constantly visiting others who were ill at home or in the hospital. Her expansive knowledge of the Bible was the result of a great many years of study of God's word, and she was constantly reading both spiritual works and non-fiction novels. Her list of completed books numbered in the thousands. Her life motto was "The time to be happy is now!"
Mrs. Thompson was a natural lifelong artist and was constantly creating jewelry, pottery, sculpture, furniture, paintings, sketches, sewing (she could make anything without a pattern!), knitting, crocheting, needlepoint, and embroidery. Many of her paintings are proudly displayed in the homes of her children and grandchildren. She was the first Art teacher at Sulphur Springs High School and taught in the system from 1966 until her retirement in 1990. She loved hearing from former students and often remarked that many of them told her they still had their color wheels.
Lillian was a member of the Captain David Philips Chapter of the National Society Daughters of the American Revolution, the Waverly Club, and the Hopkins County Genealogical Society, and held a life membership in the Texas State Teachers Association. She loved plants and flowers, and absolutely loved traveling, having made trips all over the United States including Alaska, and to Mexico, Canada, England, France, and several Caribbean islands.
Lillian Thompson, in keeping with her life-long spirit of serving others, donated her body to the University of Texas Southwest Medical School for medical research purposes.
The family deeply appreciates the caring support of the staff of Wesley Oaks Memory Care and the truly exceptional care continually provided for the past three and a half years by Centric Hospice and its wonderful staff. Our difficult journey has been made much easier because of these wonderful people and organizations.
The family requests that in lieu of flowers, memorials be made to The American Cancer Society, The Spina Bifida Association of Dallas, Terrific Tuesdays of Sulphur Springs at 301 Church Street, or your favorite charity.
---