As has been the case across the country, state and world, COVID-19 cases have continued to surge in Hopkins County this week. Over the past four days alone, new cases have far outpaced recoveries with only 24 recoveries and 157 new COVID cases, which coupled with the 174 new cases reported Jan. 1-7, 2022, leaves 578 Hopkins County resident who still actively had COVID-19 on Thursday, Jan. 13, according to Texas Department of State Heath Services.


Another 34 Hopkins County residents had as of midday Jan. 13, 2022, received lab-confirmed positive results for COVID-19, increasing the total from Jan. 8 to Jan. 13 to 150 Hopkins County residents who have tested positive for COVID-19. That makes 265 Hopkins County residents who have tested positive for the virus during the first 13 days of January 2022.
That's not counting the 13 new "probable" cases reported for Hopkins County on Thursday, bringing the 6-day total of probable Hopkins County cases to 74 Jan. 13 and the 13-day total to 134.
According to DSHS, 253 people were tested for COVID-19 in Hopkins County on Wednesday, down from 272 on Tuesday, but more than both Sunday and Monday when 129 were tested in the county for COVID-19. If the drive-through lines at local pharmacies and grumblings of people having a hard time finding rapid or free tests due to potential exposure to COVID-positive individuals or symptoms are anything to go by, those numbers could very well continue to rise into next week.
Overall, Hopkins County entered the month with 842 active COVID cases, then peaked at 878 active cases on Jan. 3, due largely to the 697 new probable cases reported on Dec. 21 which increased the active case count from 101 to 845 that day. One day later, on Jan. 4, 2022, a total of 558 recoveries were reported, dropping the active case count to 320. Since then the active and new case counts have continued to rise, with 578 Hopkins County residents reported to have the virus on Thursday.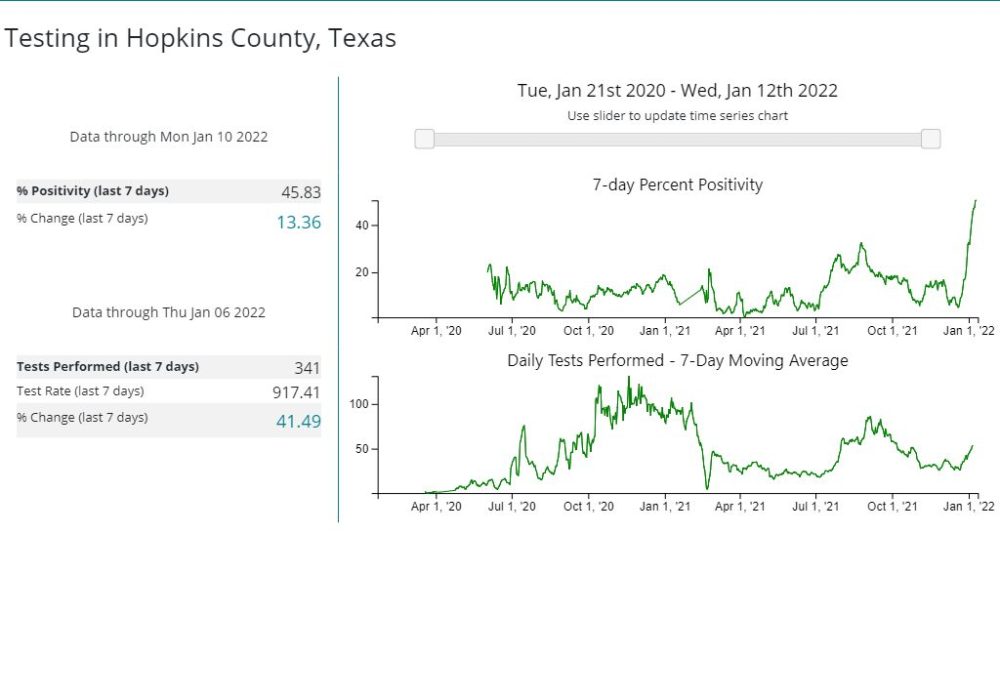 Despite accounts of some having a hard time finding anywhere in the area to get a COVID test if they've potentially been exposed to someone with the virus or are displaying symptoms, many are still getting COVID tested in Hopkins County daily. The big complaint KSST has heard is that people are having to wait in drive-through lines at pharmacies, where rapid testing is harder to come by. Often only molecular tests – those which are sent to a lab and take 1-3 days for results – are the tests available at no charge to the individual. Most testing locations also require prior registration or an appointment. Many school districts have also offered rapid COVID testing, a service suspended while classes are closed at most due to the coronavirus.
As of Wednesday, Jan. 13, a total of 1,971 COVID tests were reported to have been administered in Hopkins County, including 1,091 Jan. 1-7. On Jan. 8 only 93 were tested, that rose to 129 tests conducted Jan. 9-10, then 275 on Jan. 11 and 253 tested in Hopkins County on Jan. 12. Molecular and antigen tests continue to be the ones most used in Hopkins County. On Jan. 11, a total of 124 molecular and 151 antigen tests were performed in Hopkins County. On Jan. 12, DSHS reports 155 molecular and 96 antigen tests conducted.
Vaccines continue to be administered daily at local pharmacies, doctor's offices and during the Friday clinic at the hospital. On Jan. 9, a total of 14,214 had been fully vaccinated for COVID, 16,247 had received at least one dose of COVID vaccine and 4,081 had received COVID booster shots. Another 40 received at least one dose of vaccine by Jan. 12. Twenty-four more in Hopkins County were fully vaccinated from Jan. 10-12, and another 85 had gotten a booster dose of COVID vaccine during that time. Cumulatively, that makes 16,286 who've gotten at least one dose of the COVID vaccine, 14,238 who are fully vaccinated and 4,166 who've also gotten a booster dose of COVID vaccine in Hopkins County since the shots first became available.
Across Trauma Service Area F, which includes all of Northeast Texas, 119 lab-confirmed COVID-19 patients were in area hospitals, 84 adults in regular beds, 35 adults in ICU beds, 7 on ventilators, including 23 who were admitted the previous 24-hours. There were no pediatric patients in TSA F hospitals on Jan. 12, 2022.
According to the CDC's 7-day Metrics through Jan. 11, Hopkins County has had a 45.83 COVID positivity rate, with 17 new hospital admissions although none of them were reported to be in ICU beds during that time.
As of Jan. 13, 2022, only one COVID death had been confirmed for Hopkins County during January. The resident died on Jan. 3, 2022, according to DSHS.