A detailed suspect description and photos were released during the lunch hour Friday by Sulphur Springs Police regarding the Dec. Love's robbery, and anyone with information about the Dec. 3 Love's robbery is asked to call in tips as well.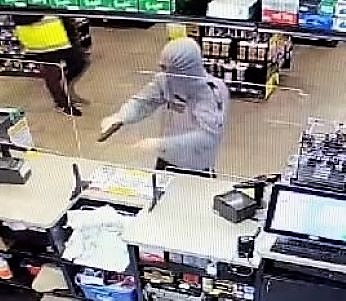 According to a news release from Sulphur Springs Police Department, officers responded to a report of a robbery at 9:33 a.m. Friday, Dec. 3, 2021, at Love's Travel Center on South Hillcrest Drive.
"It was learned that the suspect displayed a black pistol and fled the store with a box of approximately 35 cartons of mixed cigarettes," the SSPD release states.
The suspect was described as "a slender white male wearing a gray hoody with a puma logo on the front, black pants with red and white stripe, and black and red shoes." The suspect reportedly was the passenger in a maroon Chevrolet Colorado, which left Love's, reportedly last seen headed west on Interstate 30. No information was available regarding identifiers of the driver of the truck.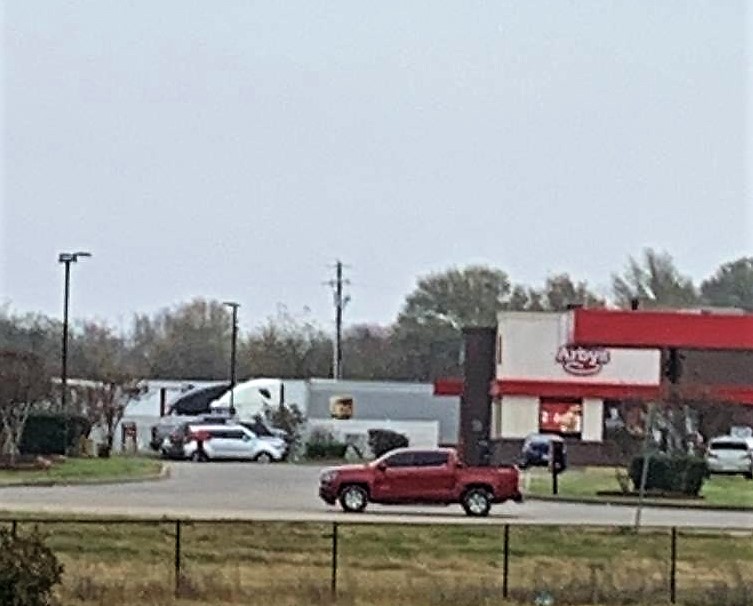 Local authorities searched I-30 west through the county line and alerted officials in surrounding counties regarding the vehicle and suspect in the Dec. 3 Love's robbery. SSPD was still investigating the robbery and searching for the suspect. SSPD had obtained and posted a surveillance image (see above) of both the suspect and truck he was reported to have left Love's in.
If anyone has information concerning the Dec. 3 Love's robbery they are asked to please contact Detective Jason Reneau at Sulphur Springs Police Department by calling 903-885-7602 or Lake Country Crime Stoppers at 903-885-2020. Tips to Crime stoppers are handled in such a way that the caller's identity is kept confidential. Information called in to Crime Stoppers could also prove beneficial to callers, as rewards are typically offered for tips called in to 903-885-2020 which result in an arrest and/or conviction in the case.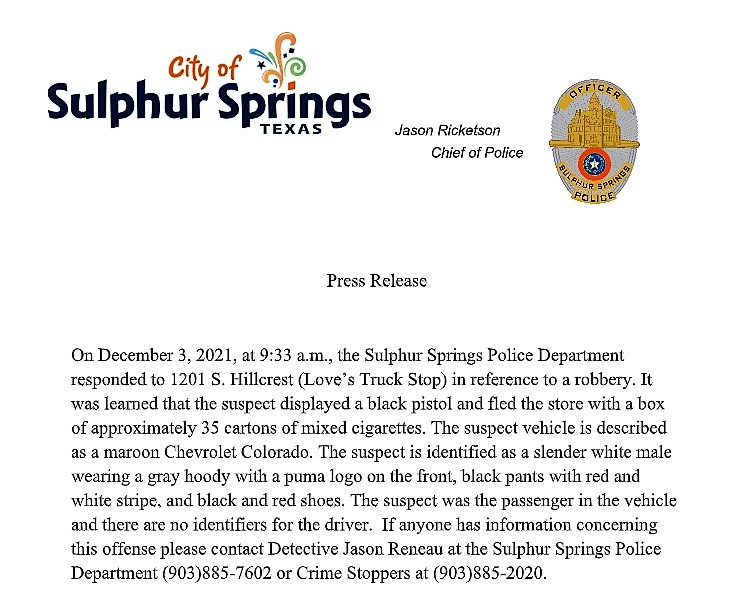 KSSTRadio.com publishes Sulphur Springs Police Department reports and news. The Police Department is located at 125 Davis St., Sulphur Springs, Texas. Non-emergency calls can be made to (903) 885-7602.
If you have an emergency dial 9-1-1.
The Sulphur Springs Police Department continues to serve its citizens with pride in its overall mission and will strive to provide the best possible police force in the 21st century.
The Hopkins County Sheriff's Office is located at 298 Rosemont St., Sulphur Springs, TX 75482. Non-emergency calls can be made to (903) 438-4040.