Do you enjoy a good scenic walk, brisk walk, run or cycle ride? Maybe your New Year's resolution is to exercise more, lose a few pounds or to just get out more. Texas Parks and Wildlife Department invites everyone to consider joining thousands of others across the country who will start 2022 participating in a First Day Hike at a state park.

Cooper Lake State Park South Sulphur Unit will be hosting a First Day Self-Guided Hike, Bike and/or Ride in celebration of wellness in nature. People are encouraged to drop by the park starting at 8 a.m. through 4 p.m. Saturday, Jan. 1, 2022.
The park offers three moderately difficult trails, two easy and one moderate to challenging trail for hiking. After completing you hike or ride be sure to stop by CLSP Headquarters to a First Day Sticker to show your achievement.
Easy Trails
Honey Creek Interpretive Trail, perhaps the easiest hiking trail at Cooper Lake, is only 0.3-mile and is estimated to take about 30 minutes to hike.
Little Bluestem Loop is a 3.2-mile easy trail for hiking or horseback riding that's estimated to take about 2 hours to complete.
Moderately Difficult Trails
Rabbit Run is a 1 mile moderately difficult trail to hike or ride horseback. Estimated hiking time is 1 hour.
Pioneer Pass is a moderate hiking and horseback riding trail, 1.5 mile in length, that is expected to take about 1.5 hours to complete.
Coyote Run is a 4.6 mile round-trip moderately difficult hiking or biking trail estimated to take about 3 hours to complete.
Moderate-Challenging Trail
Lonesome Dove Loop is a moderate to challenging hiking and horseback riding trail, spanning 4.8 miles which is anticipated to take about 3 hours to complete for more experienced hikers and equestrians.
Horse-riders should note that equestrian trails may close due to wet weather or poor conditions. In the event of weather closures for park program, call the CLSP South Sulphur Unit office at 903-945-5256
Park programs are open to the public and free with park entrance fee, which is $5 per person for age 13 and up. Children 12 and under are admitted free! Or gain free entry to the park with a Texas State Park Pass. There's no need to register. Just show up and make it a new tradition – burning off extra holiday calories in the great outdoors.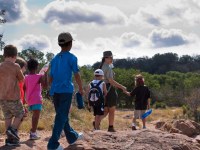 On average, participants in 2020 First Day Hikes traveled 2 miles each, enough to collectively make 7 trips around the equator. Overall, hikers in 2020 took 415,693,531 steps on First Day Hikes. That's the burned calorie equivalent of 41,348 fast-food burgers.
In 2021, more than 400 socially distanced first day hikes were offered.
Not in this area for the New Year? No problem. Just click here to see a list of First Day Hikes being hosted at state parks across Texas and or click here to see a map showing more than 400 First Day Hikes being held at parks across the nation.