A slight increase in the Hopkins County Retirement Plan and NETEX donation are among the items on the Dec. 27, 2021 Hopkins County Commissioners Court agendas.
The Commissioners are expected to consider a 1 percent cost of living raise for the Hopkins County retirement plan.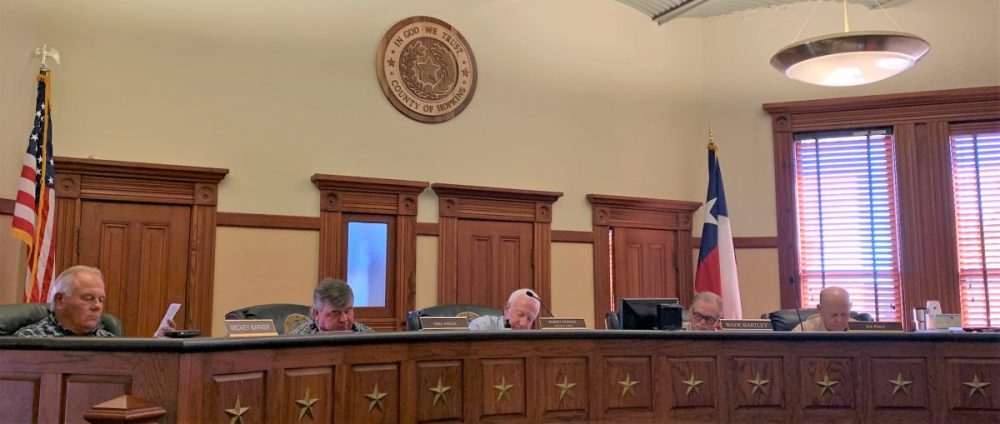 The Commissioners Court is also expected to present to NETX (Northeast Texas Rural Rail Transportation District) a donation for railroad maintenance.
Among the contracts proposed for court consideration are a radio tower lease between the county and East Texas Broadcasting Inc., memorandums of understanding between Sulphur Springs ISD and Hopkins County Emergency Management and Hopkins County Fire Department, and action concerning pending litigation against Delek Logistics.
In addition to the routine payment of bills and payroll, department reports, and consent agenda comprised of prior meeting and work session minutes and a request from Farmers Electric Cooperative to construct electrical power distribution facilities over County Road 3538, the Commissioners too are scheduled to consider the 8th Judicial District Regional SART Resolution.
The regular meeting of Hopkins County Commissioners Court will begin at 9 a.m. Monday, Dec. 27, 2021, in the Commissioners Courtroom on the first floor of Hopkins County Courthouse , 118 Church St. in Sulphur Springs.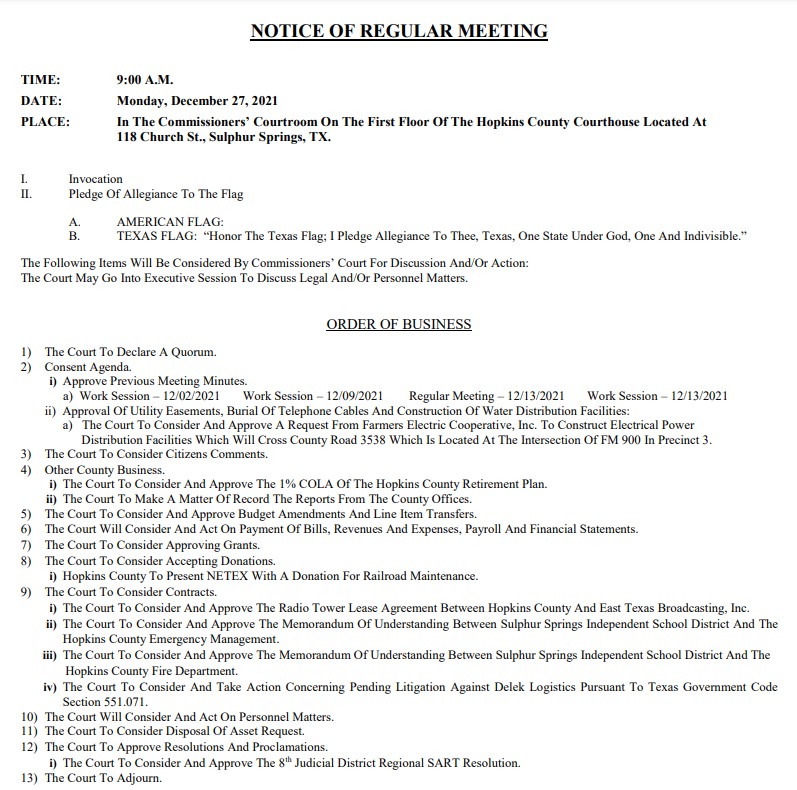 Immediately following the regular session (estimated to begin around 9:30 a.m.), Hopkins County Commissioners Court will move to the third floor meeting room inside the courthouse for a work session, where they are slated to discuss operations, review and expenditures, and any proposed improvements and repairs for Hopkins County Fire Department, Hopkins County Sheriff's Office, and Hopkins County Civic Center. They too will meet with the environmental inspector to discuss any environmental concerns and a budget work session.