A section of Interstate 30 west was shut down for a short while Saturday, Dec. 11, 2021, due to a truck fire. Motorists traveling west from Franklin into Hopkins County were warned to be prepared for traffic delays or find an alternate route travel.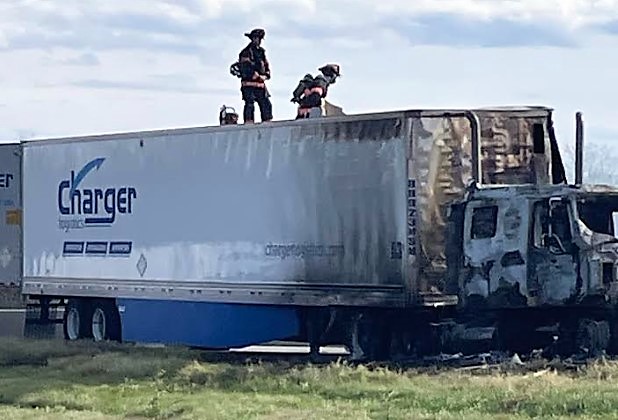 Hopkins County, Pickton-Pine Forest, Saltillo, Brinker and Mount Vernon firefighters, deputies and Texas Department of Public Safety troopers responded around lunch time Saturday to the reported vehicle fire on I-30 west. The fire unit arriving reported a truck-tractor and box trailer were on fire near the 139 mile marker on I-30 west. Firefighters were still working to fully extinguish the blaze which damaged the truck cab and front end of the box transport trailer which was reported to contain fertilizer.
Traffic was diverted off I-30 west onto the north service road at the 141 exit, down FM 900 to US 67. Unfortunately, some vehicles had become stuck between FM 900 and the damaged units with no immediate way to turn around, while emergency crews worked.
One lane of I-30 west had reopened just before 1 p.m. Saturday, but traffic was slow going for a couple of miles while emergency crews worked to ensure the fire was out so the damaged truck could be safety moved from the roadside.
Eastbound I-30 traffic was not impacted by the vehicle fire, emergency officials reported.