Top Prize Donated To Blue Santa
In addition to providing a little extra holiday cheer each year, the Sulphur Springs Lions Club's Lighted Christmas Parade also features a friendly competition among participants, with recognition doled out to the top three nonprofit and small business entries, and a trophy and cash prize going to the top rated large business entry in the parade. Entries were judged by a panel of judged from out-of-town, who notified the Lions Club of their choices for parade winners,

Sulphur Springs Lions Club recognized the 2021 parade winners during their lunch meeting Tuesday, when the cash prize was awarded. This year's parade winners included: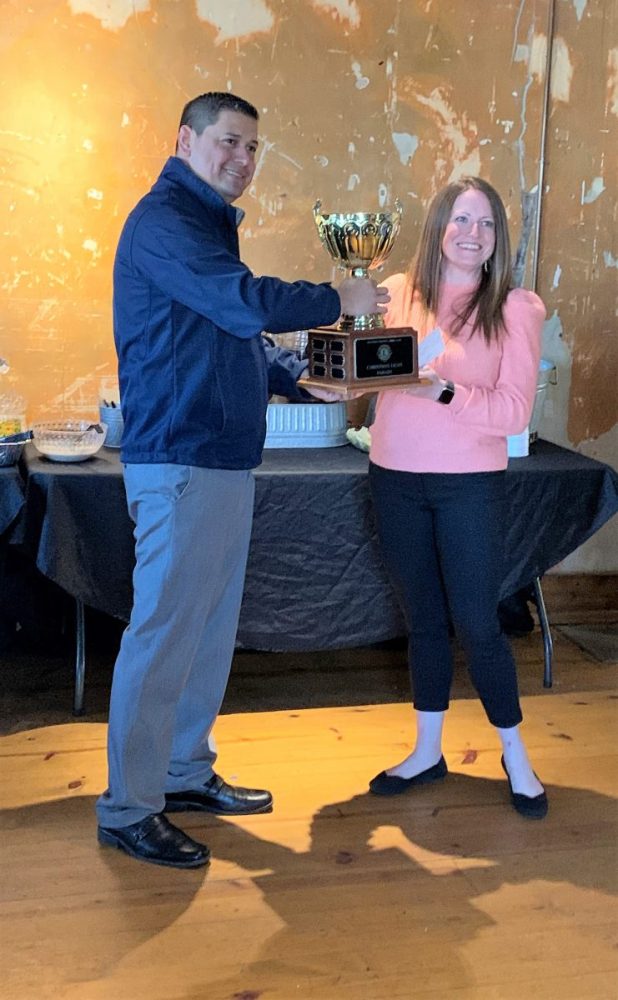 Nonprofit Entry
Trinity Harvest Church
Sulphur Springs Elementary Student Council
Como-Pickton Elementary Student Council
Small Business Entry
Fix 'n' Feed
Don Lalo
Rustic O
Large Business
Carriage House Manor
Sharla Tanton Campbell accepted the trophy and prize awarded by the Lions Club to Carriage House Manor for having the best large business parade entry. Then, she turned to Hopkins County Sheriff Lewis Tatum and Chief Deputy Tanner Crump, who she'd asked to be on hand at Tuesday's lunch meeting, and handed the prize money to the sheriff.
"It was a wonderful parade and I appreciate this, but in turn, Carriage House wants to donate it to Blue Santa. We are very appreciate of everything y'all are doing and it will mean a lot more to help the kids," said Campbell, Carriage House administrator.
The law enforcement representatives said the funding is appreciated and will certainly help meet all of the needs this year to help the 255 financially disadvantaged Hopkins County families Blue Santa will be helping to provide Christmas gifts for their children, ages 0-14 this year.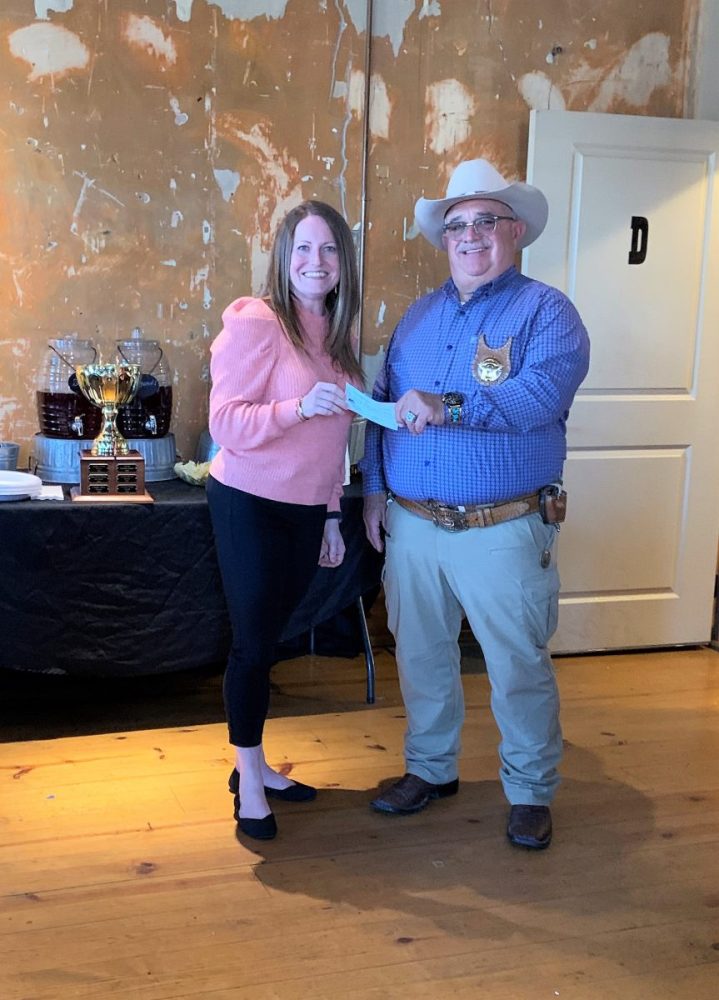 Blue Santa also not only had an entry in the Lighted Christmas parade, but partnered with the Lions Club, encouraging anyone who felt generous to bring an unwrapped toy donation to the parade Friday night. Blue Santa's elves and volunteer helpers walked the parade route by the Blue Santa conveyance to collect the toy donations during the parade Friday night.
Donations of toys to help Blue Santa are still be accepted in the marked Blue Santa barrels at local businesses and financial agencies throughout the county, all six county school districts, local Paris Junior College campus, Sulphur Springs Police Department, Hopkins County Sheriff's Office and One Church, and at least two nursing/assisting living facilities in Sulphur Springs. Donations may also be made online via the QR code, which can be viewed on flyers on each blue barrel and on the Blue-Santa-Sulphur-Springs-Hopkins-County Facebook page, or by calling 903-438-4040. Santa's helpers are sorting toys as they come in, with distribution scheduled Saturday, Dec. 11.