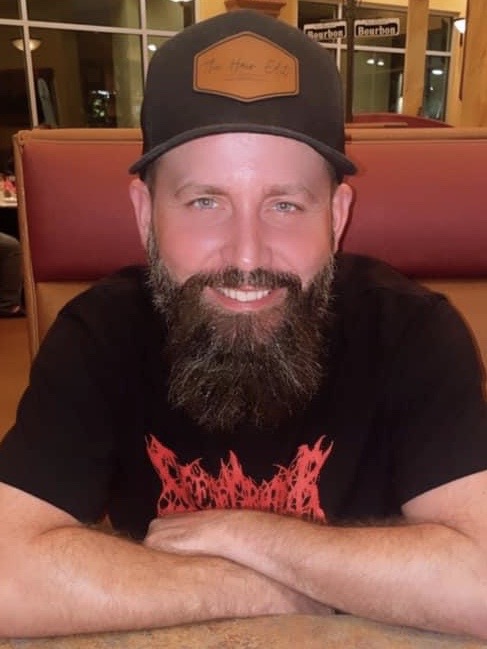 Jordan Cole Williamson passed away on Saturday, December 18, 2021, in La Vernia, Texas. He was born July 6, 1984, in Plano, Texas, the son of Bill A. Williamson and Cynthia D. Williamson.
Funeral services will be held at Community North Baptist Church of McKinney, Texas at 2 p.m. Monday, December 27, 2021, with Dr. Bruce Austin officiating. A graveside service will be held at Sulphur Springs City Cemetery in Sulphur Springs, Texas at 2 p.m. on Tuesday, December 28, 2021, with Reverend Fred Lewis officiating.
Pallbearers will be Mike Baumann, Daniel Potter, Matthew Tarver, Cody Skeeter, Sean Phoenix, Jacob Rodriguez, Julian Hernandez, J. R. Soto, Cary Williamson, and Eric Rodriguez.
Honorary pallbearers are Pepe Gamarra, Richard Briones, Ocean Briones, Richard Valle, Perry Jackson, Raymond Calk Sr., Raymond Calk Jr., Carl Johnson, Brandon Elder, Rode Walker, Jason Nielsen, Harrison Norton, John Wolfla, Beau Hays, Jordan Hendrix, Austin Houpt, Dan Houpt, John Arledge, Jill Thomas, Andrew Arledge, Bryan Groda after Brandon Elder.
Cole graduated from Allen High School in 2002, where he was a member of the wrestling team. He proudly achieved the rank of Eagle Scout, the highest honor in the Boy Scouts of America. He was elected into the Order of the Arrow and attended the Laguna Station Sea Base on the tip of South Padre Island. He graduated from Stephen F. Austin University with a Bachelor of Arts in Hospitality in 2007. Cole was a member of the Sigma Nu Fraternity.
Following graduation, Cole worked in the Oil and Gas industry as an Independent Petroleum Landman. He worked for various energy companies from 2007 to 2017. Cole was an accomplished landman earning the designation of Landman of the Year, while consulting for Clayton Williams Energy, Inc., Cole was a member of the American Association of Petroleum Landmen and the Fort Worth Association of Petroleum Landmen.
In 2017, Cole moved to Cibolo, Texas and began managing a food truck business named Slider Provider. He catered events all around the San Antonio and Texas Hill Country area. He was highly respected among his peers in the industry. Cole absolutely loved the food truck business and experimenting with new ideas for unique sliders. Operating a food truck led Cole to a wide variety of events from wineries, weddings, concerts and being the designated food truck for the San Antonio Spurs. He was known for his hard work, dependability, friendly personality and dedication to his customers.
From an early age, Cole was an adventurist. He enjoyed four wheeling events with his friends, bull riding, hog wrestling, music and concerts, snowboarding, and scuba diving. He also had a love for cooking and fishing. He wanted everyone around him to be as excited about life as he was and was considered by his friends as a master story teller. He would call or text his family every day to share his many stories. He had a love for all animals and reptiles. He had many pets throughout his life, but his most memorable are his two dogs Dixie and Luna and his red eared slider turtle named Ralph Corona Skull Crusher Williamson.
Cole had special relationships with each member of his family. He was able to spend a high school summer backpacking throughout Guatemala and Honduras with his aunt Gail. Cole moved to Cibolo, Texas due to the fact that his beloved grandparents were there. He and his Granddad, Paul, would spend weekends watching ball games and old movies, and helping with home repairs. Every September was filled with good times dove hunting with his Uncle Blake.
The bond between Cole and his mother was unmatchable, and the one he shared with his Grandmother, Liz, was a close second. They enjoyed his stories most of all. He never had a day that wasn't exciting in his eyes. He would call and text daily to share every moment. Cole and his father shared many adventures together beginning in the world of Boy Scouts and continuing on to fishing trips and a scuba diving trip to Belize. Cole and his sister, Meagan, shared that unconditional sibling love, always wanting the best for each other. They enjoyed sharing their kid's pictures, fun moments, and accomplishments with each other. He was that fun uncle Hudson and Hattie will never forget. He never came for a visit without candy and pranks in hand.
Cole's fiancé, Cat, and two children, Daniel and Dallas, were his pride and joy. He was beyond excited to begin the family life they were creating. He loved most of all, making their life fun and exciting. He was always happy and looking for adventures to take them on, and always making everyone laugh. Many summer days were spent exploring the Frio and Nueces Rivers while spending time at the cabin in Leakey, Texas. Cole fit right in with Cat's family. He loved to be around people and especially enjoyed her large family gatherings and parties. Cole was such a good friend to many. He was that friend, no matter the time or distance, you could always pick up where you left off. He was a joy and fun guy to all he was around.
Cole is survived by his parents, Bill A. Williamson and Cynthia Williamson of Fairview, Texas. He is also survived by his sister, Meagan A. Lee and husband Garrett Lee of Sanger, Texas; fiancé, Cat Briones and children Daniel Briones and Dallas Briones of La Vernia, Texas; nephew, Hudson Lee and niece, Hattie Lee, both of Sanger, Texas; grandparents, Paul S. Cole and Elizabeth Cole of Cibolo, Texas; aunt, Gail Arana of Valrico, Florida; uncle, Blake Cole of Cibolo, Texas; aunt, Gina Williamson of Longview, Texas; and aunt, Joyce Williamson of Severna Park, Maryland. He is preceded in death by his grandparents, Joe A. and Ann Williamson, and uncles, Dr. George A. Williamson and John E. Williamson.
Memorials may be made to Frio Canyon EMS, Inc., P. O. Box 803, Leakey, Texas 78873; or Sea Turtle, Inc., South Padre Island (seaturtleinc.org).
Arrangements are under the direction of West Oaks Funeral Home.