Como-Pickton Youth Injured In Tree Trimming Accident Faces Long Recovery
Community fundraisers are planned and accounts have been established to benefit the Koby Crump Medical Fund for a local youth injured in a tree trimming accident, and a couple of schools are pitching in to help as well.

According to the Koby Crump Medical Expenses GoFundMe account established Dec. 1 by Nancy Attaway, Mike Harman and Terry Satterfield, 17-year-old Koby Crump suffered extensive damage to his spine during the accident while tree trimming Sunday. He has undergone surgery and is in Parkland Hospital, but has a long recovery ahead.
The Como community is rallying to raise funds to help out with medical and other expenses related to the CP junior's care and recovery, and to ensure Koby's dad, Kenny Crump, won't have to worry about getting back and forth to the hospital, community members organizing the Dec. 4 Community Bake Sale Fund Raiser at Como Burgers and Fries report.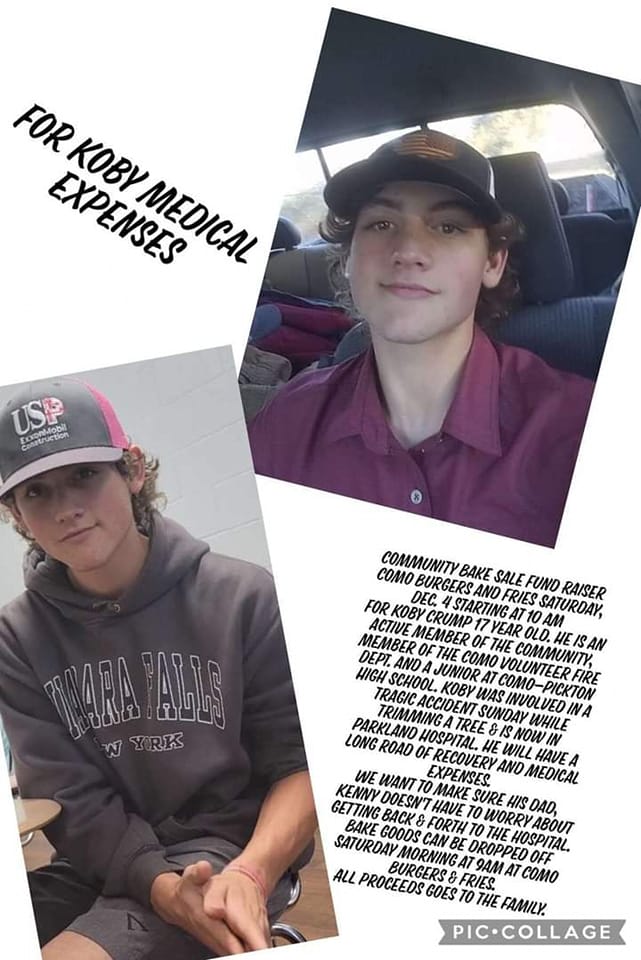 The bake sale will begin at 10 a.m. Saturday at the Como restaurant and continue until they're all gone. Anyone who wants to donate items for the bake sale are invited to drop baked goods off at 9 a.m. Dec. 4 at Como Burgers & Fries. All proceeds from the sale of baked goods Saturday will go to Koby's family to help with medical expenses. Monetary donations will also be accepted at the fundraiser as well.
Attaway and Kelli Williams reported a fund has also been established at City National Bank in Sulphur Springs for Koby Crump; just stop by any CNB branch and let them know the money is for the Koby Crump Benefit account. Attaway on Nov. 30 also reported via social media that donations may also be mailed to Koby Crump, c/o Como Mobile Pantry, PO Box 265, Como, TX 75431.
Donations may also be made online through the Koby Crump Medical Expenses Gofundme account. The group set a goal of $2,500. As of 11:10 a.m. Dec. 4 the fund had received 3 donations totaling $600. Click here to donate online.
The Students council at Como-Pickton CISD also sponsored a fundraiser Friday, Dec. 3, 2021, to allow Koby's classmates and other students to help out if they wanted. For $1 students were allowed to wear a cap or hat at school, with proceeds going to Koby Crump's family.
Saltillo FFA also is hosting a fundraiser to benefit Koby Crump's family. Students at Saltillo ISD will be allowed to pay $1 per day starting today (Dec. 3) through Christmas break to be allowed to wear a hat to school. Saltillo FFA encourages students to "help us raise money for this family in their time of need."
On Sunday, Dec. 5, 2021, Black Oak Baptist Church plans to take up a special offering for the Crump family during the 10:30 a.m. Sunday church service. Donations will help the family with medical expenses and travel to and from the hospital. Those unable to attend may contact a church member to donate money to the Black Oak Baptist Church to benefit the Crump Family. Church members also encourage community members to pray for Koby during his lengthy recovery.