It's coming again! Christmas Market on Main brings all the best of Christmas crafting, treats, attire and decor in one place in downtown Sulphur Springs! Brought to you by the same organizers of the annual Car Show and the Christmas Tree Lighting with Santa. The Downtown Business Alliance is confident that Christmas Market is a quality community event that will keep you shopping at home! You'll have so much fun you will love returning every year. Plan to wear something Christmas-y and bring a friend to enjoy the day with close to 100 vendors, restaurants and shops!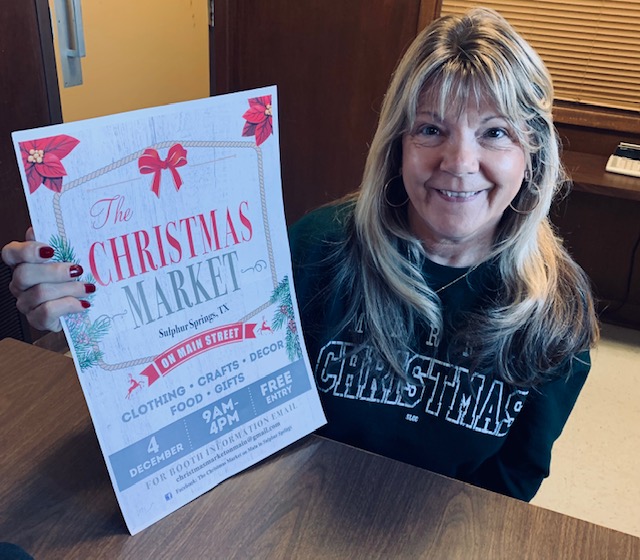 In a Good Morning Show interview, organizer Marlene DeYong acquainted KSST listeners with Market plans. The pedestrian market is free to enter from either end of the 200 block of Main Street just off the downtown square. New this year, you'll see a number of vendor booths on the short stretch of Gilmer Street facing the square, so park nearby and start shopping as soon as you walk up! Christmas Market will be open from 9am til 4pm, so be sure and visit every vendor as well as every Main Street merchant, storefront and eatery on December 4, 2021!
Among the types of vendors are handmade baby goods, artisan soaps and lotions, Up-Cycled vintage clothing and accessories, original tree ornaments, leather goods, handmade children's clothing and hair bows, houseplants and planters, crocheted items, Cocoa Bombs, cookies and muffins, raw crystals and handmade stone jewelry, and many wreaths and floral designs. And to describe a few more, you can stroll and see wine glasses, bags and accessories for wine lovers, decorated Christmas cookies, painted furniture, Holiday-themed T-shirts, caps and embroidered items, local honey and jellies, fabric Christmas trees and ornaments, stencils and kids craft sets, Paparazzi jewelry, Farmasi makeup and Mary Kay cosmetic gift items. Stop in front of Main Street Theater to see their holiday offerings of theater memorabilia and season tickets, and be sure and catch the Blue Blazes with face painting and hot chocolate, all to make your holiday merry and bright! Enjoy every offering of Christmas Market on Main Street 2021!