Audition Call For Barbecuing Hamlet Set Dec. 13, 15 and 16, 2021
Jeannie Perkins this week officially announced plans for the grand reopening of Main Street Theatre in January 2022, followed the next weekend by the first live stage production since February of 2020. And, for those interested, an audition call is scheduled next week for the planned March production.

The brick façade is finished. Most of the electrical had been completed. Community Players were still waiting last week for the water to be turned back on and installation of new doors and windows at Main Street Theatre, 225 Main St.
"Our excitement is just a little more than Christmas," Perkins said.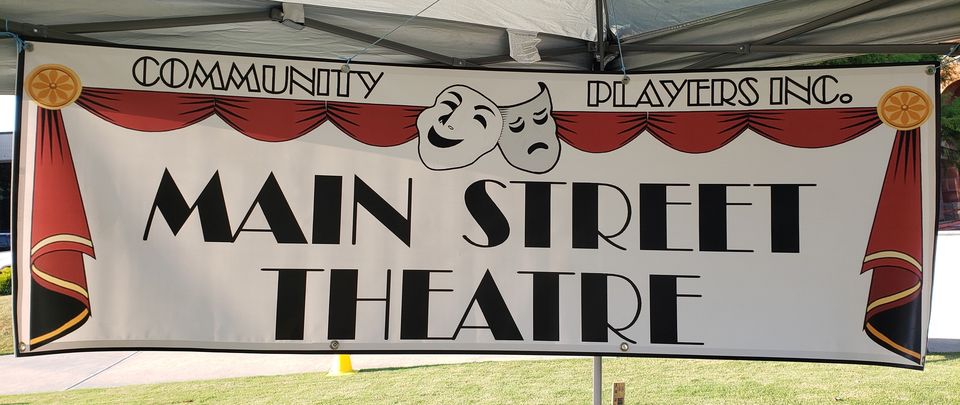 Grand Reopening
The Heroes, composed of Grammy Award winning artist Brad Davis and his longtime collaborator Joel Weaver, will provide entertainment both nights of the Grand Reopening of Main Street Theatre.
The doors will open at 6:30 p.m. and the concert will begin at 7 p.m. Intermission during the concert will be extended a bit longer than usual to allow patrons to visit with the Commerce performing artists.
Carriage Rides will be available courtesy of The Barn of Emory during the grand reopening as well. Liquid refreshment will be available from Phinessé Farms. Hors d'oeuvres and desserts will also be available for attendees to enjoy.
All are invited to attend either night of the Grand Reopening of Main Street Theatre. Tickets may be purchased by clicking on the box office link on the group's website, https://www.communityplayersinc.com/, for $30 each, plus a $2.45 service fee. For a $5 discount, enter code WEB5.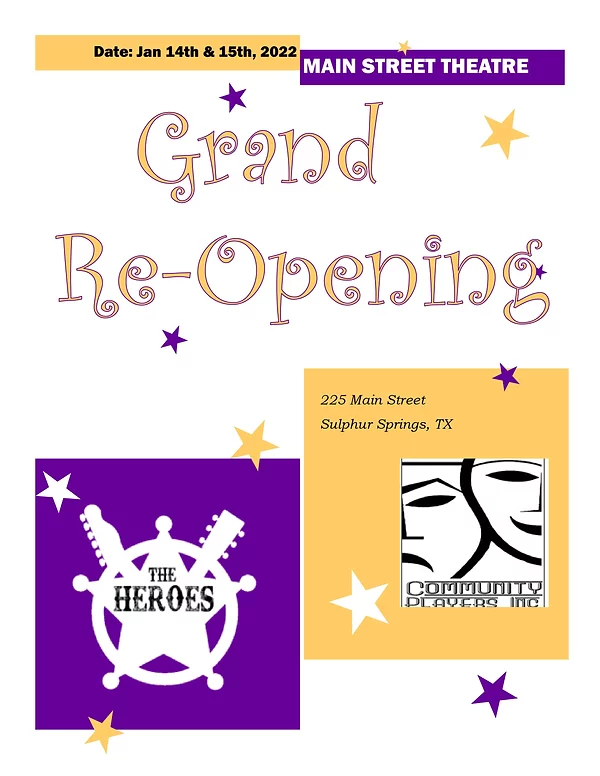 January Production
The week following grand reopening of the restored theater, Community Players are scheduled to perform their first production on Main Street Stage since 2020.
"Charley's Aunt," a comedic farce by Brandon Thomas is scheduled Jan. 21-23 and Jan. 28-30, under the direction of Lloyd Turney., with Rhiannon Smith as assistant director. The cast and crew includes Ryan Wilson, Alex Delgado, Debby Clay, Chris Utt, Brian Deterding, Tosha Utt, Elizabeth Money, John D'Avignon, Barbara Grubbs and Grace Mansfield. Set and light design are by David Woody.
December Casting Call
Auditions for "Barbecuing Hamlet" will be conducted next week. Needed are 5-6 males and 7 females. The comedy will be co-directed by youth thespian Grace Mansfield and Barbara Grubbs.
Although auditions will be from 6:30 to 8:30 p.m. Monday, Dec. 13, Wednesday, Dec. 15 and Thursday, Dec. 6, those planning to audition are asked to email [email protected] to schedule an audition appointment. Other dates my be available, if needed.
Barbecuing Hamlet is slated to be performed March 18-20 and March 25-27.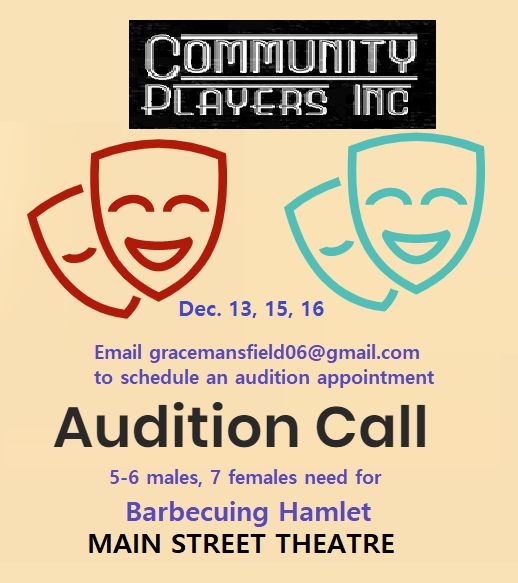 2022 Events
Main Street Theatre Vice President of membership Perkins also announced the venue is already booked for some other events as well.
"Community Players has written a new business document that will be used for outside artists to rent Main Street Theatre. This will allow for additional forms of use as well as have the theater open for more weekend to accommodate the growing night life in Sulphur Springs," Perkins explained.
Additional scheduled events coming up in 2022 include:
Friday, Feb. 11- Fashion Show, coordinated by Marlene DeYoung,
Saturday, Feb. 12 – Jazz with Artists from Sulphur Springs, JB and Jeff Smith; Phinessé Farms will offer wine during the event as well. Carriage rides will be offered by The Barn of Emory.
Second weekend in February – Plays from a different source are also in the works for the second week of February, according to Perkins.
March 18-20 and March 25-27 – Community Players will perform "Barbecuing Hamlet."
2 Weekends In April – Homeschool Association Product, Title TBA
Summer 2022 – Theater arts college students will carry this year's Children's Summer Workshop at Main Street Theatre.
For additional information about these events, Community Players or Main Street Theatre, visit
http://www.communityplayersinc.com/
​