By Holly Ragan, Senior Market Development, CHRISTUS Mother Frances Hospital – Sulphur Springs,

[email protected]
Flu Shots: Do not Delay, Get Yours Today!
Flu shots are available at CHRISTUS Trinity Clinic, 105 Medical Plaza. We welcome walk-ins or by appointment; to schedule call 903.885.3181.
Thank you for your patience!
With a spike in COVID-19 cases in Hopkins County, please expect "longer than usual" wait times in the Emergency Department. Rest assured we are doing everything we can to provide high quality care in a timely manner. Thank you in advance for allowing us to provide for your healthcare needs, while extending grace to our staff.
COVID Vaccine Clinics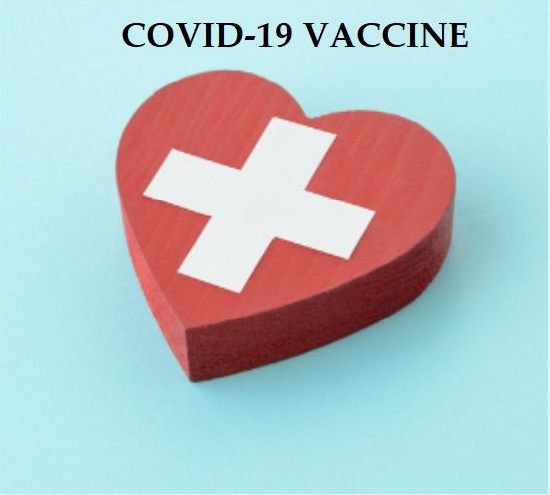 CHRISTUS Mother Frances Hospital – Sulphur Springs offers a COVID Vaccine Clinic every Friday morning from 9am to 12pm in the main lobby of the hospital until further notice. The available vaccines include Moderna (2-doses, ages 18 and older) and Pfizer (2-doses, ages 12 and older) and Johnson & Johnson (1-dose, ages 18 and older). ***This includes all three brands of boosters for fully vaccinated people. Appointments not required, but parent/guardian must accompany anyone 17 and younger.
Please note: There will be NO COVID Vaccine Clinic on December 24 or 31, due to the holidays.
Hospital Visitation
Please note the following guidelines:
Visitors must acquire masks themselves prior to entering our facility; cloth masks are acceptable. Masks must cover both the nose and the mouth. Visitors must remain masked during their time in the hospital.
Minor-age visitors must be accompanied by an adult, be free of symptoms and able to comply with masking and hygiene expectations throughout the visit.
Emergency Department entrance open 24/7
Main Entrance open 5 a.m. to 5 p.m. Monday – Friday
Visiting hours are 7 a.m. to 9 p.m.

Types of Visitors

COVID receiving aerosol treatments: via tele-visitation only;
COVID not receiving aerosol treatments: 1 Essential support person for the duration of hospital stay – Essential support person will be given a visible wrist band for identification purposes;

ICU/ER: 1 Essential support person only;

All other patients may have 1 Essential support person and 1 visitor (up to 2 persons in room at a time)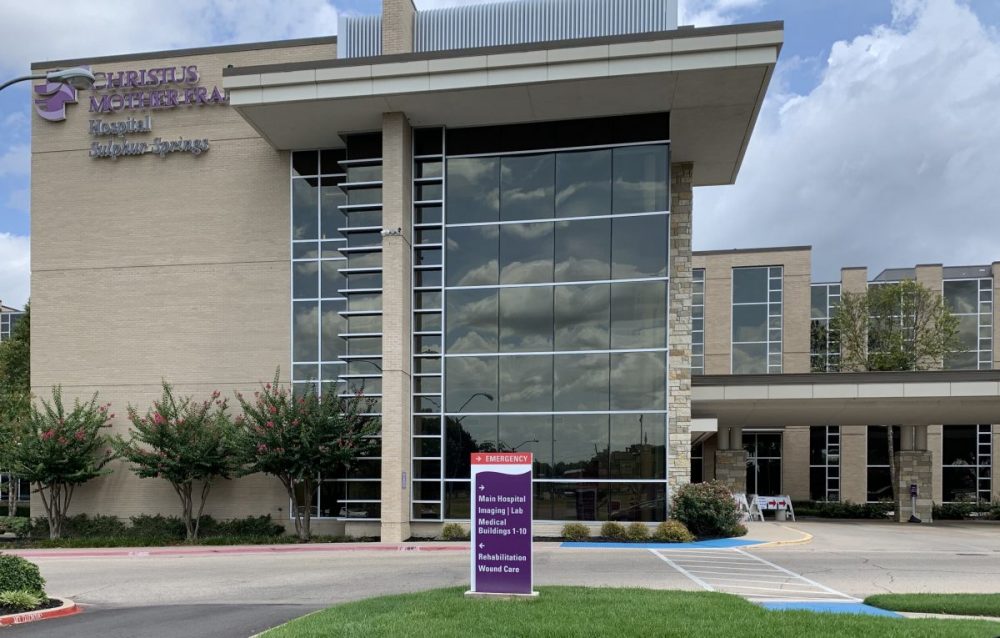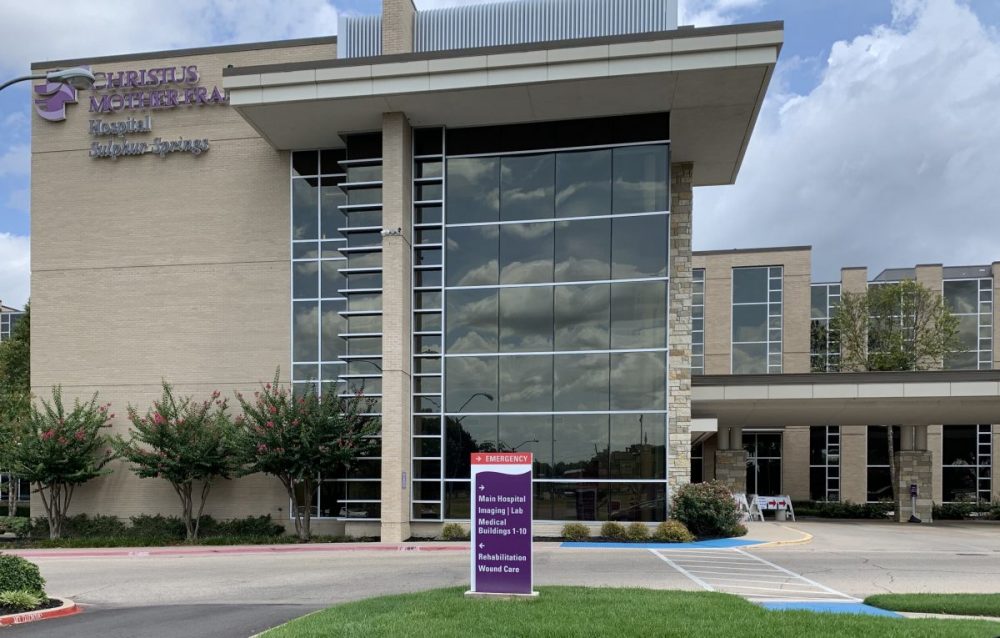 Services
Our hearts are here for yours
Advanced Heart Care and CHRISTUS Trinity Mother Frances have delivered heart care in Northeast Texas for over 40 years. Together, we will continue to provide leading-edge heart care to the communities we serve. You can be confident that your heart is in the best hands with the experienced team of board certified cardiologists at Advanced Heart Care.

The scope of their services include: Cardiology, Heart Rhythm Specialists, Concierge Services, Heart Attack & Stroke Prevention, and Second Opinion Clinic. Within the hospital, we have 24/7 STEMI coverage and 24/7 Cath Lab.
If you are experiencing signs of a heart attack, don't wait – come see us and our team of specialists at CHRISTUS Mother Frances Hospital. To reach Advanced Heart Care local office, call 903.885.3059.
Cardiac Calcium Score
A test that is proven to save lives is available right here in Sulphur Springs. CHRISTUS Mother Frances Hospital offers Cardiac Calcium Scoring at a flat rate of $75.

Self-referrals are allowed for males (40-65 years) or females (45-70 years) who have at least one of the following: current smoker, obesity, family history of heart disease, cholesterol level greater than 160/LDL, blood pressure greater than 140/90.  If you do not fall within these guidelines, the test is still an option, but you should visit with your Primary Care Physician for more information.
The number you should call to schedule this test is (903) 438-4543.
We love our patients, and it shows!
CHRISTUS Mother Frances Hospital Sulphur Springs strives to make sure every patient and their family feel like they are important and receiving the highest quality of care. This success is reflected in our Patient Experience Scores.
Every patient will receive a survey following their encounter in our hospital or clinics. Please take the time to let us know how we are doing, and how we might better serve you. We appreciate your feedback!
---
CHRISTUS Trinity Mother Frances Health System includes CHRISTUS Mother Frances Hospitals – Tyler, South Tyler, Jacksonville, Winnsboro and Sulphur Springs, the CHRISTUS Trinity Mother Frances Louis and Peaches Owen Heart Hospital – Tyler, CHRISTUS Trinity Mother Frances Rehabilitation Hospital a partner of Encompass Health, Tyler Continue CARE Hospital at CHRISTUS Mother Frances Hospital, a long-term acute care facility, and CHRISTUS Trinity Clinic. CHRISTUS Trinity Clinic is the area's preferred multi-specialty medical group, with more than 400 Physicians and Advanced Practice Providers representing 36 specialties in 34 locations serving Northeast Texas across 41 counties. For more information on services available through CHRISTUS Trinity Mother Frances Health System, visit christustmf.org
Bed count – 402 – CHRISTUS Mother Frances Hospital – Tyler
Bed count – 8 – CHRISTUS Mother Frances Hospital – South Tyler
Bed count – 25 – CHRISTUS Mother Frances Hospital – Jacksonville
Bed Count – 96 – CHRISTUS Mother Frances Hospital – Sulphur Springs
Bed count – 25 – CHRISTUS Mother Frances Hospital – Winnsboro
Bed count – 94 – CHRISTUS Trinity Mother Frances Rehabilitation Hospital
Bed count – 96 – CHRISTUS Trinity Mother Frances Louis and Peaches Owen Heart – Tyler
Bed count – 51 – Tyler Continue CARE Hospital at CHRISTUS Mother Frances Hospital