February 13, 1924 – December 10, 2021 (age 97)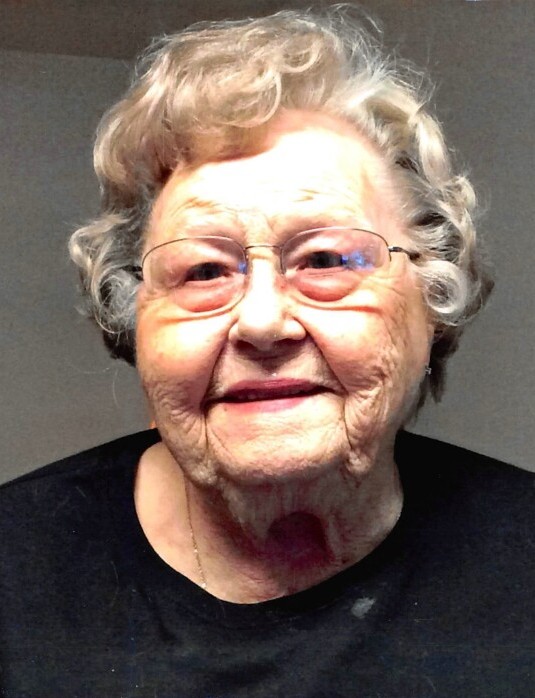 Ardys Naomi Nelsen Dennis was born February 13, 1924, to parents Ned Peter and Anna Hansine Busk Nelsen, on a farm in Murray County, Minnesota.  She passed from this life December 10, 2021, in Hopkins County, Texas.
As a child, Ardys attended District 25, a one-room school for grades 1 through 8, where her oldest sister was a 1st grade teacher.  She said that the school's drinking water was carried in a bucket from a nearby farm and all students drank out of the same dipper.  Ardys and her fellow classmates sat around a wood burning stove to stay warm on cold Minnesota days.
During World War II, Ardys moved to Garland, Texas, to work at Southern Aircraft Corporation assembling bomb bay doors for the Grumman Avenger, an American torpedo bomber developed for the United States Navy and Marine Corps. The Avenger entered U.S. Service in 1942, and first saw action during the Battle of Midway.
While working in Garland, she met her future husband, Aubrey Morris Dennis, and they were married November 4, 1944.  During their marriage, the couple lived in many different states, including Texas, Louisiana, Arkansas, Missouri, Iowa, Wisconsin, Colorado, Michigan, West Virginia, and Minnesota.  Ardys, Aubrey Morris, and their growing family enjoyed traveling, managing to visit almost every state in the union. While living in Robbinsdale, Minnesota, Ardys was a cook at two different schools, and prepared food for two additional schools, feeding between 1,400 and 1,800 students per day.  During this period, she was also an ardent bowler, often scoring over 200.  Ardys once bowled a 289 game, but modestly remarked that it did not count since it, "wasn't in a tournament."  Nevertheless, she enjoyed the sport and was a member of an accomplished women's league, competing in events sponsored by the Women's International Bowling Congress. 
When her husband, Aubrey Morris, retired from his work for the U.S. government, they moved back to Saltillo, Texas, and a new life began. Ardys was a faithful member of the Old Saltillo United Methodist Church, participating in Sunday school and serving on various committees.  Ardys also served in many offices and capacities for the Order of the Eastern Star, including Worthy Matron of the Saltillo Chapter.  She pursued her interests in a host of subjects and activities.  She was adept in many crafts, including but not limited to needlepoint and beading.  Ardys loved to participate in games, worked crossword puzzles, authored poetry and was an avid reader and Facebooker!    
Preceding Ardys in death were husband, Aubrey Morris Dennis (1987); daughters and sons-in-law, Rebecca Gay Dennis Templeton (2016) and Tim Templeton (2009), and Christine Ann Dennis Skelly (2017) and James Richard Skelly (2018); son, Nelsen Errol "Ned" Dennis (2019); three brothers, Leslie Nelsen, Lloyd Nelsen, and Donald Nelsen; and seven sisters, Amy Benson, Ethel Cohrs, Irene Sturges, Vivian Schauer, Vera Larson, Nina Franz, and Elizabeth "Betty Ann" Nelsen.
Ardys is survived by daughter-in-law, Kathleen Dennis, Ed.D.; one brother, James Nelsen; six grandchildren, Amy Iverson Garza (Henry), Elizabeth Templeton (Deb), Mark Templeton (Orley), Megan Skelly, Lucas Dennis, and Patrick Dennis (Amy); and five great-grandchildren, Samuel Garvin, Franklin Garvin, Shawn Dennis, Aubrey Templeton, and Orleana Templeton; and beloved cousin, Vivian Dennis-Monzingo, Ed.D.
Memorial services for Ardys will be held at 2 p.m. Saturday, December 18, 2021, at the Old Saltillo United Methodist Church. Interment will be in the Old Saltillo Cemetery.
In lieu of flowers, the family requests that remembrances be made in the form of contributions to the Old Saltillo Cemetery Association, P.O. Box 123, Saltillo, TX 75478.
Arrangements under the direction of Sam B. Harvey Funeral Home – Mount Vernon, Texas.
---