COMMERCE, Texas — The Department of Counseling at Texas A&M University-Commerce was well represented at the 2021 Association for Counselor Education and Supervision (ACES) national conference in Atlanta, Georgia, this past October, with several faculty members, current students and alumni in attendance.
Erika Schmit, Ph.D., said A&M-Commerce doctoral students are in a league of their own.
"Our doctoral students really are unparalleled. They are leaders in the field, outstanding licensed counselors and amazing students," Schmit said. "I love learning about their expertise and research projects at professional conferences. To see such great representation from our faculty and doctoral students is extremely rewarding for me as the doctoral coordinator."
Schmit and colleagues presented on a panel about publishing in counselor education. Their presentation was titled "Publish and Flourish: Trends and Suggestions for Meaningful Research Agendas."
Donna Hickman, Ph.D., and colleagues presented "Is This Normal or is This COVID: First-year Faculty Experiences During the Time of COVID-19."
Ajitha Chandrika Prasanna Kumaran, Ph.D., and colleagues presented "The Role of Gatekeeping in Online Learning: Best Practices to Facilitate Non-traditional Learning," and "Creativity in the Classroom: A Systematic Content Analysis of the Journal of Creativity in Mental Health."
Three third-year doctoral students participated in five presentations.
Sarah Silveus and faculty member Edith Gonzalez, Ph.D., presented "It's Not Us, It's You: Reconsidering Imposter Syndrome Through the Lens of Internalized Oppression."
Danielle McGarrh and colleagues presented "Teaching About Addictions with Cultural Humility in Counselor Education Courses."
Silveus and Joy Teles Oliveira presented "Practicum Student Counselor Identity Development Through the COVID-19 Pandemic."
Oliveira also presented "International Students Counselor Identity Development" at the Southern Association for Counselor Education and Supervision (SACES) Graduate Student Lounge.
Silveus also presented "Biracial Identity Development in LatinX-White Individuals" at the SACES Graduate Student Lounge.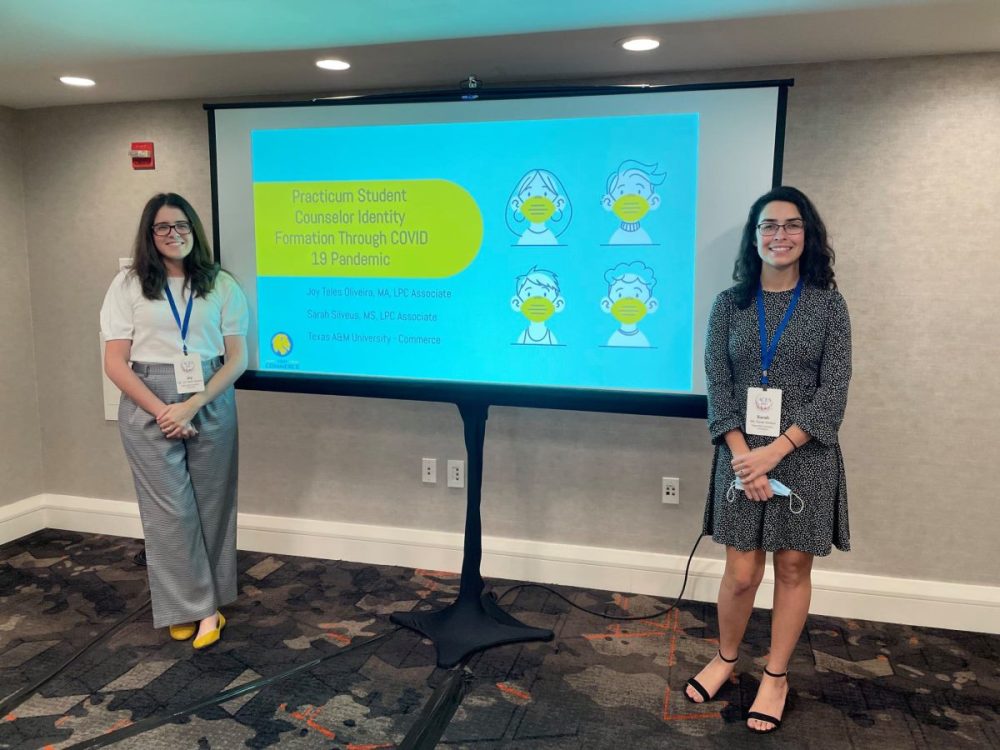 Crystal Brashear, Ph.D., who graduated from the doctoral program in Spring 2021, received the ACES Counseling Vision and Innovation Award.
Gonzalez said the university can be proud of its showing at the conference.
"The national representation of students, alumni and faculty at the ACES conference is a great moment for A&M-Commerce," Gonzalez said. "For some students, these projects began in the classroom and then developed to present at a national, peer-reviewed conference. It really shows how outstanding we are in what we do, teach and research."
Learn more about the Department of Counseling at A&M-Commerce and the Association of Counselor Education and Supervision.