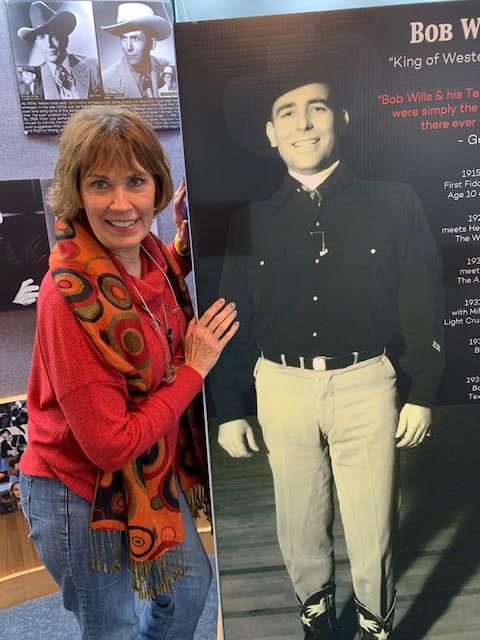 Enola Gay Mathews shares her own story of how Western Swing music, the Official Music of Texas, became a career-long interest for her, and her plans to continue following the music genre.

I've got a love affair going with Western Swing music. According to my mom, I probably heard it before I was even born, as she danced to it in her youth back in wide, wild  West Texas. Western Swing is uniquely Texan, although you may hear polka, waltz, boogie woogie, swing, bohemian or schottische interpretations. It's free-spirited as a mustang with the durability of a Longhorn. Derived from a tangle of varied roots, Western Swing music salutes our singular pride in being Texan, whether we were born here or not, and celebrates the swagger and the tenderness of love that remains forever young. It's timeless, yet always timely and exciting for dancers of any and all ages. No wonder it's the official music of Texas! My latest rendezvous with Western Swing was at the Cowtown Birthplace of Western Swing Festival in Fort Worth, 'Where the West Begins'. 

As a radio DJ, I've been blessed to play country music for Northeast Texas radio listeners daily for decades. But in 1999, on a chance visit to the Stockyards of Fort Worth, I personally 'discovered' Western Swing, and immediately married my inherent love for the music into my career. In due course, recognition by various Western Swing associations came along for my support of the genre, including a Western Swing Hero and a Cowtown Hall of Fame induction. So, not surprisingly, when I heard in that the origin of Western Swing was being researched for a full-length documentary film, I jumped at the chance to attend the exclusive preview!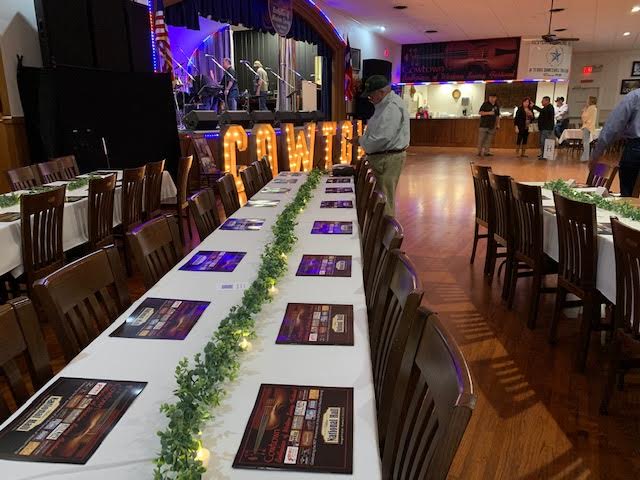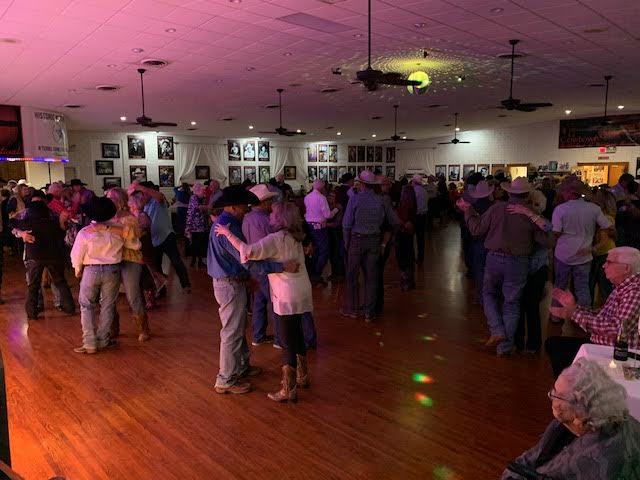 The Cowtown Birthplace of Western Swing Festival would be host of a 3-day invitational event in…where else but Fort Worth, Cowtown!…and would include a symposium, tours of historic venues, celebrities, entertainment, dining, dancing and the private film viewing. Mike Markwart, President of the new CBWS Association, delivered an epic experience with a who's who in Texas entertainment and the finest Western Swing and traditional country music bands in the Southwest, each performing onstage at the grand old National Hall historic venue on Fort Worth's northside. The spacious solid oak dance floor and in-house Western Swing museum put me in my element! Per my VIP status, festival day trips included a chartered excursion to the Stockyards, live audience seating at a taping of RFD-TV The Cowboy Channel, plus lunch and live entertainment at the historic Longhorn Saloon. Each night, (night started at 4pm!) there were 8 hours of dancing to three different bands as well as a lavish dinner prepared by a popular Czech chef.  The final day featured the exclusive pre-showing of the groundbreaking documentary film – The Birth & History of Western Swing.  I gave it five stars! And I got a special personal thrill when I saw Bob and Joe Shelton and the Sunshine Band (founders of the Reilly Springs Jamboree) spotlighted along with other early influencers of the music! The Birth & History of Western Swing was to debut in the Metroplex in October 2021, with a PBS premiere expected in early 2022.  Markwardt believes the 110-minute film on this American form of music rivals Ken Burns' 2019 'Country Music' in scope. You can see the film's trailer on a link below.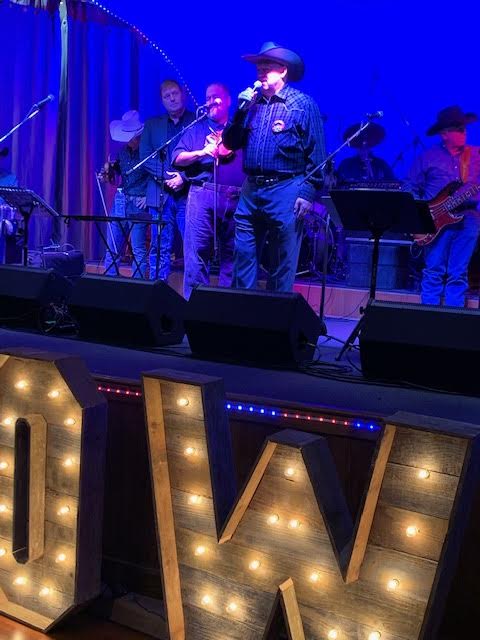 Birth of Western Swing To document the footpath of the beloved music was a long-held dream for Markwardt, Fort Worth businessman and music enthusiast.  History shows that in 1931 in Fort Worth, Texas, two great talents formed the beginning of the dance music genre. Neither of them had a band of their own at the time. Soon, Milton Brown, a Texas bandleader and vocalist, was said to be first to fuse hillbilly, jazz and pop together into a uniquely, distinctly American hybrid. His brief but unforgettable career would, long after his death, rightfully honor him with the title of "Father of Western Swing". His upbeat hot-jazz string band sound was developed at Chrystal Springs Dancehall (and Swimmin' Hole) in Fort Worth from1931 to 1936. Along with Bob Wills, with whom he'd played early on, Brown's Musical Brownies Orchestra made the sound and style of Western Swing popular, and for awhile was more in demand for dances than Wills' Texas Playboys! Sadly, Brown's career was cut short in a fatal car crash in 1936, just as he was poised to break into national stardom. As a Texan and lifelong fan of Western Swing, it became Markwardt's vision to mark the product of their collaboration by commemorating the music's 90th anniversary.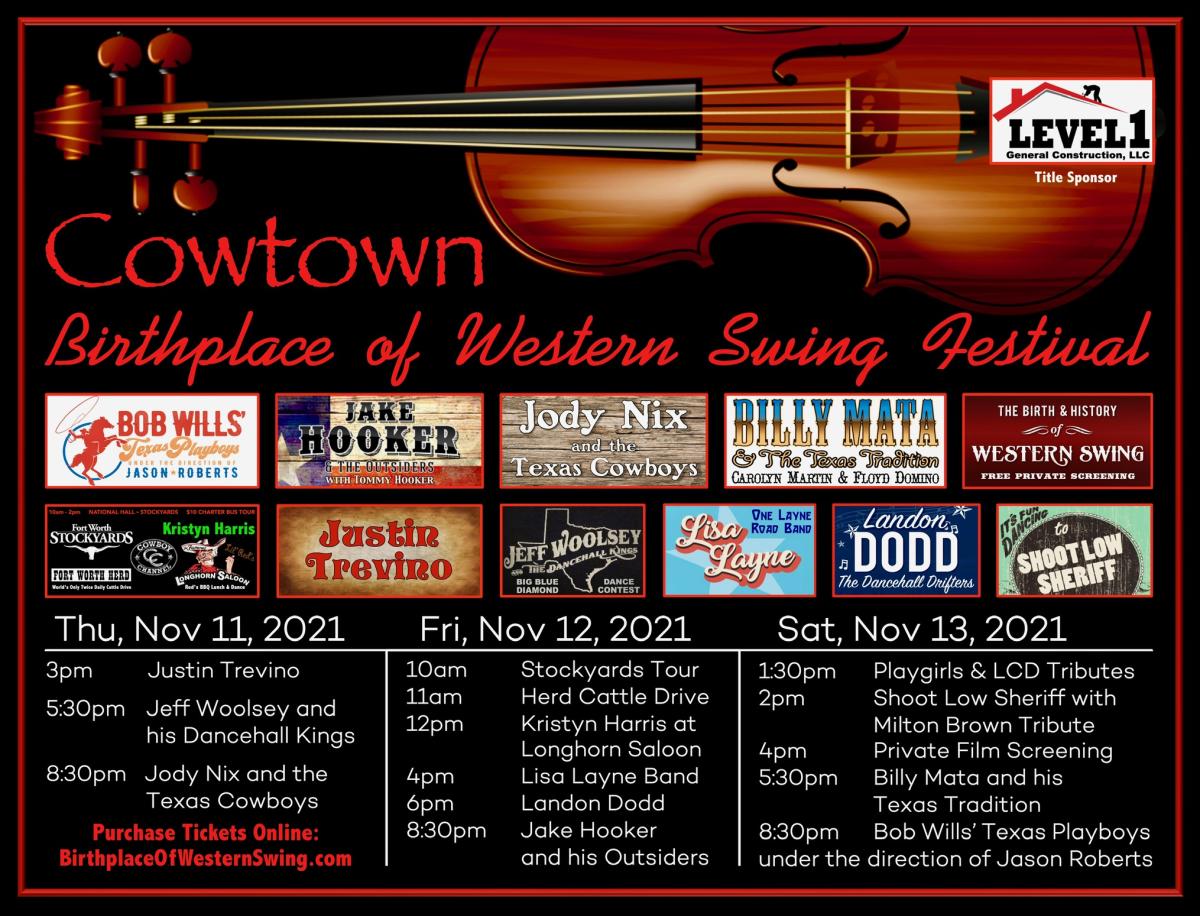 In a search of the website birthplaceofwesternswing.com, the genre is described. "The Birth & History of Western Swing is an ambitious film project that seeks to document an important development in 20th century popular music that has yet to be examined in a feature-length study. The reasons why such a project hasn't yet been done, after 90 years since its birth in a ramshackle dancehall on the outskirts of Fort Worth, Texas, are what make it uniquely important in American music. Western swing combined elements of black, white, and ethnic music styles in a way that historians have never known where to place it. Is it jazz? Is it country? Is it folk? The answer to all of these questions is yes, it is all of these things, but western swing's marginality to each of those genres has been such that it has always been put on documentarians' back burner." You may access the film trailer at the following link: http://historyofwesternswing.com/ .
My love affair with Western Swing is never going to die. "It gets down into your soul," said championship fiddler and bandleader Jody Nix, who grew up traveling with his dad in Bob Wills' band. I can't imagine life without the music. Some of my own favorite Western Swing selections which have received mainstream radio play include "Route 66" by Asleep at the Wheel, "Oklahoma Hills" by Hank Thompson and the Brazos Valley Boys, "Got That Old Fashioned Love in My Heart" by Michael Martin Murphy with Suzy Bogguss, "Cherokee Maiden" by Merle Haggard, Willie's version of "Stay All Night, Stay a Little Longer" and the Playboys' arrangements of "Take Me Back to Tulsa" and "The Kind of Love I Can't Forget, Dear". They're favorites because of the dance-ability as well as the romance of the lyrics. Listen to your favorites again on Youtube or from your home library, even on vinyl!  And dance if you still can! Start your own love affair with the music. You'll want to be ready as the star of Western Swing claims even greater heights! I'd love to get input on your affection for Western Swing at [email protected]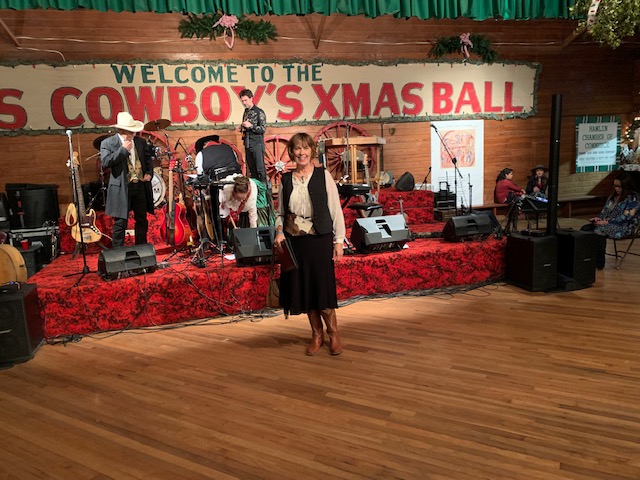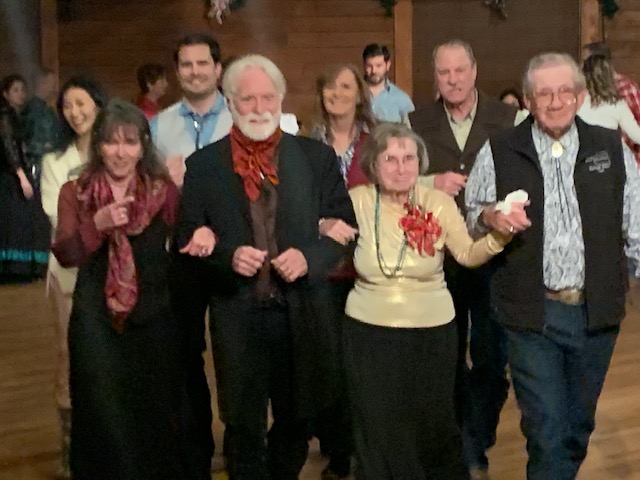 Enola's final music stop of the year was on December 16, 2021 for the annual "Cowboy Christmas Ball" at Anson, Texas.  First held at Christmastime in 1885, the Ball has endured through several wars, Depression, prohibition,   droughts and fierce winters. The historic Texas social event is colorfully illustrated in Michael Martin  Murphy's million-seller recording of "The Cowboy's Christmas Ball". The traditional three-night event is held at Pioneer Hall in the heart of ranching country in Jones County, Texas and is an experience you won't forget, even if you aren't a dancer. If you'd like to get tickets to attend next year, go to texas ccb.com.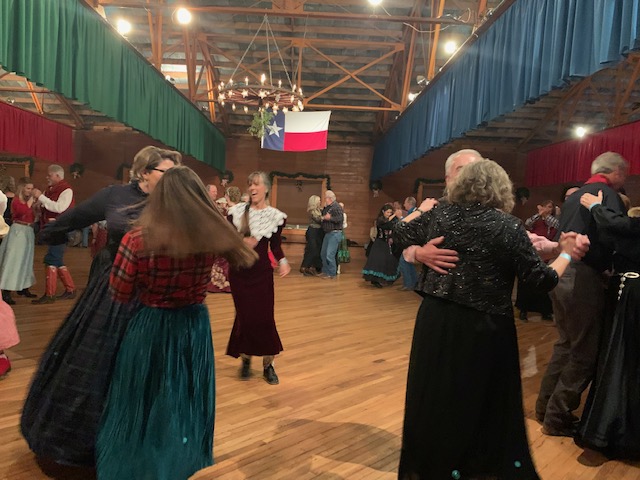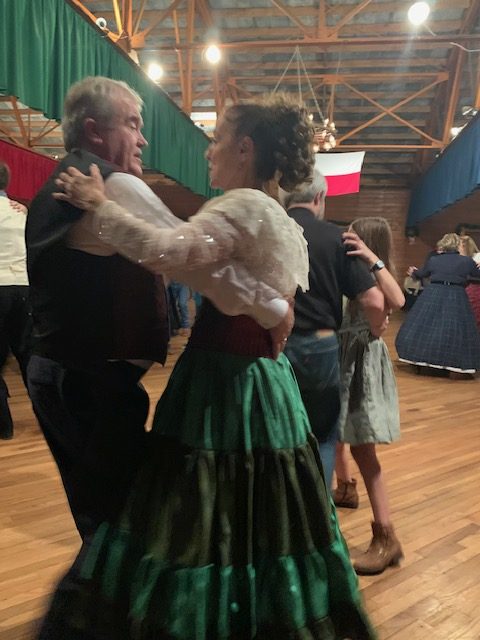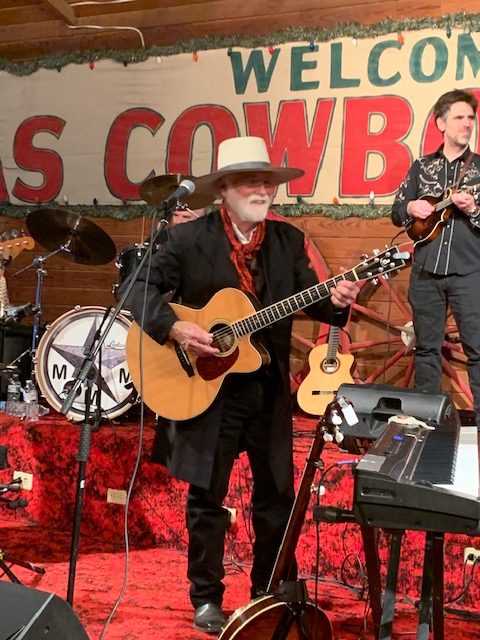 Murphey's newest endeavor is a movie based on his hit ballad "Wildfire" which was recorded in the 1970's. Titled "Wildfire, the Legend of the Cherokee Ghost Horse" it is a family movie based on a young girl's friendship with a horse. Many the horses which appear in the movie are descendants of Murphy's mare he named Wildfire, and on which he based the hit song.