The Sulphur Springs Middle School Band has a record 70 students make the TMEA (Texas Music Educators Association) Region 4 Middle School Concert and Symphonic Bands. The second highest school only had 28 kids make the band. The SSMS Choir students also did well at Region Choir auditions as well, according to information released by the Sulphur Springs ISD Fine Arts Department.
Region Symphonic Band
Students earning chairs in the region symphonic band based on their auditions included:
Flute Section

Brooklyn Person – 3rd chair
Horn Section

Anthony Small – 1st chair
Jencarlos Diosdado – 6th chair
Nathan Bilyeu -7th chair
Mac McCoy – 8th chair

Oboe

Evelyn Birdsong – 1st chair

Clarinet

Conner Blevins – 5th chair
Jailie Soto – 8th chair
Dylan McKinney – 10th chair
Jacy Barnett – 11th chair
Isabella Chamness – 16th chair

Trombone

Jackson Reed – 3rd chair
Andrew Vo – 4th chair
Adrian Salas – 7th chair
Jimmy Garcia – 8th chair

Euphonium

Ethan Preas – 1st chair
Yosgar Marquez – 2nd chair
Isaac Stanley – 3rd chair
Rafael Flores – 4th chair

Alto Sax
Baritone Sax

Kannon Gibson – 1st chair

Tenor Sax

Brooks Burgin – 1st chair

Tuba
Percussion

Lucy McKenzie – 1st chair
Abigail Williams – 3rd chair
Charli Roden – 6th chair

Trumpet

Hunter Strarzyk – 1st chair
Chase Maynard – 3rd chair
Valentin Garcia – 7th chair
Jaycie Arledge – 9th chair
Diego Perez – 10th chair
Shaddox Burton – 12th chair

Region Concert Band
Sulphur Springs Middle School students earning a chair in the concert band are listed below.
Flute

Kayla Santa – 1st chair
Nataly Calderon Yanez – 5th chair

Horn

Nolan Fleming – 8th chair

Oboe

Paige Batterton – 1st chair

Clarinet

Sienna Posey – 1st chair
Isaac Riley – 2nd chair
Avril Mireles-Yanez – 4th chair
Yurem Guzman – 6th chair
Edilyn Resendiz – 7th chair
Cadence Lester – 12th chair
Magdaly Cardona Castillo – 17th chair
Kyshaun John – 20th chair
Laramie Salters 21st chair

Trombone

Austin Wantland – 1st chair
Junior Reyes – 5th chair
Emir Velez – 6th chair
Evelyn Garcia – 8th chair
Marcos Ramirez – 10th chair
Tate Young – 11th chair

Euphonium

Hayden McCoy – 1st chair
Colby Schwartz – 3rd chair
Conner Curtis – 6th chair

Bass Clarinet

Joshua Lopez-Marin – 1st chair
Kaylie Resendiz – 3rd chair

Alto Sax

Silvestre Garcia Rivera – 4th chair
Cesar Mondragon – 6th chair
Gael Garcia – 8th chair

Tuba

Alex King – 1st chair
Cameron Davis – 3rd chair
Jovany Arenas – 5th hair

Tenor Sax

Samantha Rogers – 2nd chair

Percussion

Cara Batterton – 4th chair
Addison Brewer – 5th chair
Jessica Reed – 7th chair

Trumpet

Hunter Meskimen – 2nd chair
Emanuel Chim – 3rd chair
Mateo Perez – 7th chair
Yanzel Cervantes – 16th chair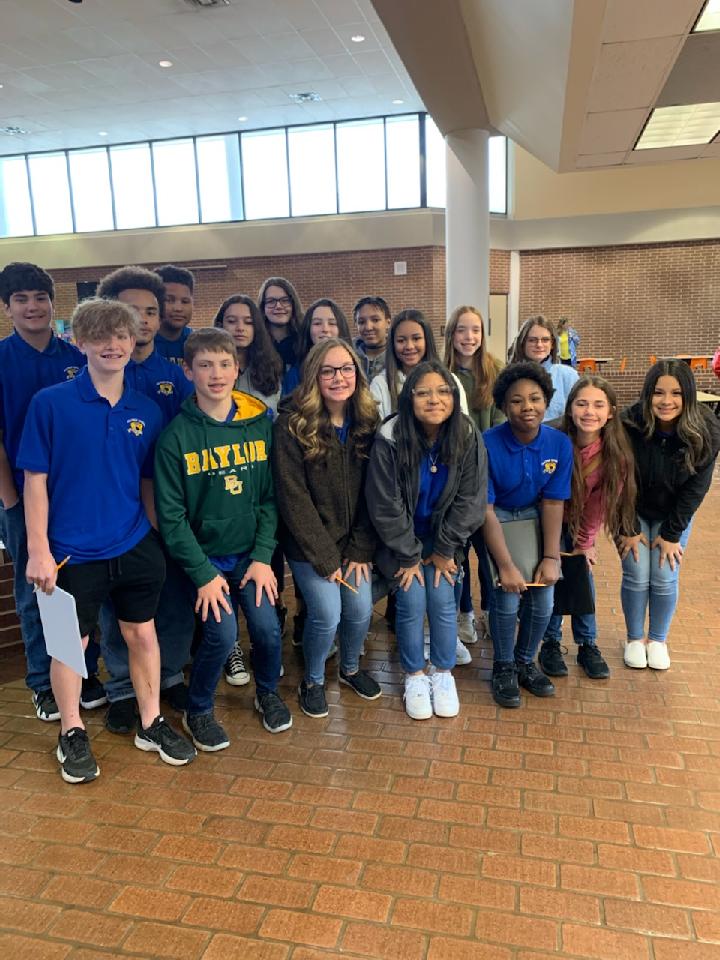 Region Choir
SSMS also had 21 choir students who made the Texas Music Educators Association Region 4 Choirs, then participated in the Region Choir Clinic/Concert on Nov. 6, 2021, according to SSISD Fine Arts Coordinator Cindy Welch.