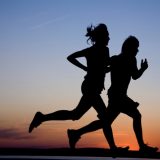 The Saltillo Lions cross country team had another solid meet, placing second at the state tournament held in Round Rock, TX. 
The Lions had a great outing thanks in large part to two runners who placed in the top-10.
Coy Collins Gunner Tarver led the way as they got 5th and 7th place with times of 16:59 and 17:01.
Next up for Saltillo was Rowdy Speir at 42nd, finishing at 18:33.
Cristian Trejo and Luke Ritter were top-60 runners at the state meet; Trejo was 57th place with a time of 18:50 and Ritter was not far behind Trejo at 60th crossing the line at 18:53.
Adrian Don Juan and Andrew Redburn were the final two runners for the Lions were had sub-20 minute times of 19:09 and 19:45, good enough for 81st and 109th, respectively.
Team results for the 1A state championship were as follows:
1st- Miller Grove — 50
2nd- Saltillo — 105
3rd- Tilden McMullen County — 154
And while the Lions did not capture a state title in cross country, they should not hang their heads after competing all season-long and advancing to the 1A state meet where they placed second.