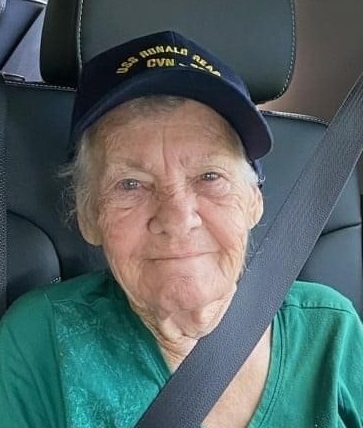 A memorial service for Joyce Mahnke, age 85 of Sulphur Springs, Texas, will be held on Sunday, November 21, from 2-4 p.m. at 901 West Industrial Dr. in Sulphur Springs, Texas. Mrs. Mahnke passed away on Sunday, October 31, 2021, at Christus Mother Frances-Tyler, Texas.
Joyce was born on February 14, 1936, in Pampa, Texas, to James and Lois Northcott. She married John Mahnke in 1954 in Las Vegas, Nevada, and together. they raised five sons and one daughter. Joyce worked various jobs throughout the years, ranging from a school bus driver to a dietician for juveniles in need.
She was a mother, grandmother, great-grandmother, aunt, and a friend to anyone who needed a shoulder to lean on. Joyce had an unshakable faith in God's goodness, and that He was in control of all. In 1989, she was diagnosed with bone cancer and bravely underwent one of the first bone transplants in the country. She was in a body cast for six months and needed crutches from then on, but that did not stop her from tackling all that life offered.
She was a force in everything that she did and, was truly a free spirit that could not be contained. Every day was an adventure she approached with the unbridled enthusiasm that only a truly adventurous spirit could grasp. Her heart was of a magnitude not often seen on this earth. Joyce took in and raised countless family, extended family and, at times, total strangers. Many of them, she brought to know her Savior, Jesus Christ. Like a ripple in a pond ever circling out wider, she touched so many and her touch spread so far, leaving a mark that is too big to fully comprehend.
Joyce loved the outdoors and spent most of her time there. She was always up for playing a game of football, basketball, baseball or anything that came her way, from 40- mile mountain hikes at 40 years old to out-swimming everyone in the family on the Fourth of July at 84 years old. She climbed the roughest mountains and swam raging rivers. She was completely fearless in all that she did.
She loved her family, children and animals but, most of all, she loved her husband of 62 years, John, and they had a love that was complete. It was an honor to be raised by her. Joyce instilled in each one of us the belief that we could do and accomplish anything, chiefly because she truly believed we could. Her legacy will live in the faith and strength she has left in the hearts of her children, grandchildren, great-grandchildren, and countless others that her helping hand has touched.
She was a member of the Calvary Baptist Church of Sulphur Springs, Texas, and the Broken Arrow Baptist Church of Sunsites, Arizona. The relationship with her church family was one that she held near and dear to her heart.
She is survived by her sons: Raymond Mahnke, John Scott Mahnke and wife Katy, Charles Mahnke and wife Debra; and her daughter: Barbara Hanaghan. Her grandchildren: Brandon Mahnke, Joseph Mahnke, Angela Newhouse, John Mahnke, Daniel Mahnke, Julie Hollibaugh, Joshua Morton, Rebekah Mahnke, Rachel Mahnke, Christian Hanaghan and Laina Hanaghan. Great-grandchildren: Kynli Stewart, Shawn Stewart, Susan Mahnke, Kera Mahnke, David Mahnke, Emily Mahnke, Kylie Turnipseed, JesMae Hollibaugh, Wyatt Hollibaugh, Braxton Morton, Braxton Mahnke and Mackenna Mahnke.
Joyce is preceded in death by her parents; husband: John Christian Christopher Mahnke; and sons: James Mahnke and Winton Mahnke, and is reunited with them now in Heaven.
Arrangements under the direction of Murray-Orwosky Funeral Home.
The online register can be signed at www.murrayorwosky.com