Franklin and Hopkins counties continued to have the lowest October 2021 unemployment rates in the nine-county Northeast Texas Workforce Development Area, both less than 4% each.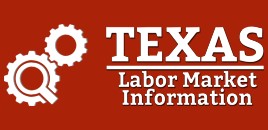 Franklin County for the fourth consecutive month had the lowest unemployment rate of 3.8%, with 201 of the 5,269 work force reported to be unemployed as of the October 2021 Texas Labor Market Information data released Friday, Nov. 19, 2021. That's down slightly from a 5% seasonably adjusted and 5.3% unadjusted unemployment rate in June, and 4.6% adjusted in July, 4.2% in August. The unemployment rate in Franklin County in September 2021 declined to 4%, with 211 of the 5,269 workers without jobs.
In Hopkins County, the October 2021 unemployment rate was 3.9%, with 682 of the 17,427 workforce unemployed last month, up from a 4.7% unemployment rate in October 2020. Last month was the first time since February of 2020 that the unemployment rate for Hopkins County has dropped below 4%.
The jobless rate in Hopkins County jumped from 3.1% in January and February of 2020 to 4.3% as the pandemic began to spread across the state and world in mid-March. The Hopkins County unemployment rate rose to 7.8% in April 2020, the highest since 2011, when the unemployment rate peaked at a 21-year high of 8.4% in June; the low in 2011 was 6.6 in December 2011. The lowest unemployment rate in Hopkins County in the last 21 years was 2.7% in April and May 2019.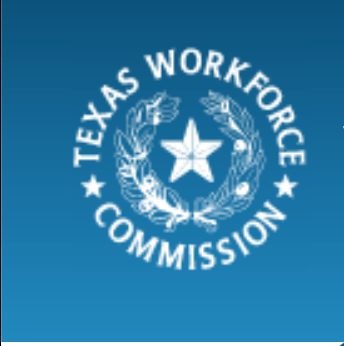 Delta County's unemployment rate was unchanged at 4.7% for at least the third consecutive month, with 114 of the 2,403 workers unemployed in October 2021.
Titus was the only other county in the NET WDA with an October 2021 unemployment rate below 5%. Overall, 4.9% or 639 of the 13,150 work force was unemployed in Titus County in October 2021. That's down slightly from 5.5% in August 2021 and 5% in September 2021.
Bowie and Lamar Counties each had an October 2021 unemployment rate of 5.1%.
In Lamar County, 639 of 13,150 were unemployed last month, down from 5.1% with 1,272 of 24,248 potential workers unemployed in September 2021 but up slightly from August 2021 when 1,211 of 24,132 were without jobs.
Bowie County had 1,977 jobless out of a work force of 39,035 last month. While Bowie County's workforce has continued to grow, so too has the number of residents employed. The unemployment rate in September 2021 was 5.2% in Bowie County, the labor force consisted of only 38,844, with 2,011 reported to be unemployed. Out of a civilian labor force of 38,540 in August 2021, 2,149 were unemployed, giving Bowie County a 5.6% unemployment rate.
Red River County's unemployment rate for October 2021 was 5.4%, with 275 of 5,111 potential workers reported to be without jobs. That's down from 5.6% in August and September 2021. In August, 293 of 5,237 potential workers were reported to be unemployed in Red River County. The work force dipped to 5,209 in September 2021 and only 290 were unemployed in Red River County, according to TLMI reports.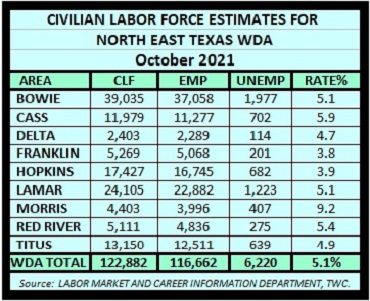 Cass County's unemployment rate for October 2021 was reported to be 5.9%, with 702 of the work force of 11,979 unemployed. That's down from 6.4% with 774 of 12,149 workers unemployed in August 2021 and 6% with 720 of 12,061 unemployed in Cass County in September 2021.
Morris County not only had the smallest civilian labor forces, but also the worst unemployment rate of 9.2% (407 unemployed) in the Northeast Texas Workforce Development Area in October 2021. The jobless rate, however, was improved from the 2 prior months. Just as Morris County's unemployment rate declined from 10.4% to 9.8% workforce too is shrinking, from 4,498 in August 2021 to 4,470 in September and 4,403 in October 2021.
Across the state, unemployment declined slightly from 5.6 percent in September 2021 to 5.4 % in October 2021, an improvement from the October 2020 unemployment rate of 7.3%. The workforce across Texas is down from 14,220,800 in October 2020 to 14,204,200 in October 2021. In September 2021, the workforce was slightly less then October at 14,165,300. The number of Texans employed has continued to grow from 13,177,300 in October 2020 to 13,368,500 in September 2021 and 13,434,300 in October 2021.
Texas' unemployment rate is still higher than the national average of 4.6% last month. Overall, the US employment rate has declined over the last year from 6.9% in October 2020 and even slightly from 4.8 in September 2021. As a whole, the nation's workforce has continued to rise during that same period, from 160,718,000 in October 2020 to 161,458,000 last month, which was up from 141,165,300 in September 2021, according to Texas Labor Market Report, generated this month by Texas Workforce Commission in November 2021.
2021
Jan.
Feb.
March
April
May
June
July
Aug.
Sept.
Oct.
Nov.
Dec.
Annual
Total
2021
5.4
5.6
5.3
4.8
4.6
5.3
4.7
4.3
4.1
3.9
–
–
4.9%
2020
3.1
3.1
4.3
7.8
6.9
6.5
6
4.3
5.3
4.7
4.9
4.8
5.1%
2019
3.6
3.3
3.2
2.7
2.7
3.2
3.3
3.2
2.9
2.8
2.9
2.8
3.1%
Hopkins County Unemployment Rate