Karon Weatherman accepted a donation Monday morning on behalf of the Sulphur Springs Senior Citizens Center, to help fund Thanksgiving meals for senior citizens.
Bill Pentak with Open Doors public relations presented the oversized check for $1,000 to Weatherman on behalf of Engie, the corporation behind the planned Dike Solar project, during public forum at the first portion of the Nov. 22 regular meeting of Hopkins County Commissioners Court.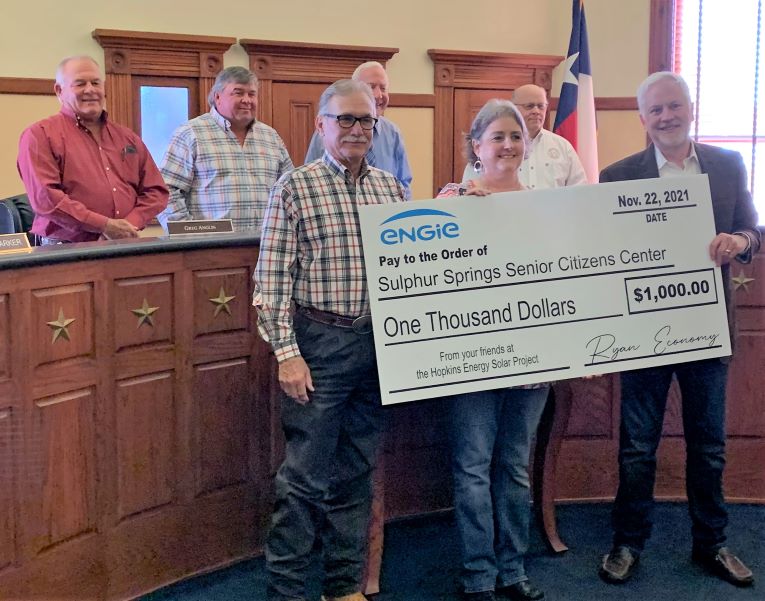 "Ryan Economy could not be here today. He's traveling for the Thanksgiving week but he wanted to be here, so I'm filling in for Ryan Economy and for Engie, and I'm proud to do so," Pentak said. "As I've shared with you, they are one of world's most environmentally ethical and community minded power developers. As I've shared in the past, they have set aside $900,000 between the time solar farm enters commercial operations through it's life to do good things for the Dike community and for Hopkins County," Pentak said during Monday's check presentation.
Pentak thanks Precinct 3 Commissioner Wade Bartley for making the Engie representatives aware of some needs in the community, specifically the Sulphur Springs Senior Citizens Center.
"I would like to make a commitment to Commissioner Bartley that we intend to be good business neighbors and contributing members of this community for years to come," Pentak said.
Weatherman, director of marketing/programs for the Sulphur Springs Senior Citizens Center, said the donation will help fund costs of a Thanksgiving meal for senior citizens in Hopkins County.
Bartley thanked Pentak and Engie for making the donation to benefit the Senior Citizens Center, and complimented Weatherman for the work she does at the Senior Citizens Center, which not only feeds senior citizens in the community, but provides special events for them such as Thanksgiving, oversees weekly and daily activities that give senior citizens and opportunity to get out and enjoy fellowship with one another as well as a purpose.
"Due to her determination we're going to have a new senior center before too long. She's been the driving force behind this," Bartley.