Hopkins County Commissioners Court Monday morning approved a proposal which will clean up county precinct lines, population blocks more evenly while meeting legislative requirements for redistricting.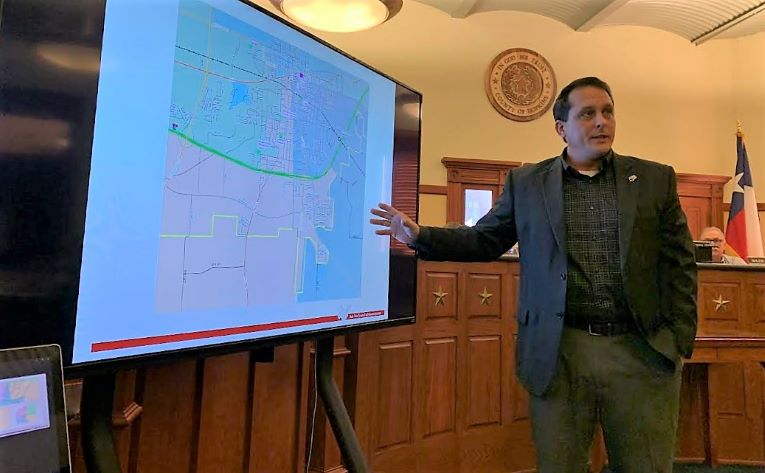 "Every 10 years counties have to look at it. If it's over 10 percent deviation, the count y is forced to redistrict," Ark-Tex Council of Governments Executive Director Chris Brown said during Monday's regular Commissioners Court meeting.
Hopkins County's population, according to the 2020 US Census data, is not 36,787, up from 35,161 in 2020. That would put the ideal population for each of the four county precincts at 9,197, which is one-quarter of the population.
Precinct 1 has 9,899 residents, which is 702 higher than the ideal population, while Precinct 2 has 533 less than the recommended 9,197 per precinct. The population of Precinct 3 is 9,047, which is 150 less than the ideal goal, while Precinct 4 has 9,177 resident, just 20 shy of the targeted population goal.
"You've got a difference of 13 percent. The max before you redistrict is 10, so because the difference of these two [Precincts 1 and 2] is greater than 10 that's what we have to look at doing – redistricting," Brown explained.
Commissioner
Precinct
Total
Population
36,787
9,197
Percent
Precinct 1
9899
26.91%
702
8%
Precinct 2
8661
23.55%
-533
-6%
Precinct 3
9047
24.59%
-150
2%
Precinct 4
9177
24,95
-20
0
Hopkins County Precinct Census data
Brown said ATCOG began looking at the map, focusing on census blocks in Precincts 1 and 2, which have the most deviation from 9,197.
Initially, officials looked at pulling an area from Park Springs Road off CR 2301 in Precinct 1 into Precinct 2. The addition, however, wouldn't have enough residents to offset the deviation. Consideration then turned to the area east of Mockingbird Lane which includes Junell Street, Merrell Drive and Austin Acres; that would be too many to shift from one precinct to the other, and officials didn't want to break up any census blocks, Brown explained.
Staying on the main routes, Brown said, tends to create more natural boundaries. So, the officials looked at redistricting the area between Fisher and Davis Street from Precinct 1 into Precinct 2. That would clean and straighten up the boundary for a more natural boundary for that area, while getting both precincts within an acceptable range of the 9,197 population target.
ATCOG is recommending the redistricting occur in Sulphur Springs, which would mostly impact Precincts 1 and 2. Brown said small changes in Precinct 1 and Precinct 2 boundaries inside Sulphur Springs should mean no change to physical addresses in the county, particularly renumbering of county roads, which start with the precinct number in which the road is located. It would mean some people within the city limits of Sulphur Springs would be casting ballots for Precinct 2 offices in the future instead of those in Precinct 1. But the redistricting or restructuring of precincts as proposed would. The current plan, also straightens up the boundary lines, making them straighter, according to Brown.
"Hopkins County is in a great position. When you start taking in and moving county road around you start changing people's road numbers because they've always keep it as Precinct 1 your road number starts with 1, Precinct 2 your road number starts with 2. If you do it out in the the county areas, you start changing people's addresses. That's inconvenient. We try not to do that. That's why it's easier to change it around in town because when you're talking about Commissioner Precincts, that's a less of an impact because the Commissioners are not working directly on the roads in town, they work on the roads that are numbered out there," Brown said Monday, Nov. 8, 2021.
Taking into account the total population per precinct, percent of change and demographics for each precinct, redrawing the boundary lines within the city could reduce the overall population in Precinct 1 from 9,899 to 9,203. The demographics would remain essentially the same, within a 1 percent variable according to the plan ATCOG recommended to the commissioners during a work session last week and which he asked the Commissioners Court to approve Monday morning.
The proposed districting change would increase Precinct 2's overall population from 8,664 to 9,360. The minority population would drop from 38 to 36 percent, however.
Precinct 2 Now following South Davis Street to Kyle, then making a block and continuing south on Fisher Street and ending just before Industrial Drive. However, as proposed, Precinct 2 would continue on Davis To Kyle, then follow Kyle to State Highway 154, following that to Mockingbird Lane, then curve to continue south on 154 until just before Industrial Drive. That would now include the streets of Hodge, Spence, Linda and Village Drives, Lee Street and Parkins Street to the service road. It would not include the triangle of property from South Broadway Street to Mockingbird Lane, north of Industrial Drive.
Precinct 1 would no longer continue about a block or more south east of Shannon Road on CR 2307. Precinct 1 will only include that small strip along Industrial south to Shannon, and east to Bill Bradford Road. Otherwise, Precinct 1, according to the proposed map, will pick up south of East Shannon Road with Mockingbird Lane as the eastern boundary on the east. Precinct 1 would still include Duckworth Street, Hollie Circle, and Cedar Springs south to the county line.
A public hearing was conducted to allow community members to ask questions or voice any comments they may have regarding redistricting. Then, the court voted to adopt the proposed map approving the proposed redistricting plan for the Commissioners' Precincts as well as Justice of the peace and Constables, and polling election boundaries based on the 2020 US Census demographic data for Hopkins County.
Tax Assessor/Collector/ Voter Registrar Debbie Mitchell, at the Nov. 1 Commissioners Court meeting, noted approving a redistricting map in early November should provide enough time to make changes over the next month so that they can be reflected on voter information for the approximately 1,400 of the 21,000 registered voters who would be impacted by any districting changes.
The proposed map approved by the Commissioners Court would not change Precincts 3 and 4 in the northern most half of Hopkins County.